Optimizing Sourcing, Construction, and Cost Reduction of Millions (CS286)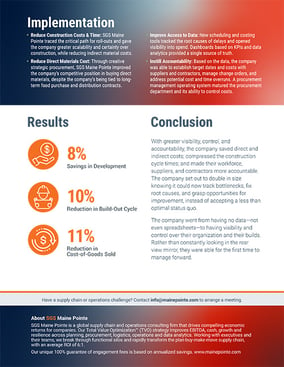 Analysis
What started out as a personal hobby turned into a chain of barbeque joints across several states, with the goal of doubling in number.
That fast growth in joints left the company with entrepreneur-level procurement and construction processes and tools. Pandemic supply chain issues caused skyrocketing costs and major construction delays, affecting revenue. At the same time, a long-term distributor contract locked the company into less than optimal costs for their main food ingredients.
The company needed a better grip on the rollout of new joints and on supplier relationships. To improve costs and efficiency, they needed a better understanding of costing, prototypes, and development cycles. They lacked the controls to create accountability and enable them to start managing by exception rather than simply accepting the consequences of getting it wrong.
Implementation
Reduce Construction Costs & Time: SGS Maine Pointe traced the critical path for roll-outs and gave the company greater scalability and certainty over construction, while reducing indirect material costs.

Reduce Direct Materials Cost: Through creative strategic procurement, SGS Maine Pointe improved
the company's competitive position in buying direct materials, despite the company's being tied to long-term food purchase and distribution contracts. .
Improve Access to Data: New scheduling and costing tools tracked the root causes of delays and opened visibility into spend. Dashboards based on KPIs and data analytics provided a single source of truth. .
Instill Accountability: Based on the data, the company was able to establish target dates and costs with suppliers and contractors, manage change orders, and address potential cost and time overruns. A procurement management operating system matured the procurement department and its ability to control costs.
Results
8% Savings in Development


10% Reduction in Build-Out Cycle


11% Reduction in Cost-of-Goods Sold
Conclusion
With greater visibility, control, and accountability, the company saved direct and indirect costs; compressed the construction cycle times; and made their workforce, suppliers, and contractors more accountable.
The company set out to double in size knowing it could now track bottlenecks, fix root causes, and grasp opportunities for improvement, instead of accepting a less than optimal status quo. The company went from having no data—not even spreadsheets—to having visibility and control over their organization and their builds.
Rather than constantly looking in the rear view mirror, they were able for the first time to manage forward.
×
Optimizing Sourcing, Construction, and Cost Reduction of Millions