Propelling a good Company into GREAT with 23% increase in EBITDA (CS275)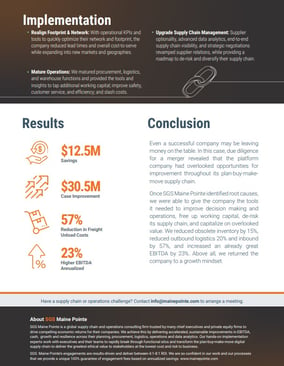 Analysis
When a PE firm asked for due diligence on a prospective add-on to an industrial distribution and manufacturing company, SGS Maine Pointe analyzed both the platform and add-on companies to determine synergies and value creation opportunities.
When the acquisition fell apart, we pointed out that the platform company, operating with an excellent 18% EBITDA, still had room for improvement according to our analysis.
The company had never negotiated with suppliers, never had a data-driven discussion about reducing costs, operated with under-skilled procurement and logistics departments, and had developed a risky sole-source relationship with Asia Pacific suppliers.
Moreover, an aging and obsolescent inventory tied up working capital. The company lacked visibility into the end-to-end supply chain, including procurement, logistics, and warehouse operations.
Implementation
Realign Footprint & Network: With operational KPIs and tools to quickly optimize their network and footprint, the company reduced lead times and overall cost-to-serve while expanding into new markets and geographies.


Mature Operations: We matured procurement, logistics, and warehouse functions and provided the tools and insights to tap additional working capital; improve safety, customer service, and efficiency; and slash costs.


Upgrade Supply Chain Management: Supplier optionality, advanced data analytics, end-to-end supply chain visibility, and strategic negotiations revamped supplier relations, while providing a roadmap to de-risk and diversify their supply chain
Results
$12.5M savings.
$30.5M case improvement.
57% reduction in freight unload costs.
23% higher EBITDA annualized.
Conclusion
Even a successful company may be leaving money on the table. In this case, due diligence for a merger revealed that the platform company had overlooked opportunities for improvement throughout its plan-buy-make-move supply chain.
Once SGS Maine Pointe identified root causes, we were able to give the company the tools it needed to improve decision making and operations, free up working capital, de-risk its supply chain, and capitalize on overlooked value. We reduced obsolete inventory by 15%, reduced outbound logistics 20% and inbound by 57%, and increased an already great EBITDA by 23%. Above all, we returned the company to a growth mindset
×
Propelling a good Company into GREAT with 23% increase in EBITDA