Propelling operational excellence and turnaround at a distressed company (CS277)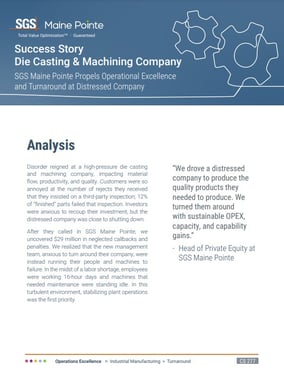 Analysis
Disorder reigned at a high-pressure die casting and machining company, impacting material flow, productivity, and quality. Customers were so annoyed at the number of rejects they received that they insisted on a third-party inspection; 12% of "finished" parts failed that inspection. Investors were anxious to recoup their investment, but the distressed company was close to shutting down.
After they called in SGS Maine Pointe, we uncovered $29 million in neglected callbacks and penalties. We realized that the new management team, anxious to turn around their company, were instead running their people and machines to failure. In the midst of a labor shortage, employees were working 16-hour days and machines that needed maintenance were standing idle. In this turbulent environment, stabilizing plant operations was the first priority.
Implementation
Accelerate Material Flow: The principals of 5S (sort, set in order, shine/sweep, standardize, and sustain) and multi-shift coverage ensured efficient and seamless production with higher throughput.
Reduce Costs: By analyzing process cycle times and work in progress (WIP), we reduced inventory and the cost of finished goods while meeting customer requirements.
Reallocate Resources: Bolstering productivity in a tight labor market enabled us to reduce manpower in some areas, then cross-train and reassign workers where they were needed most.
Sustain Benefits of OPEX: We created a process map for material flow and scheduling, identifying 80% of the bottleneck issues, and also improved communications and coordination between functions.
Results
$3M ROI

$1.7M Annualized Savings

65% Reduction in Dimensional Scrap

50%-120% Upswing in Productivity
Conclusion
The company's problems escalated to the point where two sister plants had to be closed to keep one plant open. SGS Maine Pointe brought a cross-functional team together to identify 37 opportunities for improvement at the plant, including optimizing measurement and inspection, enhancing and standardizing documentation, reducing scrap, and increasing the traceability of products.
We reduced unnecessary movement and clutter (a 20% drop in the number of pallets) to create a cleaner, more efficient workstream that could be handled by half as many people. With new, better calibrated gauges, the company identified non-conforming parts earlier to not only reduce scrap but also eliminate the need for third-party quality inspections.
×
Propelling operational excellence and turnaround at a distressed company