Supply chain sourced in China found optionality and risk mitigation (CS284)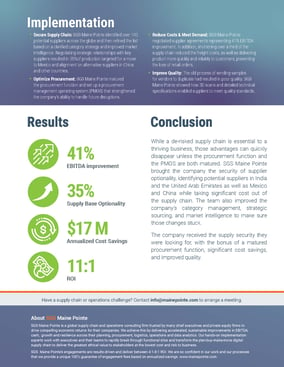 Analysis
This high-end provider of flatware, dinnerware, and glassware found that its legacy suppliers in China were unable to meet the reliability, speed, and quality standards they met before the pandemic, especially after unplanned factory closures. Long lead times meant the company couldn't restock quickly enough to meet customer demand, leading to the loss of millions of retail orders.
The company wanted to reduce risks and lower costs while improving lead times. They did not know where to begin and lacked the procurement skills and man-power to evaluate and carry through any new strategies. Moreover, a lack of technical specifications made it difficult even for their current suppliers to meet quality standards, adding to already strained supplier relationships.
Implementation
Secure Supply Chain: SGS Maine Pointe sent RFIs to 100 vendors across the globe and then refined the list based on a clarified category strategy and improved market intelligence, among other data, eventually moving 35% of production to Mexico as well as identifying alternative China suppliers.

Optimize Procurement: SGS Maine Pointe matured the procurement function and set up a procurement management operating system (PMOS) that strengthened the company's ability to handle future disruptions.
Improve Quality: The old process of sending samples for vendors to duplicate had resulted in poor quality. SGS Maine Pointe showed how 3D scans and detailed technical specifications enabled suppliers to meet quality standards.
Save Costs & Meet Demand: Shortening over a third of the supply chain reduced freight costs, as well as delivery product more quickly and reliably to customers, preventing the loss of retail orders. Vendors were also selected on their ability to match should costs.
Results
41% EBITDA improvement
Optionality for 35% of supply base outside of China
$17M in Annualized Cost Savings
11:1 ROI.
Conclusion
While a de-risked supply chain is essential to a thriving business, those advantages can quickly disappear unless the procurement function and the procurement management operation system are both matured. SGS Maine Pointe brought the company the security of supplier optionality, identifying potential suppliers in India and the United Arab Emirates as well as Mexico and China. But the team also improved the company's category management, strategic sourcing, and market intelligence to make sure those changes stuck.
The company received the supply security they were looking for, with the bonus of a matured procurement function, significant cost savings, and improved quality.
×
Supply chain sourced entirely in China desperately needed optionality and risk mitigation