Turning around a distressed company and securing OPEX (CS276)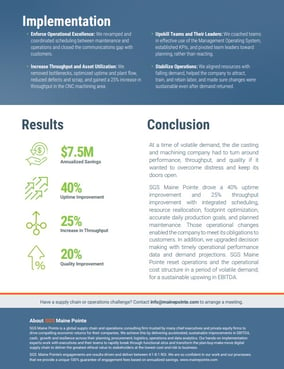 Analysis
A die casting and machining company came out of bankruptcy with a new management team, nervous Private Equity investors, and customers ready to sue because of missed delivery targets. The already distressed company then faced a huge drop in demand from a major customer. The company thought their problems would be temporary and they could ride through or solve them with a 5S program in die casting.
Called in by the Private Equity firm, SGS Maine Pointe prodded the company to look deeper. We found that costs were out of control and price reductions were no longer sustainable. CNC machines stood idle because of maintenance glitches and labor shortages; productivity had plummeted. Margins were shrinking fast; operational excellence was nonexistent. The leadership and PE firm realized they needed to act.
Implementation
Enforce Operational Excellence: We revamped and coordinated scheduling between maintenance and operations and closed the communications gap with customers.
Increase Throughput and Asset Utilization: We removed bottlenecks, optimized uptime and plant flow, reduced defects and scrap, and gained a 25% increase in throughput in the CNC machining area.
Upskill Teams and Their Leaders: We coached teams in effective use of the Management Operating System, established KPIs, and pivoted team leaders toward planning, rather than reacting.
Stabilize Operations: We aligned resources with falling demand, helped the company to attract, train, and retain labor, and made sure changes were sustainable even after demand returned.
Results
$7.5M Annualized Savings

40% Uptime Improvement

25% Increase in Throughput

20% Quality Improvement
Conclusion
At a time of volatile demand, the die casting and machining company had to turn around performance, throughput, and quality if it wanted to overcome distress and keep its doors open.
SGS Maine Pointe drove a 40% uptime improvement and 25% throughput improvement with integrated scheduling, resource reallocation, footprint optimization, accurate daily production goals, and planned maintenance.
Those operational changes enabled the company to meet its obligations to customers. In addition, we upgraded decision making with timely operational performance data and demand projections. SGS Maine Pointe reset operations and the operational cost structure in a period of volatile demand, for a sustainable upswing in EBITDA.
×
Turning around a distressed company and securing OPEX