Upgrading procurement, DFX, and VMS for $15.2M in annualized savings (CS278)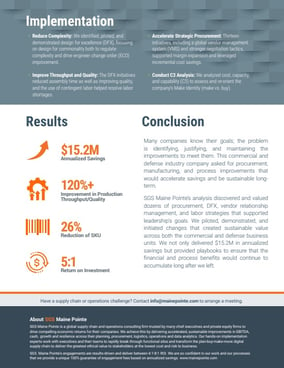 Analysis
A company that provides transportation companies with operations and logistics services and provides the defense industry with command, control communications, compliance, intelligence, surveillance, and reconnaissance (C4ISR) needed to grow its margins.
The company thought ahead: they wanted changes they could sustain given the right tools, methods, and models. While the company had successfully identified a few cost saving opportunities, they looked to SGS Maine Pointe to supply expertise in procurement, manufacturing, and process improvement across both the commercial and defense sides of their business.
Moreover, they needed initiatives that would make a difference fast, because one of their goals in reducing costs was to bolster the affordability of a defense industry prototype and make their company more competitive for the next phase
of the project.
Implementation
Reduce Complexity: We identified, piloted, and demonstrated design for excellence (DFX), focusing
on design for commonality both to regulate complexity and drive engineer change order (ECO) improvement.
Improve Throughput and Quality: The DFX initiatives reduced assembly time as well as improving quality, and the use of contingent labor helped resolve labor shortages.
Accelerate Strategic Procurement: Thirteen initiatives, including a global vendor management system (VMS) and stronger negotiation tactics, supported margin expansion and leveraged incremental cost savings.
Conduct C3 Analysis: We analyzed cost, capacity, and capability (C3) to assess and re-orient the company's Make Identity (make vs. buy).
Results
5:1 ROI

$15.2M Annualized savings

$120%+ Improvement in production throughput/quality

26% reduction of SKU
Conclusion
Many companies know their goals; the problem is identifying, justifying, and maintaining the improvements to meet them. This commercial and defense industry company asked for procurement, manufacturing, and process improvements that would accelerate savings and be sustainable long-term.
SGS Maine Pointe's analysis discovered and valued dozens of procurement, DFX, vendor relationship management, and labor strategies that supported leadership's goals. We piloted, demonstrated, and initiated changes that created sustainable value across both the commercial and defense business units.
We not only delivered $15.2M in annualized savings but provided playbooks to ensure that the financial and process benefits would continue to accumulate long after we left.
×
Upgrading procurement, DFX, and VMS for $15.2M in annualized savings