Uplifting Processes, Throughput, and Data to Support Long-Term Goals (CS283)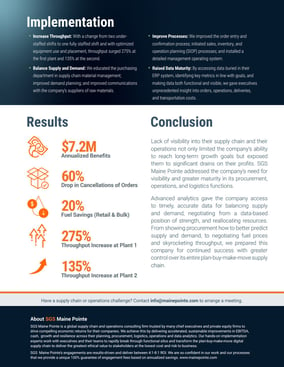 Analysis
A supplier of food ingredients was about to open a second production facility, yet still struggled to maintain throughput, and contain costs at their first facility. Executives lacked visibility into the data that would tell them where and why problems were developing and what actions would have the best effect.
The company faced sixty or seventy cancellations or returns of orders each week because customers were using them as backup when other suppliers threatened delays; if their normal suppliers came through, the customers reneged. The resulting demurrage charges were crippling. The company called upon SGS Maine Pointe's expertise in supply planning, spend management, strategic sourcing, last mile delivery, capacity utilization, and asset and fleet optimization to solve their multiple problems.

Implementation
Increase Throughput: With a change from two under-staffed shifts to one fully staffed shift and with optimized equipment use and placement, throughput surged 275% at the first plant and 135% at the second.
Balance Supply and Demand: We educated the purchasing department in supply chain material management; improved demand planning; and improved communications with the company's suppliers of raw materials.
Improve Processes: We improved the order entry and confirmation process; initiative sales, inventory, and operation planning (SIOP) processes; and installed a detailed management operating system.
Raised Data Maturity. By accessing data buried in their ERP system, identifying key metrics in line with goals, and making data both functional and visible, we gave executives unprecedented insight into orders, operations, deliveries, and transportation costs.
Results
$7.2M Annualized Benefits
60% Drop in Cancellations of Orders
20% Fuel Savings (Retail & Bulk)
275% Throughput Increase at Plant 1
135% Throughput Increase at Plant 2
Conclusion
Lack of visibility into their supply chain and their operations not only limited the company's ability to reach long-term growth goals but exposed them to significant drains on their profits. SGS Maine Pointe addressed the company's need for visibility and greater maturity in its procurement, operations, and logistics functions.
Advanced analytics gave the company access to timely, accurate data for balancing supply and demand, negotiating from a data-based position of strength, and reallocating resources. From showing procurement how to better predict supply and demand, to negotiating fuel prices and skyrocketing throughput, we prepared this company for continued success with greater control over its entire plan-buy-make-move supply chain.

×
Uplifting Processes, Throughput, and Data to Support Long-Term Goals