Using A.I. to accelerate value creation (CS282)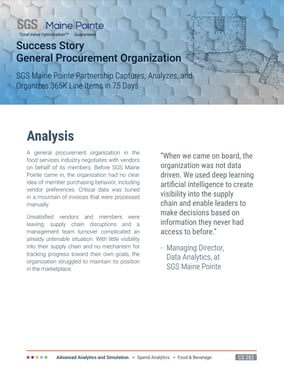 Analysis
A general procurement organization in the food services industry negotiates with vendors on behalf of its members. Before SGS Maine Pointe came in, the organization had no clear idea of member purchasing behavior, including vendor preferences. Critical data was buried in a mountain of invoices that were processed manually.
Unsatisfied vendors and members were leaving; supply chain disruptions and a management team turnover complicated an already untenable situation. With little visibility into their supply chain and no mechanism for tracking progress toward their own goals, the organization struggled to maintain its position in the marketplace.
Implementation
Create Visibility: SGS Maine Pointe in partnership with dSilo used the power of the deep learning AI to convert 40 GB of invoices from over 200 manufacturers into structured data fields with usable context. dSilo's ProcureGPT™ models provided SKU-level, line item visibility.
Analyze Purchasing Behavior: A group purchasing management operation system (GPMOS) provided insight into member behavior for the first time, giving the organization the data needed to convince new members to join and current members to stay.
Provide Financial Insight: An executive dashboard linked to the data base. The data clearly identified profit drivers such as management fees and annualized rebates and uncovered the organization's own spending patterns.
Negotiate Strategically: Once the buying preferences and trends of members became clear, the organization entered into negotiations with vendors to create more favorable contracts based on volume. They were also able to better justify management fees and rebates to members.
Results
365,000 Line Items Captured in 75 days
$3M Annualized Benefits
20% EBITDA Improvement
7% Growth in Group Volume
Conclusion
Advanced data analytics enabled dSilo to quickly process and validate over 365,000 line items hidden deep within three years of invoices. SGS Maine Pointe ensured the information was presented in a format that the organization understood and could use, developing keywords and data fields to intelligently categorize both old and incoming invoices.
The team also established product hierarchies, created a spend cube, identified profit drivers, and built an executive dashboard.
In just 75 days, the SGS Maine Pointe team captured and analyzed data that generate $3M in benefits for the organization and developed a data base that will keep accruing benefits.
×
Using A.I. to accelerate value creation