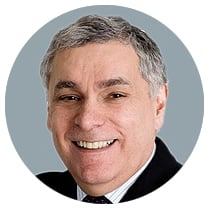 David Ferreira
Advisory Board Member
David Ferreira has more than 30 years of corporate and consulting experience across a wide range of industries, companies and business cycles. He has held senior positions at GE, KPMG and Beneficial. His primary focus has been helping companies grow and improve performance through roles in business strategy and planning, organizational assessment and talent management.

In 1998, he founded Back Bay Consulting, a consulting practice that focused on strategy, structure and people with CEO/COO as its primary clients. The company's clients ranged from Fortune 500 companies (Citibank, Sealed Air, Blue Cross of New Jersey, GM-OnStar) to privately owned companies and startups.

David currently serves as a member of the Board of Social Venture Partners and of Cambridge Systematics and is a past board member of the Harvard Medical School Bio-Medical Science Career Program, the American Financial Services Association, and the Somerville New Jersey Home for Temporarily Displaced Children.
MBA - University of Michigan
LLM - University of Amsterdam
Juris Doctorate - New England Law
Bachelor's degree from Georgetown University