Private Equity Consulting

Drive 10-30% of accelerated, measurable improvements
in EBITDA, cash, resilience, and growth across your portfolio company supply chains and operations.
Don't settle for marginal improvements
Capture the significant double-digit improvements we are delivering to clients today.
For private equity partners and portfolio CEOs looking for a step-change in measurable enterprise value, we identify and take responsibility for the implementation of financial gains and operations value creation across the entire PE deal life cycle: from due diligence, to in-flight improvement and integration, through to pre-exit optimization.
Unlike other point consulting providers, our unique accelerated and guaranteed Total Value Optimization (TVO)TM approach drives the triple impact of reducing costs, releasing cash, and improving service levels across a company's entire supply chain and operation.

TVO Quick WinsTM
The TVO Quick Wins ProgramTM rapidly identifies opportunities across your end-to-end supply chain and operations, then implements expedited, measurable financial results.
TVO Quick WinsTM Program
Our TVO Quick WinsTM program has been specifically designed for private equity investors, lenders, and portco CEOs who need to rapidly deliver enhanced profitability and cash flow in both underperforming and performing companies.
Rapid Insights
In just a few weeks, our rapid insights and analytics-led approach provides clarity into the opportunities, benefits range, implementation road-map, and business case for your TVO Quick WinsTM program.
Implement for Results
Unlike other consulting firm offerings, we don't just tell you where the opportunities are. Our seasoned industry, supply chain and operations experts work shoulder-to-shoulder with you and your teams to capture the financial benefits you're looking for: enhanced cashflow and profitability.
10% to 30%
Average EBITDA growth
40% to 100%
Improvement in near-term cash
4:1 to 8:1
ROI in year one

Improve exit quality, valuation
multiples, and growth
Measurable
Results
delivered in weeks or months, not years

Reduce average holding periods by 1 to 3 years
20+ Years
PE & Lender Experience
Improve exit quality, valuation multiples, and growth
$4+ Billion
In value creation delivered
Guarantee
Unique 100% fee-based guarantee
Operational Due Diligence
For over 20 years we have been providing operational due diligence services to private equity teams, resulting in improved confidence, deal conversion, and acceleration in time-to-value creation.
Rapid Insights for Value Creation and Risk Reduction
Our hands-on accelerated approach uncovers and implements supply chain and operations-oriented value creation opportunities both pre- and post-acquisition. Taking an ROI-driven, accelerated and digitally-led approach helps private equity buyers become smarter in their buying decisions, have a more robust investment thesis and accelerate the integration and time-to-value realization process. This insights-driven methodology is integrated into our accelerated end-to-end supply chain and operations transformation approach called Total Value Optimization.
Core Benefits
Identifies opportunities earlier
Increases bidding competitiveness
Improves win rate
Reduces acquisition and operational risk
Identifies supply chain savings & improvements
Accelerates time-to-value creation
Maximizes exit value
Drive value across the entire PE deal life cycle from due diligence through in flight improvement and integration to pre-exit optimization.
When a PE firm asked for due diligence on a prospective add-on to an industrial distribution and manufacturing company, SGS Maine Pointe analyzed both the platform and add-on companies to determine synergies and value creation opportunities.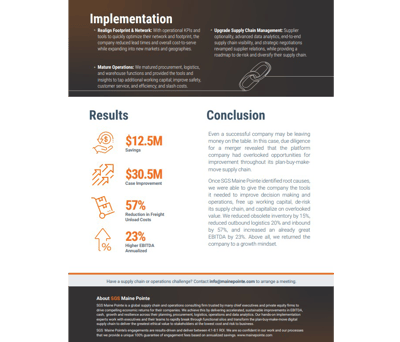 In-Flight Improvement and Acquisition Integration
We've delivered more than $4B in enterprise value for our PE clients by driving accelerated operations improvement and integration across their portfolio company's supply chains and operations.

After successfully helping you through your due diligence, our hands on and highly experienced subject matter experts work with you and your teams to accelerate your 100-day plan and implement a step-change in improvement across your portfolio company supply chains and operations.

The Key to Driving Maximum Enterprise Value

Unlike point solutions for improvement, our Total Value OptimizationTM approach delivers measurable and long-lasting enterprise value improvement leading to improved fund performance, by driving integrated value and resilience across the entire plan-buy-make-move supply chain and operation, fast.
Core Benefits
Aligns management and organizations
Accelerates value, capture step-change improvements, and deliver quick wins
Increases process consistency and maturity
Creates a sustainable platform for growth
Integrates, consolidates, and standardizes operations across the supply chain, manufacturing, and distribution
Accelerates and sustains EBITDA, cash, resilience, and growth
Delivers 4-8:1 ROI
The core way to drive enterprise value leading to pre-exit optimization.
A leading private equity sponsor was planning a complicated reverse merger: carving out a global chemical company and merging it with a well-known family-owned business.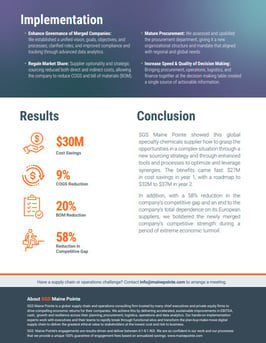 Our pre-exit optimization service is designed to assist private equity firms in maximizing exit valuations and enhancing their deal close rate.
Greater Exit Valuation
Our accelerated approach identifies future value creation opportunities and executes select elements of the plan to demonstrate sustainable value realization financially.
Closing More Deals
Unlike other firms, we help deals complete. We close the bid offer gap by demonstrating the sell side benefits that are applicable to both seller and buyer.
Core Benefits
Maximizes deal returns before exit
Accelerates benefits capture
Provides independent business plan validation
Articulates a long-term improvement plan
Optimizes market value
Improves the deal close rate
The best way to maximize enterprise value before exit
Having successfully worked with this PE client to stand up portfolio companies post carve-out, we were approached to help increase the exit valuation of an asset in the specialty chemicals sector.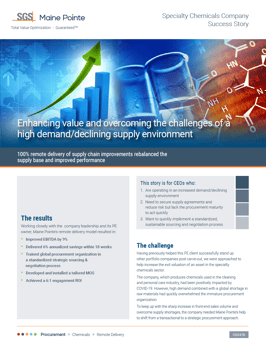 Meet the Private Equity Team Leaders