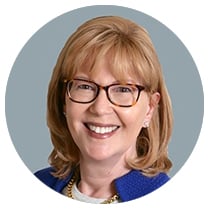 Jennifer Potter-Brotman
Advisory Board Member
Jennifer Potter-Brotman has over 30 years' experience in senior operating roles in professional services companies, working across a wide range of industries. Most recently, she ran the Boston Office of Russell Reynolds, a global leader in assessment, recruitment, and succession planning. Her former roles include working in private equity and serving as president and CEO of the Forum Corporation, a leader in corporate training and education.

Over her 21-year tenure at the Forum Corporation, Jennifer held many key leadership positions, including CEO of Forum, CEO of Forum Europe, COO of Forum, Head of Forum's core learning business, and EVP, marketing, product development, and strategy. During her tenure, revenues grew from $5M to $80M. Jennifer was instrumental in the sale of Forum to Pearson Plc in July 2000 as the core platform company in the corporate training and education market.

At Russell Reynolds, prior to running the Boston Office, Jennifer worked in the Corporate Officers Practice, was a member of the Diversity Practice, and led the Human Resources Practice. She served as a trusted advisor to CEOs and C-suite executives of public, private, and not-for-profit companies across a wide range of industries, as well as serving as a mentor and leader within Russell Reynolds.

Jennifer has a track record of leading growing businesses, creating and building large client relationships, setting strategic direction, and leading, mentoring, and inspiring people. She is an active board member and consultant who, in addition to her seat on Maine Pointe's Board of Directors, serves as vice chairman of The Commonwealth Institute, a not-for-profit helping women business leaders.
BA, English Literature - University of New Hampshire
Advanced Management Program - INSEAD