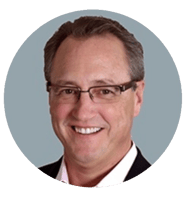 Steven Bowen
Founder & Advisor to the CEO
With more than 30 years of P&L experience, including turnarounds and high-growth businesses with revenues up to $100M, Steve Bowen has acquired an exceptional track record in supply chain optimization as well as lean and demand-pull global environments.

His bold, collaborative approach to leadership is informed by his previous work with leading Fortune 1000 and middle-market organizations and numerous private equity clients. He is highly regarded for his ability to quickly transform organization vision and mission into exceptional team performance.

Steve's leadership expertise includes the design and building of innovative customer-centric relationship and service delivery systems, collaborative leadership frameworks, profitability-driven management and compensation models, and recruitment initiatives that attract best-of-class specialized managers, advisors, and directors. In addition to North America, he has extensive experience in Europe, the Pacific Rim and China. As CEO, Steve has led two distinguished niche consulting firms that are known for consistently exceeding client expectations and delivering a level of guaranteed ROI that is uncommon in their respective industries.

In the first instance, he navigated a highly-unprofitable organization through a complex turnaround initiative requiring the reduction of operating costs by 65%, new credit agreements, and a reinvestment in key capabilities. He recruited an advisory board of industry influencers, opened a China business unit, and successfully repositioned the brand – all resulting in a break-even cash flow in six months and profitability in twelve months.

In the second instance, beginning in 2004, he established Maine Pointe with several long-time colleagues from previous enterprises and is now leading the firm through rapid growth and its ascent as a leader in sustainable global supply chain transformation. Maine Pointe implements game-changing solutions for clients in the chemical, oil and gas, mining, food processing and service, hospitality and private equity industries. From its initial base in North America, the firm has expanded its reach with footprints in Europe and Asia as well as engagements in Central and South America.

Steve's earlier career posts include serving as Executive Vice President at Integrated Control Systems (IMPAC) and Kranson Industries as well as Marketing Manager for Ciba Corning Diagnostics – where he earned inclusion in the "President's Circle" as the top salesperson for 1985.

Active in numerous community endeavors, Steve and his wife Deb devote significant time and resources to a wide range of philanthropic and public policy interests. A seven-year veteran rider in the annual Pan-Mass Challenge to benefit the Dana Farber Cancer Institute's Jimmy Fund, Steve remains one of the top individual fundraisers. He is a 2011 recipient of the Edward F Perry Jr Community Award for Plymouth County, Massachusetts.

In 2017 Steve published his first Book, Total Value Optimization: Transforming Your Global Supply Chain Into a Competitive Weapon. The book, describes the pressure today's corporate leaders are under to deliver differentiated, lasting performance—fast. Learn more by visiting his author website.
BA, Chemistry; Minor in Economics and Business Administration – Westminster College