Five ways 3D Printing will impact the global supply chain
3D printing, or additive manufacturing (AM), is a disruptive innovation which will have a far- reaching impact on global supply chains and operations. Far from being the technology of the future, it is the technology of the here and now.
According to the Global Supply Chain Institute white paper, New Supply Chain Technology Best Practices1, "some supply chain professionals predict 3D printing will eventually rival the impact of Henry Ford's assembly line".
This technology has the power to help companies significantly reduce costs, overcome geopolitical risks & tariffs, improve customer service, reduce the carbon footprint and drive innovation for competitive advantage. Whether you believe the technology will revolutionize the production and supply chain process or merely enhance it, you cannot afford to ignore it.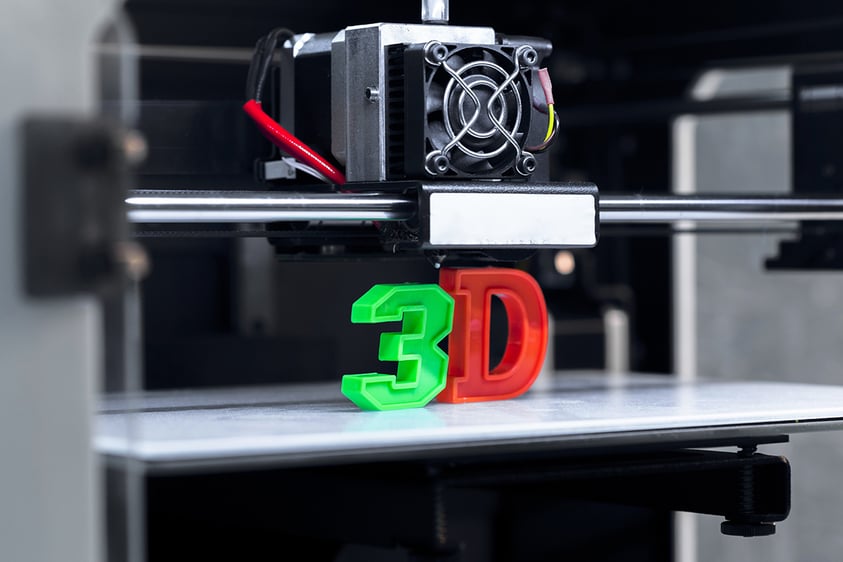 What
is
3D
printing?
Also known as additive manufacturing, 3D printing is a process which uses a three-dimensional digital model to create a physical object by adding many thin layers of material in succession, subsequently lowering cost by cutting out waste.
This is radically different from current, subtractive production methods where up to 90% of the original block of material can be wasted. Although we tend to think of it as a new technology, the first 3D printer was introduced nearly 30 years ago.
So far, issues such as durability, speed and protection of intellectual property rights have prevented 3D printing from entering mainstream manufacturing. However, the industry is making rapid advancements and it's only a matter of time before we see it significantly impact global supply chains.
Five
ways
3D
printing
will
have
a
massive
impact
on
the
supply
chain
and drive competitive advantage.
Decentralize production

– the 'portable' nature of the technology will enable businesses to take production to local markets or customers faster. As a result, we will see a shift away from mass production in low-cost countries in favor of more local assembly hubs. Companies will have the capability to produce components closer to home rather than rely on imports. This is especially important during times of geopolitical tension, for example during a trade war, when the cost of purchasing components globally can increase rapidly.



Drive product customization

– as a tool-less process, 3D printing technology gives manufacturers unprecedented freedom to tailor offers to clients' specific requirements and enhance the customer experience. This will result in more agile supply chains which can rapidly adapt to changes in the market. Eventually, we could see design, production and distribution merge into one supply chain function with greater client involvement in the entire design and production process.



Reduce complexity and improve time-to-market

– 3D printing technology consolidates the number of components and processes required for manufacturing. This will have a significant impact on global supply chains, decreasing complexities, saving on production costs, enhancing lead times and improving time-to-market.


Improve resource efficiency – 3D printing is a 'greener', more energy-efficient and cost-efficient production It creates almost zero waste, lowers the risk of overproduction and excess inventory and reduces the carbon footprint. It takes 'Just-in-Time' manufacturing to a new level.


Rationalize inventory and logistics – as 'on demand' production becomes the norm, the need to transport physical goods across countries and continents will reduce. Combined with the lower number of SKUs required for production, this will have a major impact on warehousing, logistics and will have the potential to overcome tariffs.


To bring these points to life, GE has built a prototype 3D printed aircraft engine, the GE9X2 that is lighter, faster and more fuel-efficient than any of its predecessors. The firm says 3D printing enabled it to reduce 855 separate parts to just twelve.
Tomorrow's
technology,
today
While 3D printing technology may sound like science fiction, it is actually science fact and it's making its presence felt right now. Here are a few more real-world applications that are already a reality or just around the corner:


Aerospace – It may surprise you to learn that some non-critical 3D printed parts are already in use on aircraft. GE already have more than 300 3D printers and GE Aviation wants to produce 100,000 additive parts by 2020. The US Air Force has installed seventeen 3D printed parts on the C5 Super Galaxy, which could save tens of thousands of dollars. Other high-profile users of the technology include Airbus / EADS, Rolls-Royce and BAE Systems. Airbus is already talking about constructing entire airplanes with large-scale 3D printers.


Medical – The technology is already being applied to manufacture stock items, such as hip and knee implants, and bespoke patient-specific products, such as hearing aids, orthotic insoles for shoes, personalized prosthetics. Success stories include Open Bionics, a UK-based producer of 3D prosthetic arms which, in February 2019, secured a £4.6M investment to take its business to the international market.

Automotive – Many automotive companies are already making use of 3D printing to help with prototyping. Ford has been using 3D printing technology since the 1980s. According to Ford's website, traditional methods would take four months and $500,000, but with 3D printing, the same process takes four days and $3,000. Future possibilities are almost limitless. In January 2019, 3D printer company BigRep unveiled the first 3D printed motorbike3.The bike, which is not available on the market, took three days to print and cost just £2000.

Construction – Although the technology is still in its infancy, significant advances have been made with the use of 3D printers in the construction industry as construction giants begin to see the potential of the technology. 3D concrete printing is developing rapidly, and the market is expected to reach $56.4M by 2021. More and more companies are starting up in the sector to create new, innovative projects. For example, Russian 3D printing manufacturer, Apis Cor printed an entire house in just 24 hours.4

Chemicals – There is an incredible opportunity for the chemical industry to innovate and drive new revenue streams using 3D printing technology. The industry could find itself at the heart of the manufacturing process as it works closely with 3D printer manufacturers to develop new materials specifically designed for additive manufacturing. Major chemical companies are already working directly with 3D printer manufacturers to invent new resins, polymers and powdered metals to take manufacturing into a new era. Chemical giant BASF is one of the company's leading the way with a dedicated 3D printing division and partnerships with a string of hardware OEMs, software vendors, and materials specialists.

Food – We could be seeing 3D printed food in restaurants or in our kitchen in the near future. Initiatives that mix 3D technologies and food are more and more numerous; this new manufacturing method would make it possible to create and mass produce food with more complex and original shapes and innovative recipes. It would also offer personalized meals to better adapt to the diversity of diets. Hershey's have already entered into partnership with 3D Systems to make a 3D printer for chocolate and other edible products though there is no word when the chocolate-making machine may be available.

Oil and Gas – although adoption of additive manufacturing technology in the oil & gas industry is behind other industries, the technology has enormous potential in this industry. For example, 3D printing could allow organizations to access a bank of digital designs for on-site printing in the field. This will have a major impact on the speed and efficiency of equipment repairs and maintenance, reducing the necessity to either maintain physical inventories of spare parts on site or wait for p to be manufactured and transported to a facility.
Shape
the future of your supply chain and operations
Additive manufacturing represents a major opportunity for companies to re-engineer their buy-make-move-fulfill supply chain for competitive advantage. With the market size predicted to reach $11,223.6Bn in 2019 and $41,587.1Bn by 20275, it's an opportunity executives can't afford to overlook. Yet, according to the Global Supply Chain Institute, only 16% of firms have a documented multiyear supply chain and operations strategy.
Total Additive Manufacturing Market Size, by Opportunity Segment, All Technologies (Professional environments only), 2014–2027(e)




What's
next?
The additive manufacturing revolution is coming, and it could impact your supply chain sooner than you think. The smart move is to start preparing now by answering the following questions:


What areas in my supply chain and operations are potentially impacted by 3D printing?


How do I protect my business and take advantage of the opportunities that will come my way?


What needs to change across my buy-make-move-fulfill supply chain to help stay ahead of the game?



What's

the business case and what should my supply chain and operations transformation journey look like?




Resources:
1New Supply Chain Technology Best Practices, Global Supply Chain Institute, available to download.
23D Printing Media Network, GE9X, The largest and most 3D printed jet engine is flying
3BBC News, Nera, the 3D printed electric Motorbike
43D Natives, Thanks to 3D printing, you can now build a home in just 24 hours
5 *2019 Additive Manufacturing Market Outlook and Summary of Opportunities, SmartTech Analysis