FMI Conference predicts new approaches to customers, employees, suppliers, and the environment
After an exciting National Retail Federation (NRF) Big Show in New York City, I spent the following weekend in Orlando, FL where I enjoyed not only warmer temperatures, but the exciting Food Industry Association FMI Mid-Winter Conference. It was a great opportunity to bring together food manufacturers and retailers to discuss trends in technology, supply chain, sustainability, and shared goals for growth.
Keynote speakers, startup technology company pitches, executive meetings, and one-on-ones with clients and potential clients provided valuable insights on the areas of most importance to this industry today. I would categorize the key takeaways as centering on how to enhance the experience for the end customer, our company and employees, our supplier partners, and the environment.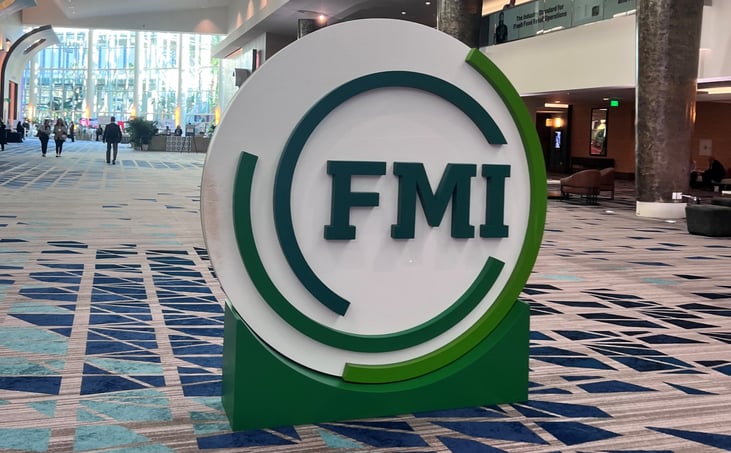 Customer Experience
At the end of the day, it all comes down to the customer's experience.
There was a lot of talk around the continued cost pressures resulting from supply chain volatility, inflation, and economic challenges. These costs cannot just be passed through to the end consumers; and many times the costs are rising so quickly that companies cannot even react fast enough to raise prices.
In order to shield the consumer from these pressures, companies acknowledge they have to tackle other areas to offset the cost increases. This can mean initiating supply chain optimization projects, strengthening supplier partnerships to share in costs or find ways to reduce costs, or looking at technology investments to automate processes where appropriate.
Craig Boyan, President and COO of HEB, talked about their focus on helping average or lower income households with cost pressures. He stated that "I realized my crystal ball has a major crack in it" and that "we need to become great technology companies before technology companies become great retailers." There is a sense of urgency to create organizations that can optimize performance and cost, but do so in a way that still gives consumers an experience that creates loyalty to stores and to brands.
People and Culture
The second common topic centered on people and culture. No one believes stores and companies will be run solely by robots. So there is a need to enhance the employee experience, upskill, and create a culture people want to be a part of.
Many of the executives shared the belief that talent acquisition and retention will be a key focus for the next several years. There was an emphasis on DE&I and creating a culture that attracts the right talent both on the retail side and the supplier side. There is also a sense of trying to balance long-term initiatives with the need to move quickly to implement transformative change, while not putting too much pressure on the organization.
Anthony Hucker, CEO of Southeastern Grocers, said that "A company is the conversation it's having." I thought this was powerful because it stresses that the companies leading change are the ones that bring opportunities to the forefront and make them a priority.
I would also argue that it is not enough to have the "conversations," but equally important to build, implement, and sustain the plan. Attracting the right talent to organizations is one piece of the puzzle, but giving them the right training, skills, and capabilities to drive companies into the everchanging landscape is going to be one of the biggest challenges and opportunities moving forward. The headwinds faced over the last two years are never going to go away. There will simply be new or different headwinds and a continual need to adapt and transform.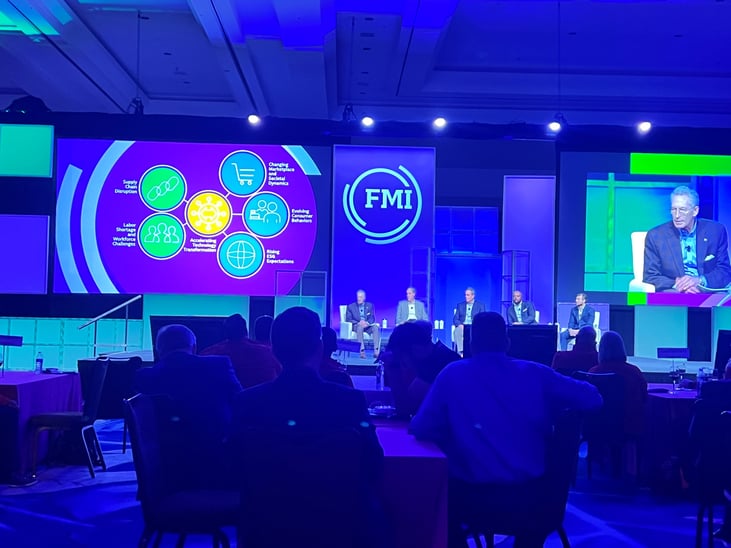 Supplier Partnerships
Conversations about strengthening supplier partnerships were evident everywhere you went at this conference. This conference brought together suppliers and retailers for strategic meetings, and most executives spent 3-4 days straight in back-to-back meetings, discussing opportunities for stronger collaboration to reduce friction in the supply chain process.
There was much discussion around gaining more visibility to data and customer buying habits to drive stronger partnerships with suppliers. The CIO from Gorilla Glue, Annette Franke, said "Data is either your secret sauce or your Achilles heel." We cannot fix or change that which we do not see, measure and track. Therefore organizations are focused on gaining more visibility and "one source of truth" across their organizations to truly understand leakage across their value chains.
As 70% of retailers continue to cut in new products outside of normal resets in their planograms, they must become more responsive to consumer demands and interests, which forces an increased need for better planning, forecasting, and performance with supplier partners. The greatest danger organizations face in the current turbulence is to use yesterday's logic to solve today's problems. Companies are realizing that they must engage with optionality early on in order to react, predict, and continue to transform over and over. If they wait until they have peaked, it is too late. After peak performance comes a decline. It then becomes increasingly difficult to transform. The solution is to work in close accord with the data and partner with suppliers to identify opportunities early. Adapting gives the competitive advantage to both retailers and suppliers.
Sustainability
Lastly, a hot topic that surges to the forefront of many discussions is sustainability. We all want it, but who the heck pays for it?
Denise Lefebvre from PepsiCo talked about their PepsiCo+ initiative and the increased focus around driving these sustainability imperatives. They aim to create more nourishment for growing populations, but doing it in a way that reduces the impact on the environment.
There are many moving parts to the focus on sustainability, and it is a complex challenge that professionals have been targeting for decades. It is an ecosystem transformation that takes into account health, taste, texture, safety, impact, costs, etc. About 60% of consumers today say they care about sustainability, but have higher needs that override that concern, like taste and price. Only 18% of consumers show a deeper concern for sustainability but only 20% of that 18% would take action.
Therefore, the consumer is the great regulator; and companies have to find the balance between doing what is right for the environment and the future of our planet, but do so in a way that does not pass all the costs through to the consumers. At the same time, they must educate consumers on the importance of changing their perception around the risk of inaction.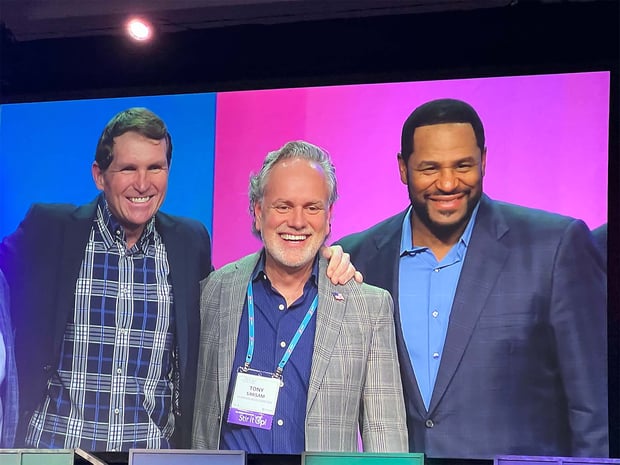 Complex Problems and Their Solutions
These were a few of the themes that continued to come up throughout the sessions. It is not easy to connect the value chain from suppliers to stores to consumers and do so in a way that meets the ever-changing consumer demands, keeps employees motivated, strengthens relationships with partners, takes into account the impacts to sustainable practices, and does all this in a way that delivers profitable businesses and shareholder growth. Complex problems are not solved by simplistic solutions.
Yet there is increasing demand to connect the value chain to optimize all these levers and achieve the highest result. The final keynote speaker, Peter Hinssen, spoke about the "Never Normal." He asked how much time leaders are spending on today, tomorrow, and the day after tomorrow? Today would be within the next few months, tomorrow would be 12 months out, and the day after tomorrow would be the future for your company in the next few years and beyond. He says the current the mix is 93%, 7%, and 0% respectively.
There needs to be a shift to being more forward thinking, bold on vision and flexible on the details. Those forward-thinking companies will rise above the volatility and prosper long-term.
Written by...