From Farm to Home: Shrink reduction across the entire value chain
This perspectives paper provides a snapshot of the key challenges threatening traditional grocers and outlines how, by re-examining your approach to shrink, you can prevent margin erosion and improve EBITDA and cash performance. It focuses on Maine Pointe's lessons learned from working with mid-tier grocery chains to address just one possible area of operating margin improvement both from a pure cost and lost sales perspective.
Key challenges impacting traditional grocers
The challenges threatening traditional grocers have been well documented over recent times, namely:


Traditional supermarkets have been consistently losing share to alternate formats. To lower discount, dollar and extreme discount in lower-income segments and to specialty and warehouse clubs in higher-income groups
Top-5 national chain consolidation is threatening even the strongest traditional grocer's local market share
Changing demographics are driving demand for a healthier, better quality, more ethnic perishables mix

The decline in independent core nationally branded, high margin frozen food categories threatens gross margin

Single member households now stand at 27% - the highest levels ever recorded - which threatens basket size
Maine Pointe's proprietary research of Supplemental Nutrition Assistance Program (SNAP) registered grocers (excluding Dollar and C-stores) indicates a 6% increase in Top-5 national chain market share just in the past 2 years. The smallest 90 retailers in the Top 100 only represent 27% of total 2015 sales, and the gap is widening.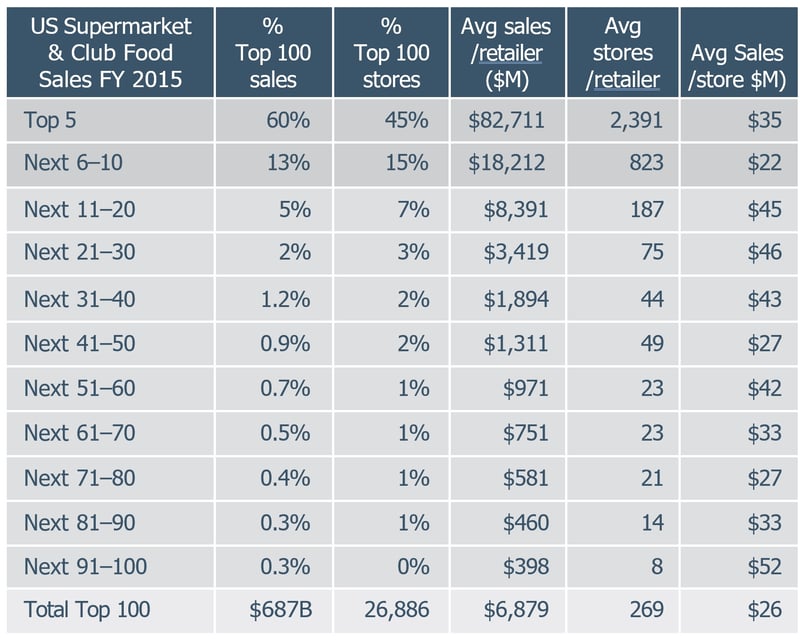 Sources: CSG 2015; SNAP 12/9/15; Maine Pointe Research
It's time to focus on the '5 Rights'
To maintain and improve EBITDA results under such competitive pricing pressure, you need to shift your focus to concentrate on Right product, Right place, Right time, Right quantity, and Right price. But with food and beverage suppliers facing their own profit pressures where is the low hanging fruit for retailers? As the chart below illustrates, reducing cost of goods is probably not the best area of attack. Reducing costs under retailers control is probably the smartest place to start and the most obvious area for many of our clients is shrink.

Source: The Food Institute, 2015
Managing your business in a different way
With greater perishability comes greater labor and inventory management pressures. With more healthy and organic brands comes supplier proliferation, new supplier qualification, additional quality control efforts and lower volume-per-vendor. With more single household customers comes smaller unit sizes, sku proliferation, and lower basket size. With reduced frozen volume comes lower margin and with reduced national brand presence and advertising support comes the threat of reduced traffic. As a result, additional labor spend, additional shrink and major assortment changes lead to a vital balancing act between inventory proliferation and On Shelf Availability (OSA) driven lost sales.
Managing the business with greater emphasis on operating margin vs. gross merchandise margin is a painful transition for some traditional grocers. As the operating complexity of their business increases, an operating culture of minimal store labor ratios just doesn't apply any more and throwing labor at the problem only drives overtime. Many have tried to limit their focus to fixing store operations, failing to see that the real solution extends through the entire value chain. Some simply lack the necessary in-house experience to successfully manage this change. As a result, they struggle to maintain operating margins and manage their assets efficiently. Most will ultimately cross the finish line, but how quickly and with what lost profit varies widely.
4 approaches to shrink reduction – real-world insights
From our work with grocers, we have identified a number of recurrent shrink themes:
1. The earlier in the value chain you fix a problem, the cheaper it becomes
A North East grocer attempted to address perishables quality problems at the store level by increasing labor to eliminate distressed goods. The real problem lay in procurement practices (inconsistent quality control) and poor scheduling communications between the store, buyers and the vendor. The grocer also had operational problems; filling displays on slower mid-week days, but 'silo's' prevented them from addressing the problem at source rather than 100+ times at stores.
2. Develop 'strategic procurement' relationships with your key suppliers
Our client, a leading Mid-West grocery chain, had poor fruit & veg displays (brown bananas, soft cucumber, limp lettuces) with a weak organic program. The client had failed to develop adequate alternate off-season supply sources. They exerted poor sales and order planning communications with existing vendors, had inconsistent quality control, and poor cold chain discipline practices in the distribution center. We synchronized the client's grow-buy-move-inventory-distribute supply chain to achieve what we call Total Value Optimization™.
3. Constantly evaluate the best distribution option for you
One mid-tier grocery client historically operated its own distribution fleet. They asked us to review self-distribution vs. multiple 3PL vendors based on cost, service quality and future growth. As their perishables mix expanded, cold chain investment and refrigerated product handling / control was becoming more pressing. What is the optimum way of getting product to shelf? Should we be running our own trucks? Are we running our logistics efficiently from operations, maintenance, route planning, and utilization? Can we release capital to invest elsewhere in the business? Are 3PL's performing per their contract and what control do we have? Is the 3PL driving a continuous improvement culture and passing on any cost savings? In the end, our client chose to outsource 100% of its logistics operations to the 3PL we recommended, with performance benchmarks to help manage the transition and on-going relationship.
4. Build consistent processes across the value chain, train effectively, measure always
A South Eastern grocer was experiencing high throws and excessive inventory on direct store delivery (DSD) items. Despite low employee turnover, it had failed to cross-train and rotate its receiving personnel. High receiving errors, shortages and DSD over-ships were common. DSD vendors knew when delivery scrutiny was weak and would redeliver previously refused produce during those windows.
A major portion of receiving errors originated in the delivery center and not the store so we were able to help our client avoid having to fix the problem 175 times.
Few people in the grocery business would disagree that there are more challenging times ahead. To survive and thrive in a changing environment, you need to quickly reduce shrink and optimize your grow-buy-move-inventory-distribute supply chain. Those who do this successfully will tap into significantly improved EBITDA opportunities.