Opportunities and challenges for the drink and food processing industry

Suppliers in an intensely aggressive market must adapt to succeed
An ongoing and increasingly ferocious price war in the UK and across Europe has put supermarkets under severe pressure to deliver "best value" to customers. In the UK around two-thirds of the food retail market is controlled by 4 major players, Tesco, ASDA, Sainsbury and Morrisons, who are slugging it out with discount stores such as Aldi, Iceland and Lidl. Their continued survival depends on the ability to lower prices whilst protecting margins; the result is a downward pressure on food prices right across the sector. Drink manufacturing and food processing suppliers are being asked to do more for less and there's no sign that this situation will change in the foreseeable future.
12-Weekly
%
share
of
grocery
market
spend
by
retailer
and
value
sales
%
change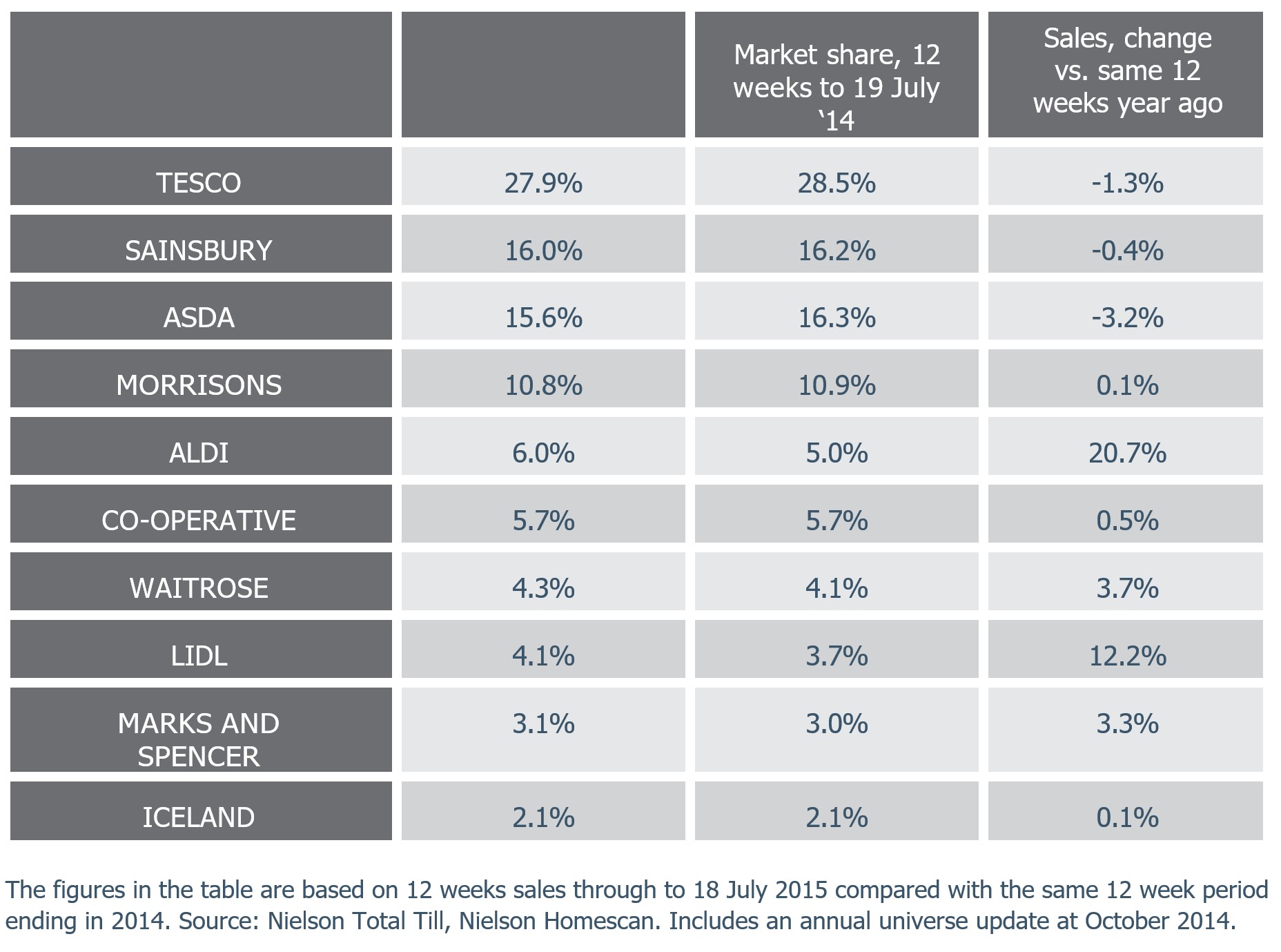 So how will this impact on the drink manufacturing and food processing industry? Everyone is looking for ways to woo customers and differentiate themselves through better offers and cheaper prices. Goldman Sachs Analyst Rob Joyce suggests that, "A large closure program is the only viable solution to bring about a return to profitable growth for the UK supermarket industry."
Whether this will be the eventual outcome is too soon to say but what we do know is that the impact on drink manufacturers and food processors is profound. Those who fail to rapidly adapt to meet new customer demands will disappear. There's no doubt that this presents a major challenge to the industry but there is light on the horizon for organizations that can change fast enough.
There is a bright future for those who adapt
According to a recent study by Research and Markets, a bright future awaits those who do adapt. The loss of weaker suppliers combined with expected market growth of around 3-4% in the short to medium term means that innovative and efficient suppliers have every reason to be optimistic about the future. This positive outlook in the UK is further supported by another study carried out by Food Manufacture showing that 86% of respondents maintain a positive outlook and see a long-term future for the UK drink manufacturing and food processing industry. A further 75% expect their company's profit margins to improve over the next year and 69% expect to invest more in new product development this year than last year.
The steps drink manufacturers and food processors should take now to harness the opportunities
Driving efficiencies from existing operations is an essential first step. There is no point in increasing output and investing in innovation and value-added services if the existing operational base is sub-optimal. Capital investment to achieve greater output in advance of addressing operational efficiencies simply exacerbates existing operational issues.
The more companies do to drive operational performance improvement prior to making key capital investment in areas such as plant, training and research and development, the better and more immediate the return on the investment. In many cases greater efficiencies brought on by improved asset utilization, product rationalization and productivity gains mean that the level of capital required to reach growth and financial targets is greatly reduced and the investment is better targeted.
It is clear that the sector is investing in research and development and that is extremely important. The trouble is that, in our experience, companies tend to be too limited in their thinking and focus when it comes to innovation. Success in entering new EU and global markets requires a different way of thinking and an ability to tightly manage product and service complexity. This complexity is not just confined to managing longer customer delivery distances and product proliferation but also the ability to work collaboratively with other companies within the customer's team - other product suppliers, logistics companies, agents, wholesalers and distributors.
Today customers are not just considering the quality and value of individual suppliers but increasingly the quality of the supply chain team as a whole. This means that product quality and reliability are seen as a given. Customer focus is shifting to how the team as a whole adds value to their business. This way of thinking and working poses a particular challenge for companies who have not achieved the required level of operational sophistication and competence to seamlessly manage the needs and requirements of multiple stakeholders with tight deadlines and specific requirements.
Take procurement for example. New market drivers create both an opportunity and a threat to organization's competitiveness and procurement is at the heart of it. Smart organizations are the ones that are responding by adopting a different approach by moving beyond a focus on price to that of strategic value creation.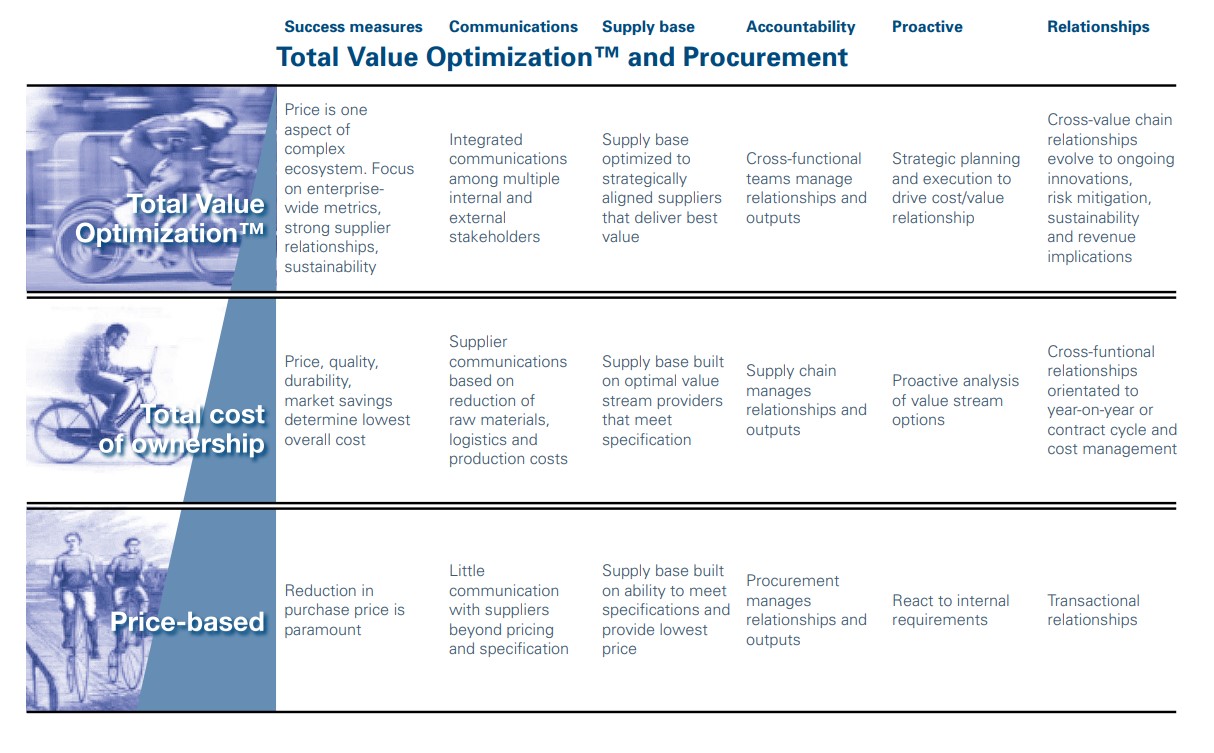 Having a lean, agile, integrated business that delivers business value is the new benchmark.
The future belongs to suppliers that can continuously respond to customer demand, manage increasing product and distribution complexity and navigate greater regulatory intervention. Through seamless synchronization across the value chain from the customer through to operations, logistics and procurement, Total Value Optimization™ can be achieved.
Companies that can successfully navigate the road to Total Value Optimization™ will have a bright future as a combination of technological innovation and increasing consumer demand for high quality, premium and regionally authentic foods provides opportunities for improved EBITDA.
Four operational areas that food and drink processing companies need to focus on
Achieving total value optimization, every aspect of the business needs to move beyond simply being efficient and continuously improving to being an integral part of adding business value for the customer


Customers are forming preferred networks of suppliers so increasingly suppliers will need to collaborate across the network not just directly with their customer


The speed of innovation required to maintain the supply, quality and availability of food and drink to an increasingly demanding and growing global population is a challenge that governments and the industry as a whole are only just beginning to quantify so continued, intelligently directed, and growing R&D investment will be vital to future success



The sector needs to utilize new technologies to transform the way they do business and enhance the quality of their products and services.
Take the next step
As specialists in procurement, logistics and operations, we know that there are cost savings to be found almost everywhere in the key areas of your value chain. Not only that, we have the experience, methodology and capability to deliver significant savings and help clients move up the maturity curve to achieve Total Value Optimization™.