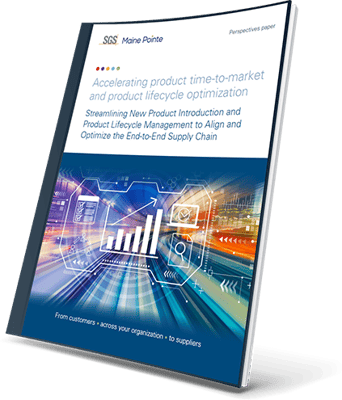 Accelerating product time-to-market and product lifecycle optimization
This Maine Pointe Perspectives paper is recommended reading for CEOs and PE executives who want to unlock NPI/PLM value to align and optimize the end-to-end supply chain. The paper includes:
The NPI/PLM challenges faced by the C-Suite
Why invest in NPI/PLM
End-to-end supply chain benefits from NPI/PLM optimization
Key principles for effective implementation
Why mature organizations are ripe for unlocking NPI/PLM value now
Critical success factors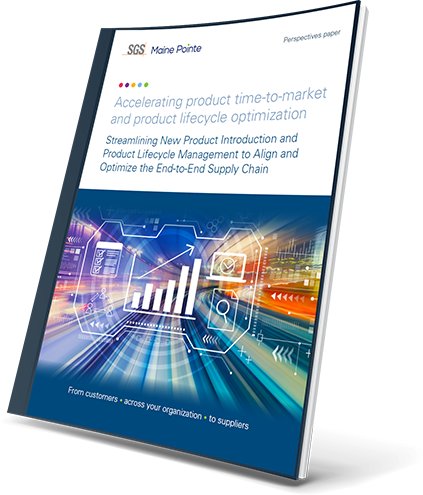 Challenges faced by the C-Suite

Why invest in NPI and PLM optimization?

Key principles for effective NPI and PLM implementation

Getting the right product/solution/service to market at the right time, to the right customers, the way they want it delivered has become the new commercial battlefield for competitive advantage.
A meter from the finish line you visualize victory and, certain of a win, push yourself and your team hard. And why not? You've prepared for every step in the path to success within your control. However, despite your best efforts, you fall short of success. The loss feels bad, but worse still, you've been here before. Many supply chain leaders live in this paradigm every day, and it intensifies during the quarter-end cycle.
Supply chains are complex but the C-suite has opportunities to overcome these complexities. One solution resides in how organizations proactively and aggressively align new product introduction (NPI), product lifecycle management (PLM), sales and operations planning (S&OP), and data analytics to be part of the supply chain ecosystem. If they do, supply chain can influence downstream victories – cost, delivery, quality and time-to-market.
To be of maximum value, NPI and PLM must be optimized and interconnected to the supply chain to achieve highly effective and efficient procurement, operations and logistics practices. This requires cross-functional leadership and stakeholder alignment. It isn't easy, but success is well within the C suite's grasp.
This whitepaper highlights why optimizing NPI and PLM enhances the end-to-end supply chain and operations ecosystem. Moreover, it sets out the reasons why an interconnected ecosystem is necessary to achieve Total Value Optimization (TVO)TM.
eBook: Accelerating product time-to-market and product lifecycle optimization