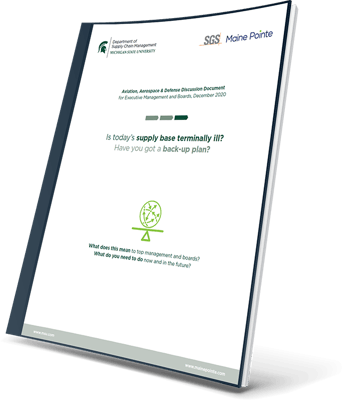 Is today's supply base terminally ill?
Have you got a back-up plan?
This executive discussion paper from Maine Pointe and Michigan State University addresses the unprecedented challenges the aviation, aerospace & defense industry currently faces.

The paper analyzes the root causes of the industry's supply chain and operations challenges and offers seven practical steps to overcome them.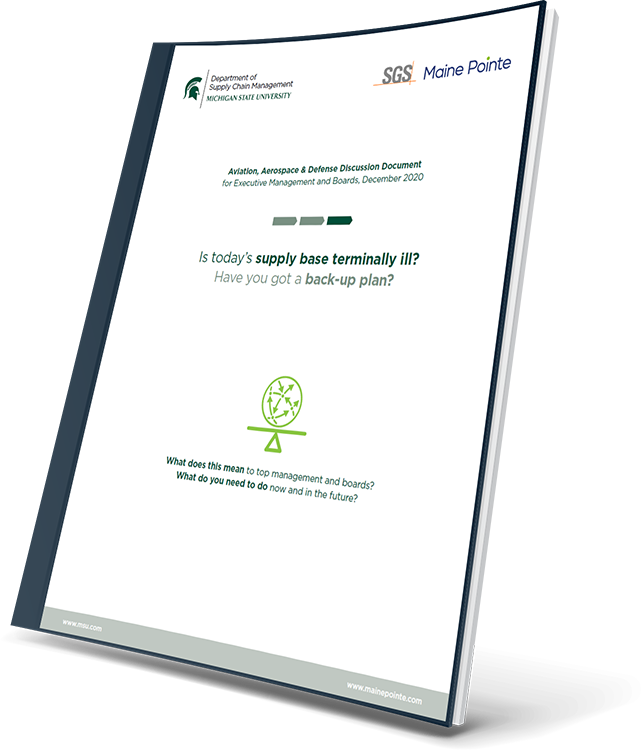 Intensive care is required
The supply chain continues to shrink even though defense budgets continue to grow

We've lost sight of the ultimate picture and goal
We want supply chains that are transparent, scalable, efficient and agile.

Good suppliers are firing bad customers
The US Department of Defense (DoD) supply base has shrunk by 27%
Today's aviation, aerospace & defense supply chain is sick and at one of the highest levels of risk observed in recent memory. Suppliers, OEMs, airlines and the DoD are under unprecedented pressure to recover from 2020 losses (operationally & financially) while future proofing themselves.
We've built a system rife with friction, inertia and sometimes contradicting terms, conditions, goals and incentives. With good and vital suppliers exiting and exposing strategic gaps, we've lost sight of some of the more important 21st century supply chain performance metrics.
This dysfunction is evident at all levels of the supply chain, including tier 1 and sub-tiers. We don't believe this is a supplier problem per se (although many are specifically challenged); rather, it's a set of OEM-supplier relationship management, collaboration (i.e. trust), integration, visibility and alignment challenges. First and foremost, these are business/contracts issues, with people/culture issues running a close second, and digital/technology issues a distant third.
Is today's supply base terminally ill?