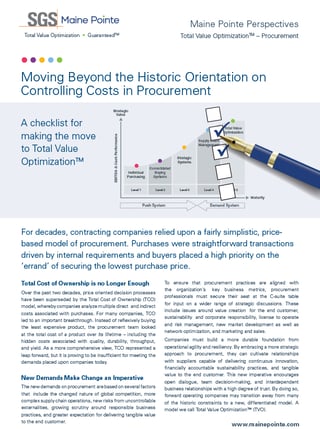 Moving Beyond The Historic Orientation On Controlling Cost In Procurement
This Maine Pointe perspective paper is for CEOs, CFOs and Procurement executives and includes:
Why Total Cost of Ownership (TCO) is no longer enough

Taking a more strategic approach to procurement

Our checklist for making the move to TVO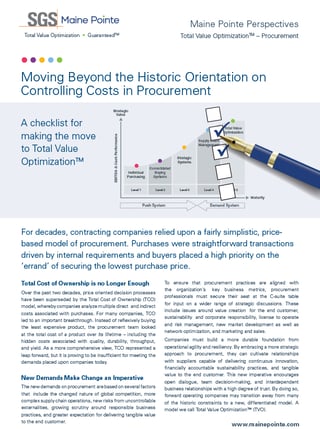 Cultivate a value-driven supply base

Make organization resiliency a priority

Taking control of your supply chain

Total Cost of Ownership is no Longer Enough. Over the past two decades, price oriented decision processes have been superseded by the Total Cost of Ownership (TCO) model, whereby companies analyze multiple direct and indirect costs associated with purchases. For many companies, TCO led to an important breakthrough. Instead of reflexively buying the least expensive product, the procurement team looked at the total cost of a product over its lifetime – including the hidden costs associated with quality, durability, throughput, and yield. As a more comprehensive view, TCO represented a leap forward, but it is proving to be insufficient for meeting the demands placed upon companies today.

The new demands on procurement are based on several factors that include the changed nature of global competition, more complex supply chain operations, new risks from uncontrollable externalities, growing scrutiny around responsible business practices, and greater expectation for delivering tangible value to the end customer.

To ensure that procurement practices are aligned with the organization's key business metrics, procurement professionals must secure their seat at the C-suite table for input on a wider range of strategic discussions. These include issues around value creation for the end customer, sustainability and corporate responsibility, license to operate and risk management, new market development as well as network optimization, and marketing and sales.
eBook: Moving Beyond The Historic Orientation On Controlling Cost In Procurement