Our engagements deliver between 4:1-8:1 ROI
We provide a unique 100% guarantee of engagement fees based on annualized savings*
All operations and process re-engineering firms claim they will maximize efficiencies and improve EBITDA. However, why settle for hope when Maine Pointe guarantees results from a track record of exceeding expectations, premised upon our uncommon 100% engagement fee guarantee?
Here's how our guarantee works:
We develop a

customized savings agreement

for each engagement, based on the findings of a detailed analysis. The agreement establishes goals and the metrics used to monitor results
The engagement cross-functional teams

submit savings to the CFO as annualized results are achieved
At the conclusion of the engagement, in the event that the guarantee has not been achieved, Maine Pointe will refund a proportional amount of the fees, or

continue working until it is met
Typical results include:
15-30%

cost reduction

or margin improvement in operations
8-18%

cost reduction

in procurement
9-22% cost reduction

in logistics
15-25% reduction

in working capital requirements
A game-changing approach
Clients repeatedly tell us that our skill in engaging both C-suite leaders and frontline personnel is key to a business transformation that produces a game-changing competitive advantage. At its core, our collaborative approach effectively educates and empowers your teams for ownership of the outcomes. Responsibility for outcomes is central to building commitment and sustaining durable improvements with inherent bottom-line savings long after we've completed our work together.
*We endeavor to underwrite all engagements with a guarantee. Subject to the findings in our analysis, there may be circumstances when we will adjust this guarantee.
---
Clients Speak
Measurable Impact/Unique Guarantee
A strong spend management program that leverages the right approach can have a tremendous impact on working capital, cost control and reduction, and the bottom line. There are few comparable firms with the same impact. Enabling a quick start and having the safety net of a guarantee makes Maine Pointe all the more attractive."

John Sinatra, Chief Financial Officer, Veronis Suhler Stevenson
Unique Guarantee
Maine Pointe's unique approach to a savings guarantee for clients, combined with their deep knowledge and practical work experience in supply chain management, sets them apart from others. Through an intense evaluation of existing practices and their focus on low capital investment solutions, sustainable process improvements are developed and implemented that yield real and measurable benefits for the long term."

Blaine Higgs, former Director of Logistics and Distribution, Irving Oil
What Our Clients Say
Experience the difference
Sales & Operations Planning Success Stories
Driving measurable and sustainable change
Establishing accountability, enhancing collaboration and integration in all phases of sales, inventory, operations and planning.
Read Story ➔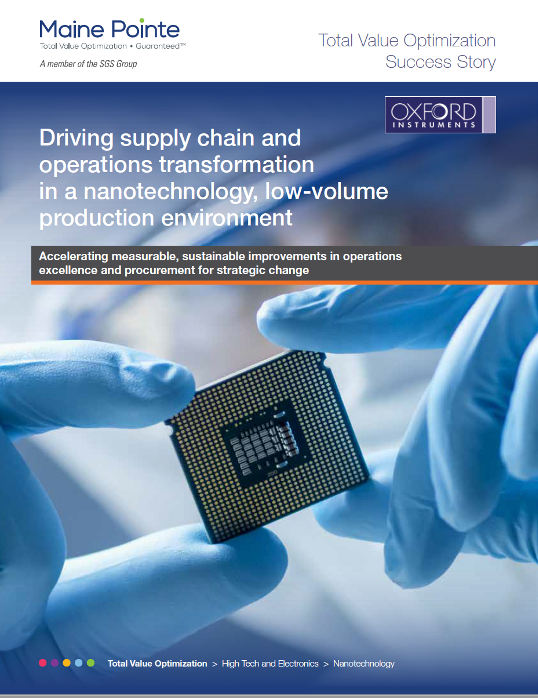 Improving forecasting, management visibility, KPIs and inventory control
Read Story ➔

Talk to us
Have a particular business challenge you'd like to address?
Submit this contact form to speak with one of our executives.