Consulting Magazine Recognizes Steven Bowen, CEO of Maine Pointe, with Global Leaders in Consulting Award
Link to press release on PRWeb
Global supply chain and operations consulting firm Maine Pointe announced its Founder and CEO Steven Bowen was recognized as a Global Leader in Consulting by
Consulting Magazine
. Recognized in the Excellence in Influence category, Bowen accepted the award on behalf of the firm at a recent gala event in London.
The award was launched in 2017 as part of the publication's mission to highlight the best in the profession, and highlights now the work done by these professionals continues to make an impact worldwide.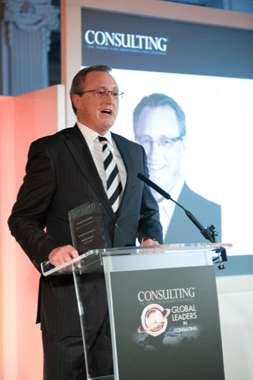 Bowen was profiled in the January issue of Consulting Magazine along with other award recipients, with the editors recognizing two of Bowen's recent milestones: Achieving >25% revenue CAGR the past five years, consistently outperforming the market, and the publication of his book, "Total Value Optimization: Transforming Your Global Supply Chain Into a Competitive Weapon." The publication notes that Bowen is "regarded for his ability to quickly transform organization vision and mission into exceptional team performance."
"I am very pleased to accept this recognition from Consulting Magazine. This award reinforces the transformative value of Total Value Optimization (TVO)™ to companies seeking to optimize their global supply chains. We have experienced rapid growth as a consulting company, though our vision isn't to be largest – our vision is to be the most sought-after supply chain and operations implementation focused consulting firm. The value creation for businesses through TVO has positioned Maine Pointe uniquely in the market. This recognition will help to further our quest to advance TVO in the marketplace, as well as to attract even more talented people to join Maine Pointe in our journey."
Bowen's landmark book has been endorsed by the Global Supply Chain Institute, and acknowledged as a highly transformative methodology delivering a new approach to end-to-end supply chain collaboration and integration. Total Value Optimization (TVO)â"¢, which has five levels of performance, is positioned to be the next Lean / Six Sigma of the global supply chain.
Bowen is a sought-after global leader in supply chain optimization with over 30 years of P&L experience, including turnarounds and high-growth businesses. He is a regular guest on TDAmeritrade Network's Market on Close show and was recently featured on the Supply Chain Brain podcast. Bowen frequently offers commentary in leading business publications including Forbes, where he shared insights into how companies are responding to new tariffs by optimizing value at the supply chain level. He has also published articles highlighting his perspectives on supply chain collaboration and integration in Chief Executive Magazine and Supply Chain Management Review.
About Maine Pointe
Maine Pointe is a global supply chain and operations consulting firm trusted by many chief executives and private equity firms to drive compelling economic returns for their companies. We achieve this by delivering accelerated, sustainable improvements in EBITDA, cash and growth across their procurement, logistics and operations. Our hands-on implementation experts work with executives and their teams to rapidly break through functional silos and transform the buy-make-move-fulfill supply chain to deliver the greatest value to customers and investors at the lowest cost to business. We call this Total Value Optimization (TVO)â"¢.
Maine Pointe's engagements are results-driven and deliver between 4:1-8:1 ROI. We are so confident in our work and our processes that we provide a unique 100% guarantee of engagement fees based on annualized savings. http://www.mainepointe.com