The global pandemic has exposed the fragility of global supply chains. How will the renewable energy industry respond?
A heavy reliance on China as the major global producer of many clean energy technologies has exposed the fragility of the US and European renewables supply chain. As demand plummets, prices drop, new facilities and infrastructure projects are put on hold and end customers struggle to pay their energy bills, the clean energy sector needs to adapt quickly to a changing world.
A COVID-19 impact survey by the Global Solar Council found 50% have seen increase in price of goods >10%
75% have experienced difficulty in supplying goods and services
71% anticipate difficulties in supplying goods over the next 4 months

Siemens Gamesa Renewable Energy (SGRE) reported that disruptions caused by the coronavirus directly led to a negative impact of €56 million to its Q2 EBIT

Executives are under enormous pressure to devise a recovery strategy to quickly limit short-term disruption, support recovery in the mid-term, and build greater supply chain agility, resilience and optimization in the longer term
Maine Pointe is helping clients in the energy sector navigate and accelerate through these challenging times with a process of stabilize-recover-rebalance which drives supply chain rationalization and improvement initiatives three times faster than a traditional approach
As quarterly earnings season looms, what will you tell your board?
We can help
Our implementation experts have the onsite/offsite capabilities and industry knowledge to help accelerate your supply chain initiatives immediately. In addition, as a member of the SGS group, our clients have access to the world's leading independent inspection, verification, testing and certification company.
Rebalance the energy supply chain through Total Value Optimization (TVO)™
Built on a roadmap of three key stages; stabilize-recover-rebalance, Total Value Optimization (TVO)™ provides an accelerated pathway to overcoming short-term supply challenges and building the foundations for a resilient, digitally enabled, agile supply chain and operations of the future. TVO is achieved when an organization is dynamically able to anticipate and meet demand through the synchronization of its plan-buy-make-move-fulfill supply chain to deliver the greatest value to customers and stakeholders at the lowest cost and risk to business.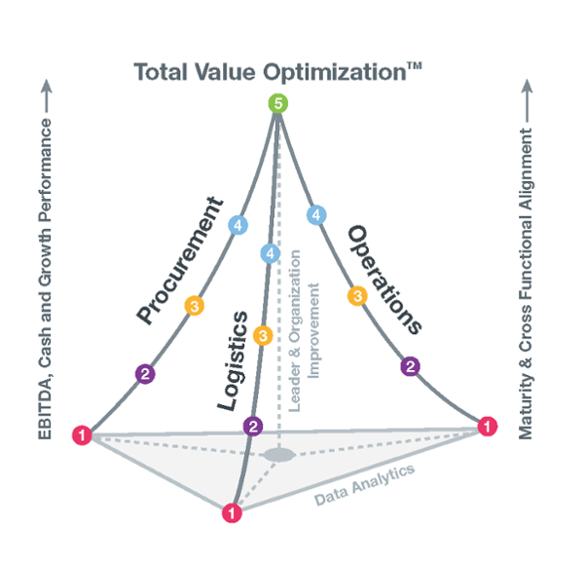 What our clients say
Maine Pointe's expertise and experience led us through the development of a

sustainable advantage at an accelerated pace

. The Maine Pointe team brought strong project leadership and experienced SMEs, coupled with advanced data analytics resources."

EVP, solar energy design & installation company
We engaged Maine Pointe to

drive significant procurement, logistics and working capital savings,

coupled with transforming our global supply chain operations into a source of sustainable competitive advantage.

I am pleased to say the engagement was very successful. Our savings goals were achieved and in some cases exceeded...As a result of the engagement we now better understand the risks and opportunities within our supply chain."

CFO, Solar energy manufacturer
C-Suite testimonial video
The CEO, CFO, CHRO and a divisional MD of Oxford Instruments, a leading provider of high technology products and services to the world's foremost industrial companies and scientific research communities, talk about how their organization achieved measurable results, fast. They discuss how Maine Pointe helped accelerate measurable, sustainable improvements in operations excellence and procurement for strategic change.