Blockchain Initiatives Continue to Pave the Way to Future Transparency and Innovation for the Digital Supply Chain
Blockchain is part of a paradigm shift that creates completely new opportunities for digital disruptors to transform the end-to-end supply chain. Blockchain-powered platforms can gather product information from stakeholders across the supply chain and allow them to share information in virtual environments without a verification intermediary. It can also be a source of truth for the product's location of origin.
Recently, Walmart China announced the Walmart China Blockchain Traceability Platform, built on the VeChainThor Blockchain. It is expected that, with the introduction of this system, traceable goods will account for 50% of total sales of packaged fresh meat, 40% of total sales of packaged vegetables and 12.5% of total sales of seafood by 2020.
In another example, mining and manufacturing company 3M has been investigating labels for pharmaceutical products tracked on the blockchain. Although patients want to believe all their pharmaceuticals are true to their labels, the fact remains that billions of dollars' worth of fake pharmaceuticals are manufactured in the United States every year. 3M's industry-leading innovations aim to combine physical labels with digital processes to create non-electronic, tamper-evident labels for pharmaceuticals as well as other sensitive products. Using the blockchain technology of Microsoft Azure, 3M can detect and deter fraud to address the underlying problem and the issue of public health.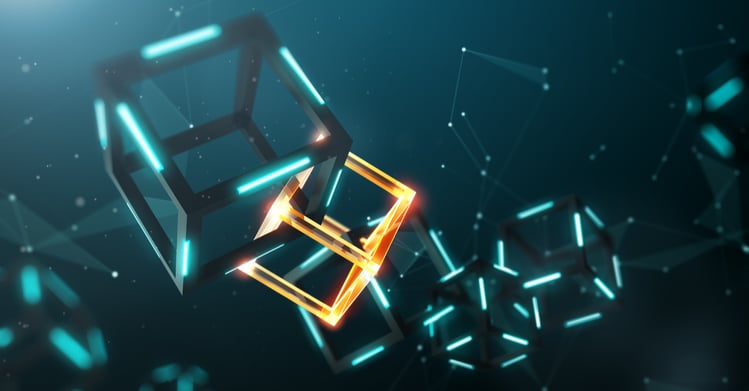 IoT and blockchain convergence also provides new ways to track and enforce compliance across a supply chain. With a blockchain-powered solution, sensors could deliver temperature and humidity information to a smart contract, which would monitor the status of the environment against the terms agreed to by the supply chain participants. The single source of truth would alert the manufacturer in real time, enabling it to both take the item out of the supply chain and keep the responsible party liable for violating the terms of the transport agreement.
In a report titled Predicts 2019: Future of Supply Chain Operations, Gartner predicts that fully realized blockchain-complete solutions will exist by 2023. Going forward, it will be crucial for businesses to fully understand the nature of the information they have stored as trusted transactions within the blockchain. Once content has been established, it will also be important to identify what the content means, and which audiences should respond to it. Keep in mind the underlying standards applied against data. This is one reason why Gartner has predicted that 90% of current blockchain-based supply-chain initiatives will experience "blockchain fatigue" by 2023.
Organizations that can reinvent themselves using digital supply chain innovations like blockchain to unlock new business opportunities at a pace that is commercially viable, will succeed.
---
About Maine Pointe
Maine Pointe, a member of the SGS Group, is a global supply chain and operations consulting firm trusted by many chief executives and private equity firms to drive compelling economic returns for their companies. We achieve this by delivering accelerated, sustainable improvements in EBITDA, cash and growth across their procurement, logistics, operations and data analytics. Our hands-on implementation experts work with executives and their teams to rapidly break through functional silos and transform the buy-make-move-fulfill digital supply chain to deliver the greatest value to customers and stakeholders at the lowest cost to business. We call this Total Value Optimization (TVO)™.
Maine Pointe's engagements are results-driven and deliver between 4:1-8:1 ROI. We are so confident in our work and our processes that we provide a unique 100% guarantee of engagement fees based on annualized savings. www.mainepointe.com