Gaining data visibility and control is critical to rebalancing the chemicals supply chain and operations
Like most industries, the chemicals sector has had a bumpy ride in the last 12-18 months. The global pandemic impacted every aspect of the supply chain and operations from demand and inventory planning right through to global logistics. As recovery began, business leaders had to adapt to the challenges of the post-pandemic world and figure out how to protect margins and accelerate growth amid raw material shortages, increased costs and transportation challenges. No sooner had US businesses begun to make these adjustments than they were hit with a second blow in the form of the "Texas Freeze".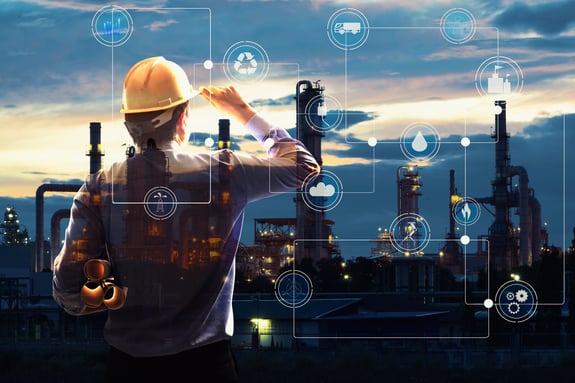 The US petrochemicals industry is no stranger to 'acts of God'; Gulf Coast plants are built to withstand hurricanes, but they are not designed to endure a prolonged period of sub-zero temperatures. So, when the freeze hit, pipelines seized up, electricity was in short supply and plants were forced to shut down for the better part of two weeks.
Impact on the industry
Texas is one of the US' largest exporters of plastics and other petrochemicals products and the ripples from this shutdown are having an impact on national and global supply:
The majority of manufacturing capacity for propylene, ethylene glycol, epichlorohydrin and epoxy resins was taken offline
Pumps, process lines, pipes and other equipment were frozen and stopped production
Crackers were idled at XOM, Chevron, Dow, Lyondell to name a few
It will take months before production and inventory will be restored to pre-freeze levels
Force majeure was invoked across the industry and a tremendous revenue shift is underway from Q1 & Q2 to Q3 & Q4, 2021

Prices for polyethylene and polypropylene, used to make auto parts, have seen the biggest hike in ten years and are likely to remain high for the rest of the year
The challenge
The fact that a few days of freezing temperatures can bring the largest petrochemical complex in the world to a standstill underscores the fragility of the chemicals supply chain and operations. With analysts predicting inventories may take months to return to normal, the major industries need a detailed digital roadmap to stabilize, recover and rebalance. Faced with increased demand and rising costs, leadership will need to make immediate changes to operations to optimize growth, visibility, agility, resilience, EBITDA and cash performance in these rapidly changing times. They will also have to make critical decisions about how they prioritize customers as volumes return back to normal. None of this is possible if you aren't able to view, manage, forecast, simulate, optimize and control the end-to-end supply chain and operations from a single location.
Gain visibility and take control
There is nothing more strategic or essential to your company's survival than to have the tools to make these decisions. A supply chain and operations Control Tower -- with visibility that spans from inbound raw materials to production decisions to customer order fulfillment will be critical for chemical companies seeking to recover lost revenue and retain key customers.



An example of how a data-led approach informs the decision-making process is our recent work with a major global fertilizer company. To optimize EBITDA, cash and growth, leadership needed to first gain visibility to their global supply chain and optimize their customer base. To deliver the necessary insight and align the organization around a single source of corporate knowledge, Maine Pointe's data analysts built a TVO ControlTower™. With the first phase implemented in just three months, this centralized hub enabled leadership to make proactive rather than reactive decisions, to predict competitor's strategies and pursue the clients and market segments with the most potential to fuel profitable growth.
This capability is a game-changer for chemicals companies who need to make accurate data-driven customer, product and regional allocation decisions. The question executives need to ask themselves is, in the current demand/supply imbalanced environment, is your organization equipped to make timely, accurate real-time decisions, fast?
---
About Us
Maine Pointe, a member of the SGS Group, is a global supply chain and operations consulting firm trusted by many chief executives and private equity firms to drive compelling economic returns for their companies. We achieve this by delivering accelerated, sustainable improvements in EBITDA, cash and growth across their procurement, logistics, operations and data analytics. Our hands-on implementation experts work with executives and their teams to rapidly break through functional silos and transform the plan-buy-make-move-fulfill digital supply chain to deliver the greatest value to customers and stakeholders at the lowest cost and risk to business. We call this Total Value Optimization (TVO)™.
Maine Pointe's engagements are results-driven and deliver between 4:1-8:1 ROI. We are so confident in our work and our processes that we provide a unique 100% guarantee of engagement fees based on annualized savings. www.mainepointe.com