How Can Packaging Companies Respond to Global Bans on Single-use Plastic?
Increased awareness around environmental pollution has heightened concerns about indiscriminate waste disposal. Much of the discussion focuses around the excessive use of plastics which, despite being a useful material, pose a threat to our planet.
The environmental threat of single use plastics
About 80-85% of all litter in the oceans is plastic and half of that is made up of throw-away, 'single use' items such as plastic straws. This disturbing fact has prompted over 60 countries worldwide to ban single- use packaging items.
The Canadian city of Vancouver has banned straws, Scotland plans to be rid of plastic straws by 2019, and Taiwan will have banned single-use plastic items, including straws, cups and shopping bags, by 2030. In the UK, Prime Minister Theresa May announced a Britain-wide ban on the sale of plastic straws, stirrers, and plastic cotton swabs. In the US, where 500 million plastic straws are used every day, Seattle became the first city to ban their use in July 2018. New York City, Hawaii and California all intend to follow suit.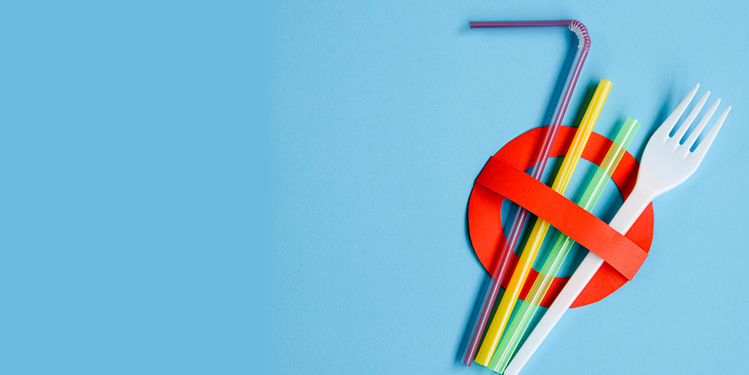 Corporate bans on single-use plastics
In recent months a number of organizations have also made commitments to consumers and the environment. British businesses like high-end supermarket chain, Waitrose, London City Airport, McDonalds UK, and Costa Coffee (the UK's largest coffee house chain) are banning straws, Ryanair aims to be "plastic free" by 2023, and Marriott is implementing a straw ban at all its British properties. Hotel chains and transport providers such as Hilton, Hyatt, American Airlines, Alaska Airlines, and Royal Caribbean have all announced plans to introduce bans of their own.
These measures are essential to stop our wasteful use of plastics and an important first step to tackle plastic pollution." Alice Bernard, Chemicals Lawyer, ClientEarth
Global Bans and their Repercussions on Industries
There is no denying that this initiative is beneficial to creating a healthy environment. However, it is equally important to consider the impact of this global ban on the businesses and the industries that rely on the use of single-packaging-Items. The decision has its repercussions on the food service, packaging and other industries. Also, businesses like hotels, retail outlets and restaurants using disposable utensils or straws have to develop an alternative strategy to meet the requirements of their businesses.
Alternative Strategies to Help Your Business Thrive
Many countries and organizations see the global ban as an opportunity to save money and develop creative alternatives. Companies are trying innovative ideas to replace plastic bags and straws. In terms of packaging, the supply chain to the food and drink industry will also need to play a part and adapt to any future changes to legislation. If plastic straws are to be banned, then manufacturers will need to consider more environmentally friendly alternatives such as paper for single-use instances and metal for long-term use at home.
Reduce, Reuse, Recycle
One example of this 'out of the box' thinking is Starbucks Coffee Company which announced plans remove single-use plastic straws from its more than 28,000 outlets worldwide by 2020. The company will do this by making its strawless 'nitro' lid available for all cold beverages and offering alternative-material straw options.
Elsewhere, reusable bags made of woven synthetic fabric are an excellent option to reduce the use of plastic bags. Reusable containers and utensils are an effective solution for the food industry and businesses. Many coffee outlets even offer a discounted rate for bringing your own coffee cup.
It's not just what you make, but how you make it
Let's use paper straws, a great live example. The only paper straw manufacture in the US has recently been purchased by The Hoffmaster Group. Rory Leyden CEO of Hoffmaster recently stated on CNBC's Squawk Box that, "Ultimately the best paper straw is going to be the straw that wins in the market place," and I think he's right. Paper straws, like other alternative single-use substitutes have received a bad rap by being cheap, poorly designed and flimsy. Developing the proprietary processes to engineer quality within the products themselves will separate the winners from the losers. A well designed and built paper straw that can hold up for 2 hours is more likely to be widely adopted by consumers than a straw that can barely hold up for 30 minutes. Bring it back to basics and focus on quality.
Innovate and Educate
People have tried to refute him but Plato is still right, "Necessity is the mother of invention." However, how does one accelerate necessity? Education is critical for consumer preferences to change, especially after decades of conditioning. We have all seen pictures of oceans riddled with trash and beaches littered, but it seems that out of sight really is out of mind. Consumers might acknowledge that there is a problem but are unlikely to change behaviors. Companies offering alternatives products should look to education as a form of marketing. This will be a sure way to increase awareness and improve revenue.
Balancing Economics
Have no qualms about it, there will be a domino effect on the economy as each of these sectors begin to feel the pressure of consumer trends changing. Let's take a look at the economic impact of plastic bags as quite a few states in the US already implement taxes / bans.
Currently plastic bags help sustain 30,900 American jobs. As more and more states comply, we will see taxes and bans create challenges for both consumers and business owners. However the costs will most likely be passed onto the consumer.
A study by the National Center for Policy Analysis shows that plastic bag bans have a negative effect on retail sales in areas where bans are in place as they encourage shoppers to take their business to neighboring areas with no ban in place. An analysis from Seattle's plastic bag ban showed it is causing store owners to spend 40 to 200% more on alternative carryout bags, directly impacting their bottom lines.
The key is to strike a balance. Capacity will continue to be developed in order to meet demand and provide price relief for early adopters. The companies and business owners that are increasing their packaging costs will need to become competitive in other areas of their COGS to keep margins intact, or risk lost revenues by passing costs onto consumers.
Bottom-line impact
The growing ban on single-use plastics will have an impact on how many businesses in the food, drink and retail industries provide their goods and services.
Manufacturers of more environmentally sustainable products, such as paper straws, will need to look at their supply chain and operations to ensure they are able to keep up with unprecedented demand. To do this, companies may need to look for outside investment.
Businesses and restaurants need know how to abide by the rules of global bans and prepare themselves for future legislative changes that will impact how they package and distribute their goods. Forward-thinking companies should begin looking at their use of plastics across the value chain and understand where changes could be made so that they can continue to deliver the greatest value to customers and investors at the lowest environmental and business cost. As John C. Maxwell well said, "Change is inevitable, growth is optional."
About Us
Maine Pointe is a global supply chain and operations consulting firm trusted by many chief executives and private equity firms to drive compelling economic returns for their companies. We achieve this by delivering accelerated, sustainable improvements in EBITDA, cash and growth across their procurement, logistics and operations. Our hands-on implementation experts work with executives and their teams to rapidly break through functional silos and transform the buy-make-move-fulfill supply chain to deliver the greatest value to customers and investors at the lowest cost to business. We call this Total Value Optimization (TVO)™.
Maine Pointe's engagements are results-driven and deliver between 4:1-8:1 ROI. We are so confident in our work and our processes that we provide a unique 100% guarantee of engagement fees based on annualized savings. www.mainepointe.com