Rail Optimization: The Carriers' Perspective
The U.S. Department of Transportation expects total freight volume to grow 37% by 2040 and predicts an increase in rail freight value of 88% by 2035, due to increased road congestion. For the rail network, if improvements are not made right away, this could lead to stagnation through congestion.
With margins high and the industry close to tipping point, carriers and shippers need to act now to enhance relationships. As major shifts continue to take place in consumer, lifestyle, technology and mobility, the transportation industry needs to transform itself to harness the power of digitalization. This "Amazon effect" means carriers need to invest in new technologies, sharing information and evolve business models that develop agility to respond to changing shipper and customer demands. The keywords for success in this scenario are flexibility and transparency.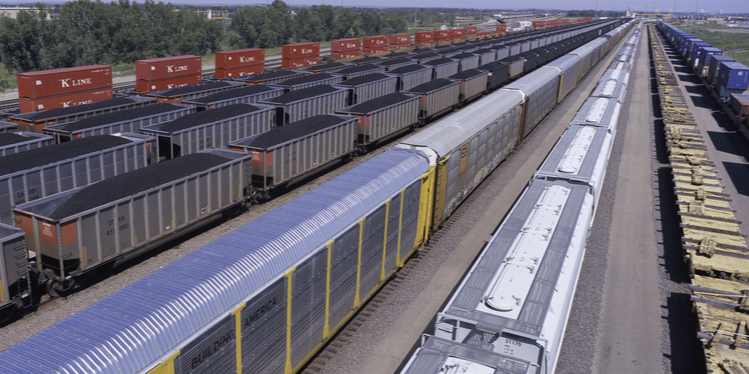 Adapting to a shifting transportation landscape
Currently in North America, about one third of all freight ton-miles is moved by rail. This proportion is in decline as the structure of the economy changes from manufacturing to services. Key commodities (historically the railroads' cash cows) have been heavy, bulky goods such as coal, most often moved in unit trains of a single commodity. However, today's consumer-driven economy with its global reach has created new trade patterns. Railways have seen steady growth in intermodal (container) traffic. Rail haulage rates have been gradually increasing, partly due to driver shortages, driver hours regulation reducing the supply of that mode's availability. This year, falling traffic volumes have led to marginally increased rates keeping revenue levels up and as operating ratios have fallen. Adoption of automated/ autonomous truck operation, especially highway platooning, will be a serious challenge for railways.
Key themes raised by carriers
As part of the research for a joint Maine Pointe and MSU Rail Optimization white paper we interviewed representatives from Class 1, shortline and regional railroads. The following key themes were identified:
Resilience - Railroads are reinvesting a considerable proportion of revenue into equipment and infrastructure.
Velocity and Dwell - Amongst other operating changes, the introduction of Precision Scheduled Railroading (PSR) brings to North American freight railways a philosophy that high density passenger railways have used -- the timetable.
Fluidity

-

Fluidity through the North American rail network is key. A stoppage in any one place will have consequences elsewhere.
Safety

-

Railroads' safety culture is paramount, though getting to today's position has been costly in terms of life, limb and capital.
Environmental - The railways need to find ways to raise the public's perception of what they do, how they do it safely, and what the economic impact of the railways really is with increased emphasis on the environmental benefits of rail versus road and air.
Resources -

PSR includes a focus on "sweating the assets" - a good business principle based around the ability to forecast demand and thereby right-size capacity.
The way forward - collaboration, integration and alignment
Initial findings from our research point to three fundamental things carriers and shippers should do. First, it's imperative that shipper and carrier executives start driving collaboration, improve relationships and create win-win partnerships. Secondly, carriers and shippers need to evaluate their current buy-make-move-fulfill supply chain to eliminate bottlenecks, enhance throughput, and optimize the size of shipments. Finally, these partnerships and improvement programs must be put into practice across the carrier's organization. This involves driving enhancements, change, and collaboration right across the end-to-end supply chain from the client's client, to the shipper, through to the carrier and its supply base. This approach is called Total Value Optimization (TVO)TM.
---
This series of blogs and accompanying research white paper aims to provide shippers, carriers and investors with sign posts to creating economic profit and value creation through win-win-win scenarios. In the fourth and final part of the series, we will look at the perspective of the analyst and investor community who are crucial to ongoing funding of and investment into the North American integrated transportation system.
---
Read the MSU rail optimization white paper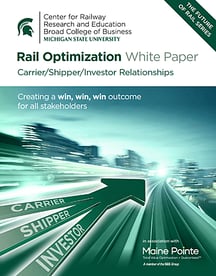 Click here to download the full Rail Optimization research white paper by Michigan State University Center for Research and Education, Broad College of Business, in association with Maine Pointe.
About Maine Pointe
Maine Pointe, a member of the SGS Group, is a global supply chain and operations consulting firm trusted by many chief executives and private equity firms to drive compelling economic returns for their companies. We achieve this by delivering accelerated, sustainable improvements in EBITDA, cash and growth across their procurement, logistics, operations and data analytics. Our hands-on implementation experts work with executives and their teams to rapidly break through functional silos and transform the buy-make-move-fulfill digital supply chain to deliver the greatest value to customers and stakeholders at the lowest cost to business. We call this Total Value Optimization (TVO)™.
Maine Pointe's engagements are results-driven and deliver between 4:1-8:1 ROI. We are so confident in our work and our processes that we provide a unique 100% guarantee of engagement fees based on annualized savings. www.mainepointe.com
About MSU
MSU is consistently ranked as the #1 undergraduate and graduate school for supply chain management education and recruitment. MSU is also home to a long-established Railway Management educational program. MSU's Eli Broad College of Business is home to the Center for Railway Research and Education. The Center focuses on the management of all aspects of the complex railway ecosystem from infrastructure to motive power, safety to talent, financing to rolling stock and technology to control systems for both passenger and freight railways. The synergy of these two world-class areas of expertise is unique.