Rapidly protect cash, reduce risk and drive EBITDA and growth across your supply chain and operations
The current pandemic is the latest in a series of global risk events which have exposed vulnerabilities in the supply chain


Business leaders are under enormous pressure to quickly limit short-term disruption, support recovery in the mid term, and ensure greater supply chain agility, resilience and optimization in the longer term


Executives in almost every industry have had to relook at their supply chain and recalibrate it to mitigate risk and drive EBITDA, cash & growth


Built on a roadmap of three key stages; stabilize-recover-rebalance, Total Value Optimization (TVO)™ provides an accelerated pathway to overcoming short-term supply challenges and building the foundations for a resilient, digitally enabled, agile supply chain and operations of the future
A three-step accelerated approach to optimize your supply chan and operations in a COVID-19 world
Having passed through the stabilize phase and entered recovery mode, it's now critical that companies turn their attention towards the broader challenge of rebalancing their supply chain and operations. This is key to achieving your 2021 targets by ensuring you have a resilient and agile digitally enabled supply chain - optimized for risk, cost, cash and growth performance.
It's time to rebalance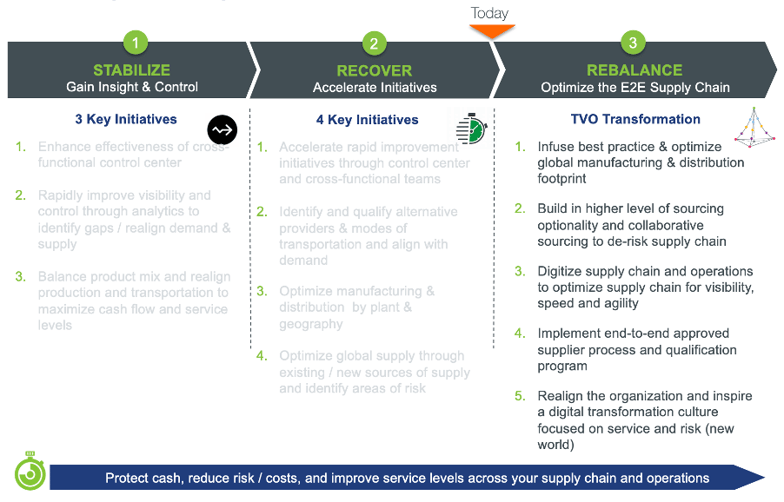 COVID-19 Recovery Services
Preparing for the new normal: Are you ready?
> Click here to download brochure
> Click here to download infographic


Take the first step now
We have remote capabilities and industry expertise to help accelerate your supply chain initiatives immediately. Contact us to discuss how following our three-step roadmap can set your organization on course to stabilize-recover-rebalance and build the foundations for a resilient, agile, digitally enabled supply chain and operations of the future.