Maine Pointe Sponsored Water Well Transforming Lives in Africa
More than 240 cleft children will lead healthier lives thanks to the money raised during Maine Pointe's annual All Hands meeting
(Boston, Mass - December 19, 2016) -- Maine Pointe, a specialist operational implementation consulting firm headquartered in Boston, has raised $60,200 to support Smile Train, an international charity with a sustainable approach to a single, solvable problem: cleft lip and palate.

Smile Train provides training, funding and resources to empower local doctors in 85+ developing countries to provide 100% free cleft repair surgery and comprehensive cleft care in their own communities.
"Smile Train is extremely grateful to Maine Pointe and the Maine Pointe team for their generosity. Their gift will help provide not only new smiles but also the opportunity for more than 240 cleft children to lead healthier lives," said Susannah Schaefer, CEO, Smile Train.
Maine Pointe was first made aware of Smile Train's work by their Sr. Director of Information Technology, Bryan Hallas, whose own son, Tanner, was born with a cleft palate. Bryan saw first hand how a simple surgery can change a child's life forever.
"I think picking Smile Train for this year's donation was the perfect choice. I know how life changing this surgery can be. It really does let you live a normal life and I am glad that Smile Train gives this chance to everyone." – Tanner Hallas (Age 11)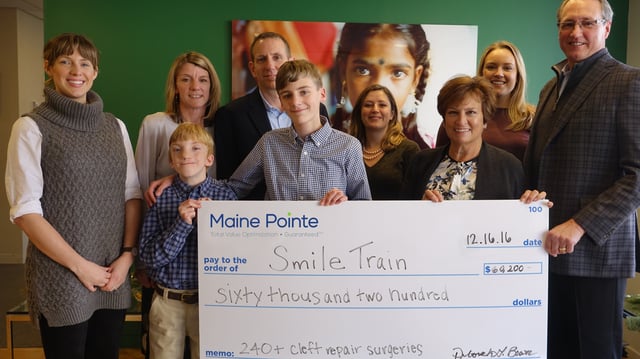 Maine Pointe pledged funds raised during a series of training and team building events at its annual All Hands meeting. Maine Pointe's Chairman and CEO, Steve Bowen and his family along with Bryan Hallas and his family, traveled to New York this December to present the check to Smile Train.
"We are delighted to make this donation to such a deserving charity and to play a part in helping to give children in developing countries a brighter future," said Steve Bowen, Chairman & CEO, Maine Pointe.
---
About Maine Pointe
Maine Pointe is an operational implementation-focused consulting firm that accelerates measurable performance improvements in both EBITDA and cash flow for chief executives and private equity firms around the world. As specialists in procurement, logistics and operations, Maine Pointe is uniquely positioned to accelerate measurable improvement across the buy-make-move-fulfill supply chain to deliver the greatest value to customers and investors at the lowest cost to business through Total Value Optimizationâ"¢.
Maine Pointe's engagements are results-driven and deliver between 3.5:1-12:1 ROI. We provide a unique 100% guarantee of engagement fees based on annualized savings. Visit www.mainepointe.com
About Smile Train
Smile Train is an international children's charity with a sustainable approach to a single, solvable problem: cleft lip and palate. Millions of children in developing countries with untreated clefts live in isolation but, more importantly, have difficulty eating, breathing and speaking. Cleft repair surgery is simple, and the transformation is immediate. Our sustainable model provides training, funding and resources to empower local doctors in 85+ developing countries to provide 100%-free cleft repair surgery and comprehensive cleft care in their own communities. To learn more about how Smile Train's sustainable approach means donations have both an immediate and long-term impact, please visit smiletrain.org
To arrange an interview, please contact our Marketing Communications Director Stephanie Kimball at +1 617-842-7992 or skimball@mainepointe.com