Free Webcast: Overcoming Supply Chain Complexities For Competitive Advantage
Maine Pointe and the Global Supply Chain Institute, UT, invite you to join their senior executive webcast on

January 19, 2018

at

12 PM ET / 5 PM GMT
.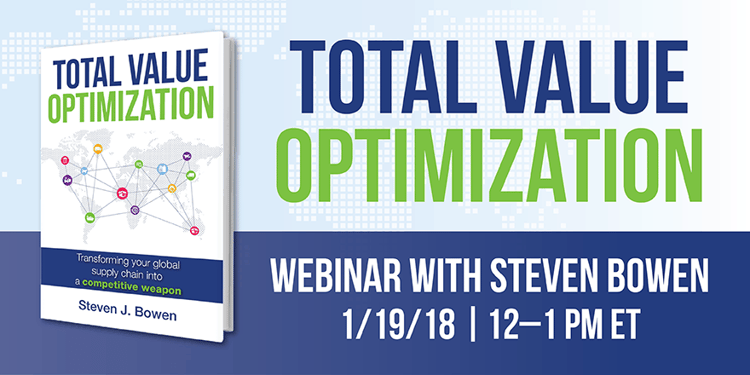 Co-hosts Steven Bowen, author & CEO at Maine Pointe, and Mike Burnette, MD, Global Supply Chain Institute (GSCI), University of Tennessee, will discuss the latest research into corporate supply chain challenges. They will discuss how supply chain complexities can be successfully overcome through better end-to-end-collaboration, and identify this as a largely untapped area for competitive advantage.
During this hour packed with practical insights, Steve and Mike will discuss:
The latest research trends and issues from the Global Supply Chain Institute
End-to-end collaboration best practices
Real-world insights into how to drive measureable cost, cash, and growth improvements across the end-to-end supply chain to enhance your EBITDA
How CEOs and supply chain leaders can quantify and deliver the benefit of driving cross-functional collaboration across their procurement, logistics, and operations functions, while leveraging the power of data analytics and employee engagement
Their presentation will be followed by an interactive Q&A.
Sign up now! We hope to see you there.
About Maine Pointe
Maine Pointe is a global implementation-focused consulting firm trusted by many chief executives and private equity firms to drive compelling economic returns for their companies. We achieve this by delivering accelerated, sustainable, improvements in both EBITDA and cash across their supply chain and operations to enable growth. Our hands-on implementation experts work with executives and their teams to rapidly break through functional silos and transform the buy-make-move-fulfill supply chain to deliver the greatest value to customers and investors at the lowest cost to business. We call this Total Value Optimization (TVO)â"¢.
Maine Pointe's engagements are results-driven and deliver between 3.5:1-12:1 ROI. We are so confident in our work and our processes that we provide a unique 100% guarantee of engagement fees based on annualized savings. www.mainepointe.com
About the Global Supply Chain Institute
The University of Tennessee's Global Supply Chain Institute is an internationally recognized thought leader in global supply chain research and the industry's connection point to the researchers and students of Haslam College of Business's top-ranked supply chain program. The supply chain program is ranked among the top programs by U.S. News & World Report, Gartner, Business Week, and Supply Chain Management Review.