Maine Pointe Names Kevin Krot Industry Leader, Aerospace & Defense
Krot Brings Industry Experience and High-Impact Results to Maine Pointe's Aerospace & Defense Business

Boston, Mass., February 23, 2022 -- Global supply chain and operations consulting firm Maine Pointe, a member of the SGS Group, today announced that Kevin Krot has been appointed Industry Leader in the firm's growing Aerospace & Defense business. Kevin brings significant value to the Boston-based consultancy, with over 25 years of industry experience, and a track record of delivering results and a strong return on investment.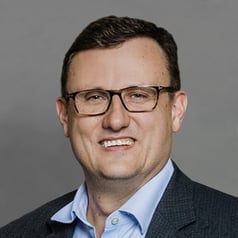 Prior to joining Maine Pointe, Kevin was a Partner in the Industrials Practice for a global management consulting firm which included Aerospace and Defense, Automotive, and Transportation. His years of experience in Aerospace & Defense included a focus on ground combat systems, heavy tactical wheeled vehicles, and aerospace structures and propulsion. He addressed both strategic and operational issues for Fortune 500 companies, PE firms, and the US government, and is skilled at supporting his clients with strategies ranging from assessments and due diligence, to enterprise-wide transformation projects.
"The Aerospace & Defense industry has seen dramatic changes, challenges and opportunities just in the last few years," said Kevin. "Maine Pointe's deep level of expertise in this area brings unparalleled value to its clients, especially as the industry's largest players re-shape their strategic and operational processes as they plan for the industry's changing future, new growth, and exciting opportunities."
Over the course of his career, Kevin has developed a proven track record of developing strong and productive relationships with clients. In addition to his experience in Aerospace & Defense, he has also worked across many other industries, including automotive, heavy equipment, agriculture, motorcycle, bus, oil and gas, chemicals, and other diversified industrials. Prior to his consulting career, Kevin gained hands-on industry experience working product development within the automotive Tier 1 supply base.
"Kevin's experience is directly relatable to our clients' mission and goals, and he is uniquely capable of managing all facets of delivery for an engagement," said Jeff Staub, Maine Pointe's CEO. "His experience in areas including corporate strategy, supply chain management, and operations will bring value to our clients, and also add to the exciting growth we are seeing in our A&D business."
Over the course of his long and successful career, Kevin has personally conducted over 250 manufacturing site workshops and assessments, and has worked at all levels of the organization, from the board room to the shop floor. "We are excited to welcome Kevin to the Maine Pointe family," said Staub. "His breadth of experience and industry knowledge is sure to play a major role in our growth in the industry, and in the continued success of our clients."
About Maine Pointe
Maine Pointe, a member of the SGS Group, is a global supply chain and operations consulting firm trusted by many chief executives and private equity firms to drive compelling economic returns for their companies. We achieve this by delivering accelerated, sustainable improvements in EBITDA, cash and growth across their operations, procurement and logistics. Our hands-on implementation experts work with executives and their teams to rapidly break through functional silos and transform the buy-make-move-fulfill supply chain to deliver the greatest value to customers and investors at the lowest cost and risk to business. We call this Total Value Optimization (TVO).
Maine Pointe's engagements are results-driven and deliver between 4:1-8:1 ROI. We are so confident in our work and our processes that we provide a unique 100% guarantee of engagement fees based on annualized savings. www.mainepointe.com
About SGS
SGS is the world's leading inspection, verification, testing, and certification company. SGS is recognized as the global benchmark for quality and integrity. With more than 96,000 employees, SGS operates a network of over 2,600 offices and laboratories around the world.