Maine Pointe Recognized as One of Consulting Magazine's Seven Small Jewels, 2018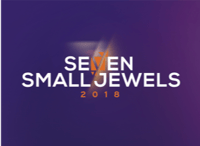 (Boston, Mass. – February 15, 2018) Maine Pointe, a global operational implementation consulting firm, has been recognized as one of Consulting Magazine's Seven Small Jewels 2018.
Each February, Consulting Magazine, the flagship magazine for the consulting profession, shines a light on seven hidden gems, smaller firms that are shaking up the profession and challenging some of the industry giants. These companies are breaking new ground in terms of firm management, but they are also breaking new ground in terms of their financial performance. Year in and year out, the Seven Small Jewels far outperform the overall profession.
"Having made Consulting Magazine's list of Seven Small Jewels to Watch in 2017, we are especially proud to be among the select few consultancies chosen as its Seven Small Jewels for 2018," says Maine Pointe Chairman and CEO Steve Bowen. "This honor is not only a testament to our continued success in executing our vision, but also to the hard work and unwavering commitment of our people to accelerate value for our clients by helping them optimize their end-to-end supply chain and operations for advantage," he added.
This latest listing builds on Maine Pointe's considerable momentum within the industry and closely follows the company's inclusion on CIO Review's list of 'The 20 Most Promising Data Analytics Solution Providers 2018.The company has also previously won accolades for its procurement solutions, award winning remote site services projects and as one of the 30 most trustworthy companies of 2017.
"In 2017 we significantly strengthened our position as a leading authority in measurable supply chain transformation through Total Value Optimization™ , which was featured strongly in the Global Supply Chain Institute's End-to-End Supply Chain Collaboration Best Practices paper," said Simon Knowles, Chief Marketing Officer. "Additionally, Steven Bowen, our CEO, launched his book, 'Total Value Optimization' which has received further endorsements including taking the No.1 spot in the distribution & warehouse category on Amazon. Being selected as a "Small Jewel" validates the strategic path we are on as we strive to achieve our goal of being the world's most sought after operational implementation consulting firm," he added.
---
About Maine Pointe
Maine Pointe is a global implementation-focused consulting firm trusted by many chief executives and private equity firms to drive compelling economic returns for their companies. We achieve this by delivering accelerated, sustainable improvements in both EBITDA and cash across their procurement, logistics and operations to enable growth. Our hands-on implementation experts work with executives and their teams to rapidly break through functional silos and transform the buy-make-move-fulfill supply chain to deliver the greatest value to customers and investors at the lowest cost to business. We call this Total Value Optimization (TVO)â"¢.
Maine Pointe's engagements are results-driven and deliver between 3.5:1-12:1 ROI. We are so confident in our work and our processes that we provide a unique 100% guarantee of engagement fees based on annualized savings. www.mainepointe.com
About Consulting Magazine
Consulting® magazine is the flagship publication of the consulting profession featuring the latest information on consulting careers, thought leadership and corporate strategies. In addition to providing industry insights, Consulting® hosts award dinners as part of our Achievement Awards series – honoring Women Leaders in Consulting, The Top 25 Consultants, Social & Community Investment and Rising Stars of the Profession.
About ALM
ALM, an information and intelligence company, provides customers with critical news, data, analysis, marketing solutions and events to successfully manage the business of business.
To arrange an interview, please contact our Marketing Communications Director Stephanie Kimball at +1 617-842-7992 or skimball@mainepointe.com.