Maine Pointe Named Among '30 Most Trustworthy Companies of 2017' by The Silicon Review Magazine
(Boston, Mass. September 13, 2017) — Maine Pointe today announced The Silicon Review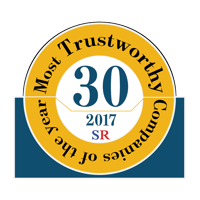 Magazine has named it among the '30 Most Trustworthy Companies of the Year 2017'.
"The Silicon Review Magazine 30 Most Trustworthy Companies of the Year 2017 program identifies companies which are successfully bringing more innovation to the IT and Business world than others. Winning a spot on this list indicates the company has distinguished itself from its peers by proving itself more valuable in terms of reliability, loyal customer base, innovation and market position," said Sreshtha Banerjee, Editor-in-Chief of The Silicon Review Magazine. The publication has selected Maine Pointe based on its consistency in performance, product/service reliability, partnerships/collaborations, transparency, financial status and the ability to reach customer/client expectations.
"We are honored to be recognized by The Silicon Review Magazine as one of the 30 Most Trustworthy Companies of 2017," said Steven Bowen, Chairman and CEO at Maine Pointe. "
This recognition reflects our commitment to our core values and the trust our clients place in us to help them transform their supply chains and operations for competitive advantage," he added.
"This latest recognition builds on the considerable momentum Maine Pointe has gained within the industry," said Simon Knowles, Chief Marketing Officer, Maine Pointe. "In late 2016, the company was picked by CIO Review magazine as one of the Top 20 Procurement Solution Providers and in early 2017 Maine Pointe was recognized as one of Consulting® Magazine's Seven Small Jewels to Watch in 2017. The company has also received recognition for its pivotal role in two award-winning projects which helped the field logistics team of a $50B energy company cut costs and reduce carbon emissions in its aviation, lodging and ground transportation divisions."
---
About The Silicon Review Magazine
The Silicon Review is the world's most trusted online and print community for business & technology professionals. Our community members include thought-provoking CEOs, CIOs, CTOs, IT VPs and managers, along with millions of diverse IT professionals. For more information, visit: http://thesiliconreview.com
About Maine Pointe
Maine Pointe is a global implementation-focused consulting firm trusted by many chief executives and private equity firms to drive compelling economic returns for their companies. We achieve this by delivering accelerated, sustainable, improvements in both EBITDA and cash across their supply chain and operations to enable growth. Our hands-on implementation experts work with executives and their teams to rapidly break through functional silos and transform the buy-make-move-fulfill supply chain to deliver the greatest value to customers and investors at the lowest cost to business. We call this Total Value Optimization (TVO)TM.
Maine Pointe's engagements are results-driven and deliver between 3.5:1-12:1 ROI. We are so confident in our work and our processes that we provide a unique 100% guarantee of engagement fees based on annualized savings. www.mainepointe.com
To arrange an interview, please contact our Marketing Communications Director Stephanie Kimball at +1 617-842-7992 or skimball@mainepointe.com