Four Key Themes in Private Equity for 2017: Part Three, A Greater Opportunity for Platform Integration and Process Improvements
'Buy and build' is a fixture of today's PE market
In 2017, add-ons have continued to be a major part of transaction activity in the PE space. PitchBook reports that two in every three private equity deals this year and last have been add-ons.
The 'buy and build' PE strategy continues to be relevant for many PE sponsors for two major reasons:
Valuation arbitrage - There's no doubt that PE sponsors are benefiting from valuation arbitrage: By purchasing companies with the intention to combine them, they tap into integration and scale opportunities which can lead to enhanced profit. Buying smaller companies for 4x to 8x EBITDA, and combining them with platforms to create larger entities generate a combined valuation ranging from 8x to 11x when exit time inevitably rolls around.
Achieving synergies - While most PE firms are adept at increasing valuations through arbitrage, they have less of a substantive track record when it comes to creating value through operational integration to drive significant profit improvement. PE firms need to ask themselves if they are achieving the efficiencies and synergies they anticipated or whether inherent earnings value is trapped due to lack of meaningful integration - specifically in the areas of supply chain and operations. Equally, are they realizing these gains as quickly as they expected?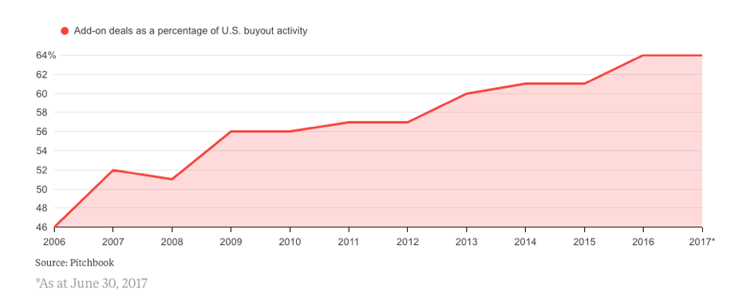 How to maximize integration to drive value
To create value, portfolio companies often require deep operational subject matter expertise and an external catalyst to aggressively eliminate redundancies, carve out waste, integrate critical processes and procedures and, above all, constructively merge different cultures. Many PE firms are aware of the necessity of this but deprioritize it and, as a result, the process often begins too late in the investment cycle and doesn't encompass the whole supply chain for end-to-end enterprise enhancement. In our experience, PE firms often need some outside, specialist support when it comes to taking an innovative, "bottom-up" approach to integration.
This is where Maine Pointe's Total Value Optimization™ (TVO) approach comes in. We work with PE firms to maximize synergies from integration and accelerate the time to achieving cost savings.
A real-world example
We recently worked with a specialty chemicals company that had achieved nearly 200% revenue growth through a number of strategic acquisitions and planned for continued rapid growth.
Senior managers were laser-focused on ongoing acquisitive growth, but were missing the opportunity to optimize by leveraging spend, consolidating their supply base, and applying a more strategic approach to rapidly drive significant benefits.
Maine Pointe worked closely with senior executives to upgrade their supply chain and operations in order to harvest cost savings and install sustainable efficiency measures going forward. By transforming procurement and logistics and optimizing the growth that had already occurred, the company realized substantial EBITDA gains and became more effective in new acquisitions. This led to a higher-than-expected exit price and a rapid transfer of ownership.
About Us
Maine Pointe is a global implementation-focused consulting firm trusted by many chief executives and private equity firms to drive compelling economic returns for their companies. We achieve this by delivering accelerated, sustainable improvements in both EBITDA and cash across their procurement, logistics and operations to enable growth. Our hands-on implementation experts work with executives and their teams to rapidly break through functional silos and transform the buy-make-move-fulfill supply chain to deliver the greatest value to customers and investors at the lowest cost to business. We call this Total Value Optimization (TVO)™.
Maine Pointe's engagements are results-driven and deliver between 3.5:1-12:1 ROI. We are so confident in our work and our processes that we provide a unique 100% guarantee of engagement fees based on annualized savings. www.mainepointe.com