Five Ways to Optimize your Direct-to-Consumer Channel; 2020 was the Stress Test, Now it's Time to Fix what Failed
Bill Forster EVP Agriculture, Food & Consumer Goods, outlines five practical steps consumer goods & retail executives can take now to optimize direct-to-consumer channels and achieve profitable growth faster than anticipated.
In many ways 2020 has been a stress test
If CPG manufacturers and retailers learned anything in 2020 it's that their organization must have an efficient and effective direct-to-consumer (DTC) channel. Regardless of whether you are in durable goods or consumables, clothing or auto parts - this channel is where you will win or lose market share.
The shift to DTC was already well underway before COVID-19 struck. Fueled by the rise of E-commerce, most companies had already established a functioning direct-to-consumer channel with all of the systems, people, and processes to support it. However, few were prepared when, almost without warning, COVID forced volume to shift channels. The result was stress and inefficiencies within organizations, supply disruptions, higher than expected costs in small parcel rates, capacity constraints in many places in the supply chain, and at times, poor customer service and sloppy fulfillment.

At Maine Pointe, where we specialize in end-to-end supply chain optimization, we have specific data, market trends, and examples of how this DTC channel is performing. In many cases, it's not pretty. Most organizations have made a herculean effort to keep the doors open, ensure peoples' safety, satisfy customer demand, and keep revenue flowing. However, despite their best efforts and intentions, many executives admit their businesses need to do a better job of planning and executing across their omni-channel mix. If DTC demand is going to continue to be as robust as we saw it in 2020, we have to reduce our time, and cost to serve. We also need to plan our manufacturing and allocate inventory smarter. We believe there is an opportunity for this to become the most valuable channel in your organization; it's time to get it right, make it more profitable, and reduce risk. Right now, stay at home orders and the holiday shopping season are making a difficult situation harder but, make no mistake, DTC is here to stay; the smart move is to focus on the art of the possible. As Winston Churchill put it, "Never let a good crisis go to waste."
Areas ripe for improvement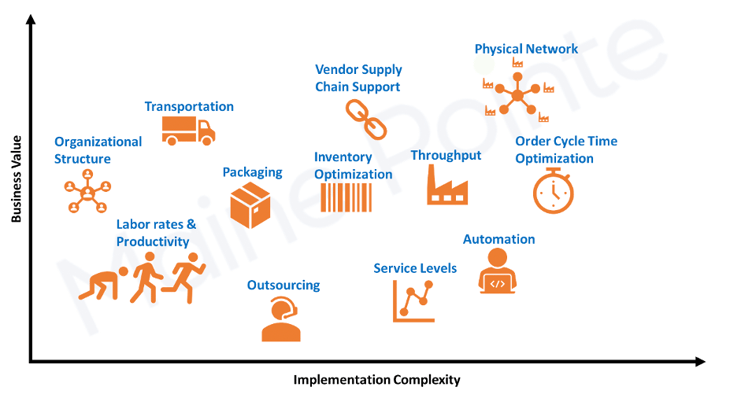 Chances are you will be experiencing difficulties in at least some of the areas identified in the graphic above. The good news is that each of these challenges comes alongside an opportunity to make DTC the strongest and most profitable part of your end-to-end supply chain. Now is the time to develop a robust action plan that learns from the experience of 2020 and enables growth in the future.
Five practical steps to DTC channel optimization
Candidly assess your current DTC channel performance - where are the strengths and weaknesses / threats and opportunities in your model? Use a cross-functional task force to get multiple perspectives from varying levels within the organization.
Adopt the 'right' mindset - one that focuses on win-win-win scenarios for you, the customers and upstream/downstream partners. Triage projects and initiatives based on their short, medium, and long- term returns. If it's not producing a measurable impact -- why do it? See #4.
Manage supplier/shipper risk - implement an end-to-end supplier process and pre-qualification program to protect brand(s), reduce costs, minimize risk, increase visibility and drive improved supplier/shipper performance.
Measure more to manage better -- go beyond the cliché of 'leaning into' your issues. Commit to being meticulous about measuring how and where resources are being used. Time and cost/price are the most precious resources in the battle to win the DTC channel. Track and measure each step in the value chain so your area managers/leaders can focus on where the opportunities are.
Enhance supply chain visibility and control - implementing a supply chain digital design and decision center enables you to balance future risk giving you the ability to model, optimize, and simulate supply chain network operations. In a digitally enabled supply chain, it is possible to use real-time data to find the best transportation routes and inventory levels for the current state and proactively prepare for potential supply chain events.
Practice the art of the possible
Following these five principles can not only enhance your company's standing with its customers and stakeholders but also drive sustainable improvements in risk, EBITDA, cash and growth. Transformation doesn't happen overnight, but you may be surprised at how quickly results can be delivered once the foundations are in place. In one instance, a national retailer in the home furnishings segment optimized its distribution footprint, driving delivery costs down by 27% while enhancing the overall customer experience. Another Maine Pointe client, an omni-channel mail-order retailer, transformed its operating model and decrease working capital by 25%.
Find out how they did it and 'explore the possible' in your organization. Contact Bill Forster at wforster@mainepointe.com for an informative discussion, or share data confidentially and securely for some insight into how your DTC channel is performing.
About Us
Maine Pointe, a member of the SGS Group, is a global supply chain and operations consulting firm trusted by many chief executives and private equity firms to drive compelling economic returns for their companies. We achieve this by delivering accelerated, sustainable improvements in EBITDA, cash and growth across their procurement, logistics, operations and data analytics. Our hands-on implementation experts work with executives and their teams to rapidly break through functional silos and transform the plan-buy-make-move-fulfill digital supply chain to deliver the greatest value to customers and stakeholders at the lowest cost and risk to business. We call this Total Value Optimization (TVO)™.
Maine Pointe's engagements are results-driven and deliver between 4:1-8:1 ROI. We are so confident in our work and our processes that we provide a unique 100% guarantee of engagement fees based on annualized savings. www.mainepointe.com