How Blockchain Technology is Starting to Transform the End-to-End Supply Chain
A brief history of blockchain
Blockchain is one of the most intriguing Industry 4.0 technologies. It was created in 2008 by a person, or group of people, known as Satoshi Nakamoto to serve as the public transaction ledger of the cryptocurrency bitcoin.
Put simply, a blockchain is a list of data records (blocks) managed by a cluster of computers rather than in one centralized location. These blocks of data are cryptographically secured and bound to each other (in a chain) so, once entered, information is passed along the chain without the need for any further intervention.
In recent years, the application of this technology has moved beyond the world of financial services, with companies across a broad spectrum of industries beginning to investigate its potential role in improving infrastructure and supply chain capabilities. However, while there are notable early adopters, particularly in the food supply chain, it's still early days. A recent EFT survey confirmed that many executives are still unclear about the supply chain investment case and implementation journey for their business, with only 18.4% of firms currently either testing or implementing blockchain technology.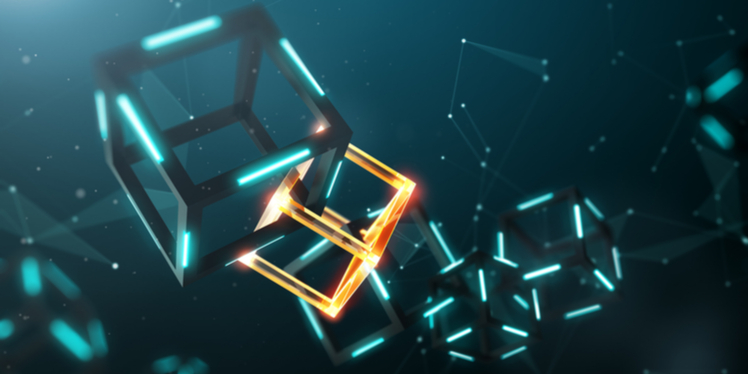 How do blockchains work?


One party to a transaction starts the process by creating a 'block' which is verified by thousands of computers across the internet and added to a 'chain'. The network is designed to regularly update itself to ensure all parties have access to accurate information in real time. Each unique record has its own equally unique history, making it virtually impossible to falsify records. As well as being very secure, it's also extremely transparent, efficient and scalable. This means all parties can be confident they are seeing exactly the same set of data in real time and that records cannot be altered or erased. This significantly enhances trust and lowers risk across the supply chain.
Picture a spreadsheet that is duplicated thousands of times across a network of computers. Then imagine that this network is designed to regularly update this spreadsheet and you have a basic understanding of the blockchain."¹
Use of blockchain to reduce cost and improve visibility in supply chains and logistics
Today's complex global supply chains involve multiple organizations operating across multiple countries, issuing multiple invoices with multiple payment methods. Processes that should take hours or days are often drawn out over weeks or months simply because there isn't a single, easily accessible set of data. Regardless of the product, human error, delays and added costs plague supply chains, so it's not surprising the transparency blockchain offers has generated a great deal of interest. Blockchain can manage any form of exchange, agreement, or tracking process from source to manufacturer to sale. In a supply chain, it can apply to anything from self-executing supply contracts to automated cold chain management. However, it is not something a company can set up unilaterally. By its very nature it requires cooperation across the supply chain which means all end-to-end suppliers, regardless of size, will need to participate. That is where the real opportunities and challenges lie.
Current and future supply chain applications
Blockchain has the capability to disrupt almost every industry. Here are just few areas where it is already revolutionizing supply chains:
Food and beverage - As consumers increasingly demand to know the provenance of their food, blockchain provides a solid way of tracing every ingredient to its source, enabling food companies to tell a more complete "farm to fork story". In April 2019, US supermarket giant Albertsons' joined Nestlé, Walmart and more than eighty other brands in the IBM Food Trust.² The consortium uses blockchain to make global food supply chains more accountable and our food safer. More than five million products are currently digitized on the network.
By bringing more members into the network and enabling them to share greater cross-sections of data in a secured environment, we believe our vision of a transformed food ecosystem using blockchain is closer than ever." Raj Rao, General Manager at IBM Food Trust
A prime example of how blockchain will impact the food supply chain is last year's E. coli outbreak in the USA. Although the outbreak was traced to lettuce grown in Arizona, it would have taken retailers seven days to verify where the products on their shelves originated. As a result, Walmart was one of the companies forced to remove all products from sale. With the IBM Food Trust, the timescale for tracking a shipment's source will be just two seconds.
Oil and Gas - In 2017, Natixis, IBM and Trafigura introduced a blockchain solution for the oil and gas sector, stating the key benefits of the solution as:
Reduced cash cycle times, improved efficiency via lower overhead costs and fewer cost intermediaries, increased transaction visibility to help reduce the threat of tampering, fraud and cyber-crime, and the creation of transparent transactions by using shared processes and record keeping."
At the end of 2018, a consortium led by Shell and BP launched its own blockchain oil trading platform.
Chemicals - The opportunity blockchain offers for multiple stakeholders to safely work from the same data and information without seeking third party validation or authorization can reduce redundant work and shorten time-to-market. In addition, blockchain makes it easier to prove ownership of assets, reduce counterfeiting and enable buyers and sellers to contract more easily in an open market.
Aerospace & Defense - There is a significant opportunity for blockchain to transform complex A&D supply chains. A&D supply chains consist of many stakeholders sharing highly technical, and often highly confidential information about parts and materials. Companies in this sector also face complex audit and certification requirements, difficult contractual relationships, and a need for end-to-end visibility, all of which would seem to make a strong case for adopting blockchain. However, A&D executives remain skeptical about the technology's ability to drive real value in the supply chain so, while it's very likely we will see the technology being widely adopted in the near future, it isn't happening yet.
Logistics - In a joint venture, Maersk and IBM created a blockchain network for an entire shipment system. More than 90 companies initially joined the network hoping for increased transparency, information sharing and innovation. The technology will enable shippers, shipping lines, freight forwarders, port and terminal operators and inland transportation and customs authorities to have real-time access to shipping data and documents, reducing the paper trail and providing end-to-end solutions for customers.³ In May 2019, a group of more than 100 experts and organizations representing large shippers, supply chain providers and governments joined the World Economic Forum project to speed up use of blockchain technology.
Contract Bids and Execution - It's completely within the realms of possibility that potential logistics partners can make use of the electronically readable RFID tags, which are already in use in supply chains, to bid for delivery contracts. The company offering the best price and service gets the business and a smart contract tracks status and delivery performance.
What next?
Many companies have already recognized the benefits blockchain can offer in terms of a faster, easier, cheaper and more transparent way to operate a supply chain. However, it remains very much an emerging technology. A 2019 survey by Gartner found that 90% blockchain-based supply chain projects will suffer from "blockchain fatigue", by 2023, due to lack of strong use cases. The report urged businesses to be cautious about early adoption of blockchain until there is a clear distinction between "hype and the core capability of the technology."
Without a vibrant market for commercial blockchain applications, the majority of companies do not know how to evaluate, assess and benchmark solutions, especially as the market landscape rapidly evolves." Alex Pradhan, Senior Principal Research Consultant, Gartner
With companies like Walmart already pushing suppliers to join the blockchain, it's only a matter of time before blockchain transforms from an option to an imperative for some businesses. For others, where the infrastructure cost and risks currently outweigh the benefits, it may be sensible to wait and see what happens, or to take a few cautious early steps and start using blockchain in areas of operations such as smart contracts where it can have a positive impact. In time, new doors may open to faster, smarter, safer processes throughout the entire supply chain.
If you're not sure how Industry 4.0 technologies will impact your supply chain and operations and would like to talk about some of the points raised in this paper, contact us at sknowles@mainepointe.com for a no-obligation chat.
Other articles in the Demystifying Industry 4.0 Technology series:
---
Footnotes
¹ Ameer Rosic, What is Blockchain Technology? A Step-by-Step Guide for Beginners
² IBM Food Trust, Trust and transparency in our food
³ IBM Newsroom, Maersk and IBM introduce TradeLens blockchain shipping solution
---
About Us
Maine Pointe is a global supply chain and operations consulting firm trusted by many chief executives and private equity firms to drive compelling economic returns for their companies. We achieve this by delivering accelerated, sustainable improvements in EBITDA, cash and growth across their procurement, logistics and operations. Our hands-on implementation experts work with executives and their teams to rapidly break through functional silos and transform the buy-make-move-fulfill supply chain to deliver the greatest value to customers and investors at the lowest cost to business. We call this Total Value Optimization (TVO)™.
Maine Pointe's engagements are results-driven and deliver between 4:1-8:1 ROI. We are so confident in our work and our processes that we provide a unique 100% guarantee of engagement fees based on annualized savings. www.mainepointe.com