How Will Tariffs Impact U.S. Steel, Aluminum and Titanium Manufacturers' Supply Chains and Operations?
On March 8, President Trump imposed tariffs of 25% on imports of steel and 10% on aluminum (excluding Canada and Mexico) for "a long period of time". At first glance, this looks like good news for US producers. However, it has the potential to trigger a trade war that will impact the industry and transform global supply chains. When the tariffs come into effect later this month, steel, stainless steel and aluminum executives need to be well prepared.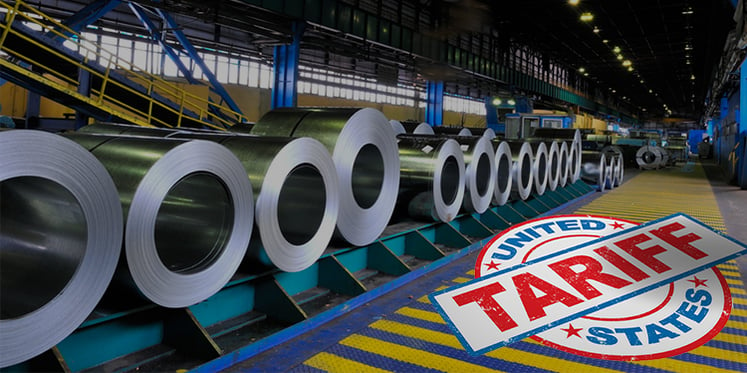 Global Consequences
While these moves are ostensibly aimed at China, in reality the US imports very little steel or aluminum from it directly. Two of the largest exporters to the US, Canada and Mexico, have already been exempted, on the proviso that NAFTA is amended to the administration's satisfaction. Others are scrambling to be given a break from the tariffs, but it remains to be seen if the list will be expanded. If this is not the case, as the chart below illustrates, US allies such as South Korea could bear the brunt of the action. In the European Union, concerns are around the knock-on effects of millions of metric tons of foreign steel finding its way to their market rather than the US.
By themselves, the tariffs are unlikely to have a significant impact on US growth and inflation. Where the pain will truly be felt is if the EU and countries such as China carry out their threat to place their own tariffs on US imports. A full-blown trade war would hurt the makers of a wide variety of US exports, including beef, corn, pork, cars and motorcycles.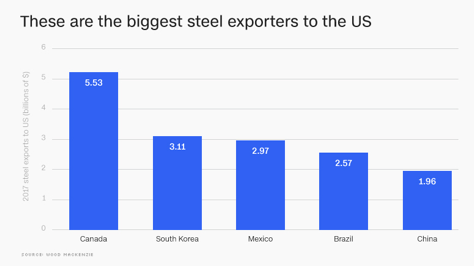 Domestic Consequences
While the steel industry has, so far, largely welcomed the tariffs, a degree of caution is advisable. When the George W Bush administration imposed tariffs on imports of certain steel products in 2002, it resulted in around 200,000 job losses, 13,000 of which were in steel production. A report commissioned to look into the 'unintended consequences' of these tariffs found that:
"The tariffs, combined with other challenges present in the marketplace at the time and in the months that followed, boosted steel costs to the detriment of American companies that use steel to produce goods in the United States.The resulting negative impact included job losses for thousands of American workers."
The US Government, steel and aluminum executives will need to be well prepared for the potential backlash.
Impact on US steel, aluminum and titanium prices
One possible scenario is that tariffs will lead international producers to reduce their prices to remain competitive in the US market. This would result in a price war, with consumers demanding price cuts from domestic suppliers. More likely is that, without the need to compete with imports and with increased demand for their product, US producers will raise their prices. On the face of it, this will signal prosperous times for producers but, to meet increased demand, they will need to have the supply chain and operations in place to quickly ramp up production and deliver a quality product on-time.
As freight operators struggle to meet demand, rate hikes are inevitable and will happen very quickly. Shippers need to prepare by streamlining transportation processes, locking in lower rates and gaining full visibility of their end-to-end supply chain.
Prepared to meet increased demand/supply chain disruption?
CEOs of steel, aluminum and titanium companies need to be ready to adapt quickly to whatever comes their way. Ask yourself these questions:
How confident are you that your manufacturing facilities could cope with an increase in demand?Where are the potential bottlenecks?
What manufacturing and procurement optionality do you have?
How confident are you that your logistics capability has the capacity and responsiveness to cope with an uptick in demand and ensure accurate, on-time delivery?
How prepared are you for potential disruptions in your global supply chain and operations?
What next?
If you don't have confidence in your answers, it may be time to stress-test your procurement, manufacturing and logistics, improve optionality and prepare your supply chain and operations for growth.
About Us
Maine Pointe is a global supply chain and operations consulting firm trusted by many chief executives and private equity firms to drive compelling economic returns for their companies. We achieve this by delivering accelerated, sustainable improvements in EBITDA, cash and growth across their procurement, logistics and operations. Our hands-on implementation experts work with executives and their teams to rapidly break through functional silos and transform the buy-make-move-fulfill supply chain to deliver the greatest value to customers and investors at the lowest cost to business. We call this Total Value Optimization (TVO)™.
Maine Pointe's engagements are results-driven and deliver between 4:1-8:1 ROI. We are so confident in our work and our processes that we provide a unique 100% guarantee of engagement fees based on annualized savings. www.mainepointe.com