Operations Excellence is Key in a Supply/Demand Imbalanced Environment
For manufacturers, the picture across the US is one of accelerating demand, labor shortages, raw materials scarcity and spiraling costs. Without immediate action, it's a pattern that could impact your productivity and impede your organization's growth for the foreseeable future. In this article, Simon Knowles, Chief Marketing Officer at Maine Pointe (SGS), discusses how integrated operations excellence is key to enhancing visibility, driving improved throughput and resolving supply/demand/distribution imbalances.
Recent global risk events forced many firms to make emergency changes to their daily operations, with focus shifting to short-term stabilization and cash. That stabilize and recovery stage is over; it's time to rebalance. Just over a year ago, at the start of the pandemic, I wrote about the need to build end-to-end supply chain resilience through optionality. Now, in a growth supply/demand imbalanced environment, integrated supply chain and operations excellence is the key to bouncing back and creating a competitive advantage.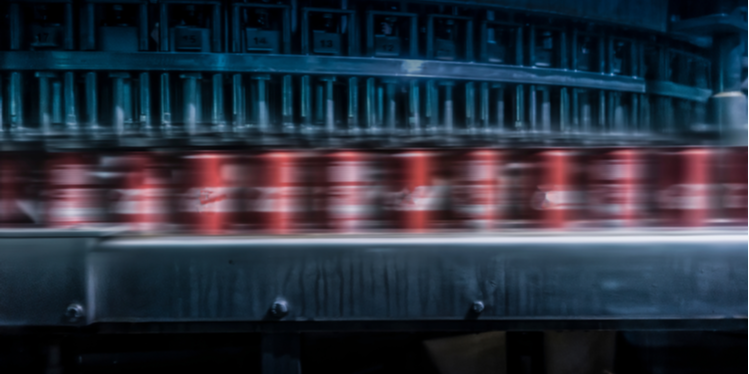 The bottom and top-line challenges are already here


Across a broad range of industries, CEOs and supply chain leaders are telling the same story: High demand + shortage of raw materials + scarcity of labor + operational bottlenecks + limited distribution capacity = missed sales and spiraling costs. This equation puts growth, profitability and competitiveness at risk and is corroborated by recent headlines and quotes from industry leaders:
"Demand continues to strengthen, leading to more significant disruptions."

"Supply chain and operations delays hamper our availability and ability to sell more."

"Electronics/semiconductor shortage is having tremendous impacts on lead times and pricing."

"In 35 years of purchasing, I've never seen everything like these extended lead times and rising prices."

"Last year, manufacturers had a tough time filling 46% of open roles due to a mismatch in skills - and it's still growing."
So how can manufacturers meet growth demand and offset cost increases to protect margin?
A step-by-step accelerated approach with the end goal in sight
The answer is different for every company. How you approach your operations improvement initiative will depend on a number of factors within your business. The important thing is not to take either a big-bang-bet-the-company or a one-size-fits-all approach. Rather, the way forward should be pragmatic, step-by-step and measurable, at a pace that's right for your business.

Before we dive into this, let's start by setting out the methodology and motive for optimizing growth, visibility, agility, resilience, EBITDA and cash performance in these rapidly changing times.

Key drivers for success
More specifically, operating in a capacity/resource constrained environment highlights the urgent need for productivity analytics and throughput improvements in order to achieve optimal performance.
Achieving cost-effective On Time in Full (OTIF) delivery across multiple channels requires a dynamic and integrated approach which considers every aspect of your current supply chain and operations.

For example, we helped a global nanotechnology company operating in a capacity constrained environment increase revenue by 27% in one site and 16% in another by improving throughput and developing a data control tower which gave management full visibility to their planning and operations processes and a single source of truth.

In another example, working with a chemicals company in a high-demand environment, we helped align production planning to rapidly drive efficiency and throughput improvement. In just eight weeks, the company was able to successfully transition from a chaotic system to a structured, focused and accurate process.

The key in all cases is to leverage the latest advancements in data analytics, integrated business planning, operations excellence, procurement, logistics, and cultural change in a fast and pragmatic way to create an agile, resilient, digitally enabled supply chain and operations.
The benefits and where to start
We all know what the goal is:

We also know that's easier said than done. So what can be achieved and where do you start?
In our experience, taking a ROI-driven, accelerated and digitally-led approach typically delivers 10-20% in measurable operations savings. This is in addition to other associated benefits such as improved revenue, sales forecast accuracy, accelerated throughput, productivity and lead time to customers.

The secret to driving fast operating gains is to focus on a few critical organizational areas to:

Accelerate the cycle time of the organization

Prevent deploying scarce resources across too many fronts

Reduce the risk of being overtaken by changing business priorities

Improve sourcing/supplier/distribution optionality
This kind of laser focus requires analytical discipline, technical skills and hands-on experience across all cross-functional areas of the supply chain and operations.

The integrated end-to-end supply chain and operations excellence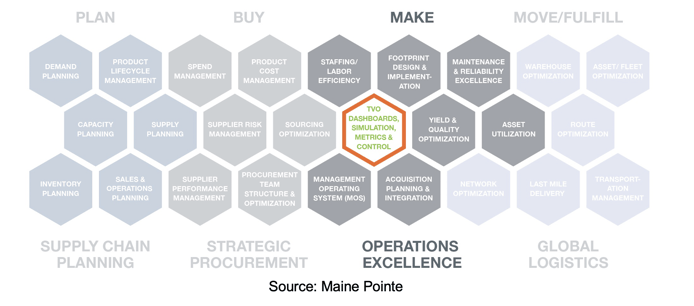 The results?
To bring this to life, here's another real-world example from our work with a global electronics manufacturer. By conducting a detailed analysis of their manufacturing operations and supply chain, we were able to help the organization develop a measurable business case and implementation roadmap in just four weeks. Over the following few months, working in close collaboration with their people we were able to rapidly optimize the company's operations and supply chain platform to facilitate sustainable growth. This resulted in:
Improved production capacity to support a 20% revenue increase

Secured buy-in from the company's people to take ownership of achieving shared goals

Better quality solutions at 25% lower cost by transitioning products to higher-tier global manufacturers

Boosted product margins by 20%

Delivered 21% savings on combined procurement, logistics and field installation spend

Improved EBITDA by 16%

For more examples, click here.
Clearly, no part of the plan-buy-make-move-fulfill supply chain and operation can operate in isolation. Overcoming the current demand/supply/distribution challenges requires flexibility, resilience, planning, transparency and communication across the entire ecosystem. In my next article, I will look in detail at measures you can take to beat the logistics challenges many organizations are currently facing and ensure your products get to the right place at the right time.
If you would like to discuss any of the points raised in this article or talk about how we could help you drive accelerated measurable change across your manufacturing and supply chain value network, email sknowles@mainepointe.com
---
About Us
Maine Pointe, a member of the SGS Group, is a global supply chain and operations consulting firm trusted by many chief executives and private equity firms to drive compelling economic returns for their companies. We achieve this by delivering accelerated, sustainable improvements in EBITDA, cash and growth across their procurement, logistics, operations and data analytics. Our hands-on implementation experts work with executives and their teams to rapidly break through functional silos and transform the plan-buy-make-move-fulfill digital supply chain to deliver the greatest value to customers and stakeholders at the lowest cost and risk to business. We call this Total Value Optimization (TVO)™.
Maine Pointe's engagements are results-driven and deliver between 4:1-8:1 ROI. We are so confident in our work and our processes that we provide a unique 100% guarantee of engagement fees based on annualized savings. www.mainepointe.com