Road Trains: Balancing Safety Concerns with Improved Utilization & Capacity
Anyone who has ever driven down a long stretch of Interstate has seen a "tandem". This consists of two trailers behind a lead vehicle. However, you may not have encountered a "road train," also known as a "megatandem", which is a string of multiple trailers behind a lead vehicle. These are more commonly seen in Australia and Europe, as well as in some parts of the US.
The Pitfalls
The inherent limitations in the operation of these vehicles means they work best in rural areas where there is less congestion and straight roadways. In terms of process, much of the operation of a road train is similar to that of a tandem; the operator shuttles trailers to a yard, assembles the train, and delivers to the next trailer yard or depot for disassembly and final delivery.
Tandems, or even single trucks, naturally require a wider turning curve than a smaller van or a passenger vehicle. It would be virtually impossible for a megatandem to make a 90-degree turn, and the sheer length and weight of one of these road trains is daunting. Operating a road train on roads with automobile traffic and possible congestion needs to be meticulously planned well ahead of time.
Factors such as special lanes, limited access hours, and increased safety protocols are just a few considerations that must be taken into account before allowing road trains to share the roads with other traffic. Other potential disadvantages include an increased need for maintenance of equipment, as well as an increased safety risk and limited access.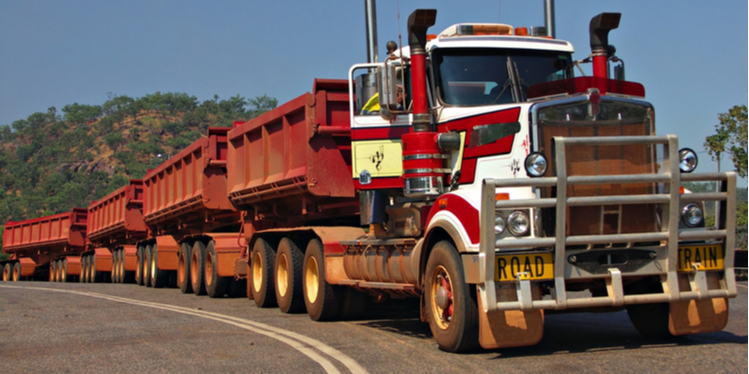 ... and the potential benefits
These considerations are weighed against the possible advantages of a road train, including increased capacity and improved efficiency, along with better driver utilization.
One of the most pressing issues in the transportation industry today is the critical driver shortage. As the average age of drivers keeps climbing with no replenishment, the pressure on driver availability will continue. This will intensify the imperative for fleet operators to find innovative solutions.
There's no quick fix solution
Some may see road trains as at least a partial answer to this problem but it isn't a silver bullet to solve the problems the transportation industry is currently facing. Plenty of drivers will still be needed to pick up and deliver trailers to and from shipper and consignee locations and shuttle them between yards. However, while leveraging road train solutions will not eliminate the driver shortage, it could be one of several factors to help mitigate it.
Road trains are just one part of a portfolio of ideas that can contribute to increased capacity, improved driver utilization, and help mitigate the driver shortage. As with other supply chain improvement initiatives, there is no single answer to solve the problem. Often, supply chain operators will assemble a basket of ideas and launch several of them in a program -- working across the entire value spectrum -- from supplier's supplier to customer's customer.
About Us
Maine Pointe, a member of the SGS Group, is a global supply chain and operations consulting firm trusted by many chief executives and private equity firms to drive compelling economic returns for their companies. We achieve this by delivering accelerated, sustainable improvements in EBITDA, cash and growth across their procurement, logistics, operations and data analytics. Our hands-on implementation experts work with executives and their teams to rapidly break through functional silos and transform the buy-make-move-fulfill digital supply chain to deliver the greatest value to customers and stakeholders at the lowest cost to business. We call this Total Value Optimization (TVO)™.
Maine Pointe's engagements are results-driven and deliver between 4:1-8:1 ROI. We are so confident in our work and our processes that we provide a unique 100% guarantee of engagement fees based on annualized savings. www.mainepointe.com