Sales & Operations Planning: The Principles that Underwrite Success
In previous blogs in this series, I have looked at why S&OP is so important, diagnosed some of the common challenges facing the C-Suite, and outlined the underlying success factors for implementing S&OP. I would like talk about the handful of driving principles that underwrite effective S&OP implementation and introduce a practical tool for assessing your organization's maturity.

Underlying S&OP principles:
S&OP only works when synchronized across operations, procurement and logistics: When operations (manufacturing), procurement, and logistics do not share a common set of goals and equal representation at the decision-making table, S&OP is doomed to failure. The removal of functional silos and creation of a synchronized, collaborative decision-making body willing to be guided by a quantitative set of parameters is key to success in the S&OP arena.


S&OP has to be a business led and owned function: A recent study by the University of Tennessee's Global Supply Chain Institute (GSCI), found a clear correlation between business ownership and S&OP success. The most advanced demand supply integration (DSI) capabilities were demonstrated by companies whose senior leadership played a prominent role in making the process successful. Historically, the end-to-end demand/supply chain function has owned the S&OP process and the lack of broad business integration has limited measures of success.


An effective, consensus demand signal (e.g., forecast, POS data) is indispensable: An accurate demand signal, whether in the form of a forecast or actual demand data should be, but almost never is, the first change mandate for an S&OP transformation effort. Advanced data analytics capabilities should lead the way in creating predictive analytics capable of anticipatory decision making.


S&OP must orchestrate forward looking plans and execution across key tasks (as listed below): The functions of operations, procurement and logistics will most often need to make critical shifts in objectives and metrics.

Data Analytics, led by functional experts, has a lead role at the management table: Elevation of the data analytics function will require human capital that is rare to find today. The new data analytics professional must bring a big-data mentality, a firm grasp on the leading edge of analytical tools, and a clear understanding of end-to-end demand/supply chain operations and business imperatives. The data analytics function has to expand beyond the provision of enabling technology to the provision and application of true business intelligence.


Effective S&OP elevates people over business processes: The classical S&OP solution (the one that has resulted in decades of underperformance) focused heavily on business processes that break down functional barriers and drive consensus. Effective S&OP will elevate skilled workers in an aligned culture over staid business process. Recruiting, training and retained rare talent will be a critical success factor.


Total Value Optimization (TVO) expands S&OP to a broad ecosystem of upstream supply and downstream customer operations. The battle for effective S&OP should be fought on two fronts. The first will break down the imbalances created by internal borders. The second will apply resources to create an effective, informed eco-system that reaches upstream to sources of supply and beyond as well as downstream to customers and beyond. A data-rich operating environment and a clearly-published advanced operations plan fuel this effort. For example, suppliers almost always have headroom for additional sourcing efficiencies if they accurate plans for future operations (how much, when, where) are shared.


Leader and organization improvement (LOI) creates the right cultural environment for lasting DSI performance. Creating a culture for success is the key many who have attempted S&OP have been unable to turn. LOI focuses on critical leadership support for top-down cultural change, as well as change adoption and fine-tuning the supporting organizational structure to create the conditions for bottom-up cultural change and support S&OP.
Next steps
A good starting point for senior executives is to understand how mature their organization is today and where the value creation opportunities are within their business or business units. Maine Pointe's TVO Sales & Operations Planning Functional Attributes Model (below) is a pragmatic tool for mapping out where companies are and where they want to go to achieve high performance in sales and operations planning.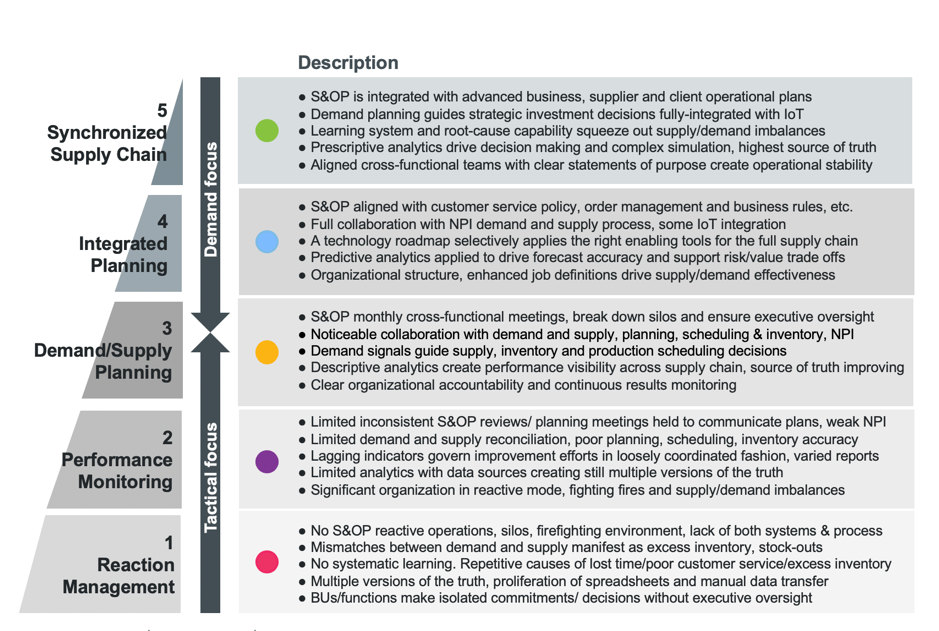 Other articles in the Sales & Operations Planning series:
Click here to read our Sales & Operations Planning perspectives paper
About Us
Maine Pointe is a global supply chain and operations consulting firm trusted by many chief executives and private equity firms to drive compelling economic returns for their companies. We achieve this by delivering accelerated, sustainable improvements in EBITDA, cash and growth across their procurement, logistics and operations. Our hands-on implementation experts work with executives and their teams to rapidly break through functional silos and transform the buy-make-move-fulfill supply chain to deliver the greatest value to customers and investors at the lowest cost to business. We call this Total Value Optimization (TVO)™.
Maine Pointe's engagements are results-driven and deliver between 4:1-8:1 ROI. We are so confident in our work and our processes that we provide a unique 100% guarantee of engagement fees based on annualized savings. www.mainepointe.com