Solar Panels May Play a Role in the Future of Green Fleet Initiatives
Long-term speculation on the future of the oil and gas industry, along with environmental concerns, has led to intensified interest in alternative energy sources, such as solar.
In the shipping industry, where over-the-road trucks consume huge amounts of oil and gas, a business case can be made for incorporating solar panels. The considerable amount of unused real estate on the roof of trailers could feasibly be utilized to incorporate green technology into the trucking business.
As it currently stands, solar isn't able to produce sufficient energy to completely power a truck and replace diesel with electric-powered engines. It is, however, mature enough to play a considerable role in any sustainable freight program and can be used to power adjacent systems such as lights, AC, lifts and internal auxiliary power.
Increasingly, buyers are requiring suppliers to report their green initiatives as part of their overall annual sustainability goals. Also, the operators themselves may decide to install solar panels as part of their own internal program. Operators can make the decision today to incorporate solar as part of a broader compliance initiative.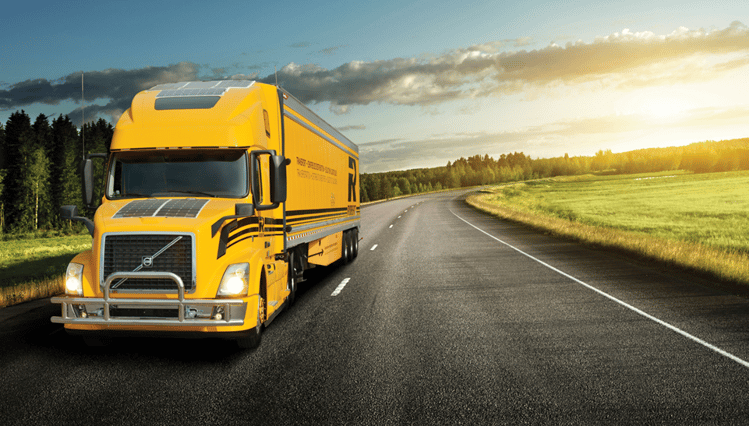 Truck versus car
Solar innovators looking for a good use case for pilot programs will need to compare the practicality and costs involved of solar on truck fleets versus passenger automobiles. The first and most important factor in creating an initiative is to have reasonable expectations from the panels. Solar panels may make more sense on truck fleets because the panels would be on the roof of the trailer, out of sight, and could provide power to auxiliary systems or be used to recharge the main batteries, potentially reducing maintenance and roadside service calls.
Automobiles, however, lack the surface area of trucks and, unlike solar on trucks, the panels on cars would be visible. The smaller surface area, along with the aesthetic factor, would play a major role. Some industrial fleet operators may prefer the visibility of solar panels for public relations reasons, to illustrate their compliance with green goals or to promote their own value-driven programs. For consumer passenger vehicles, the aesthetic factor would have to match buyer expectations.
Factors in the decision to go solar
Pilots of solar-enabled fleets are already in place. While there is not yet enough information available to gauge the real impact, we can look forward to meaningful data in the near future as large-scale efforts continue. From a cost perspective, installing panels has to be seen as a long-term investment. Operators considering running a pilot need to be fully aware that, while going solar would defray operating costs over time, it would result in a net add in the short run.
Part of the decision on whether or not to deploy a solar-enabled fleet is simply geography. It stands to reason that the best places to begin a pilot would be the areas which get more days of sunshine per year, such as Arizona or Florida; migrating to other areas later on as appropriate. Another factor is the type of fleet; a dry van fleet will be best suited to pilots because of the available real estate on the roof. A further consideration is that installing panels may add height to the vans, something that will have to be factored into the overall design.
Since the monetary benefits are longer-term, the short-term cost of panels and associated equipment, installation and maintenance would need to be budgeted on a go-forward basis, and the program would need to be part of a strategic policy decision by company leadership. The decision to go solar would be incremental to other fleet costs, and therefore must be a new investment.
Sustainability programs become table stakes for new business
Fleet managers may have several powerful incentives to deploy a solar initiative, including compliance with green goals, or taking a bold - and highly visible - first step as part of a multifaceted sustainability program. Generally speaking though, these initiatives rely on a portfolio of initiatives, one of which would include solar but would, by necessity, have to include multiple approaches.
These sustainability programs typically require annual progress reporting and may even be table stakes for gaining new business. As such, fleet operators may see solar initiatives in a positive light, not necessarily as a cost-savings tactic, but as part of a longer-term strategy for growth. Taking a Total Value Optimization (TVO)™ approach may require an early investment to gain longer-term cost reductions as well as driving growth and attaining new business by attracting buyers seeking strategic partners with formal sustainability programs.
About Us
Maine Pointe, a member of the SGS Group, is a global supply chain and operations consulting firm trusted by many chief executives and private equity firms to drive compelling economic returns for their companies. We achieve this by delivering accelerated, sustainable improvements in EBITDA, cash and growth across their procurement, logistics, operations and data analytics. Our hands-on implementation experts work with executives and their teams to rapidly break through functional silos and transform the buy-make-move-fulfill digital supply chain to deliver the greatest value to customers and stakeholders at the lowest cost to business. We call this Total Value Optimization (TVO)™.
Maine Pointe's engagements are results-driven and deliver between 4:1-8:1 ROI. We are so confident in our work and our processes that we provide a unique 100% guarantee of engagement fees based on annualized savings. www.mainepointe.com