The Simple Guide to ESG in the Supply Chain
In the first of a three-part insights series to help CEOs and supply chain professionals navigate the ESG landscape, Maine Pointe's CMO, Simon Knowles, and Alan Amling, Distinguished Fellow, Global Supply Chain Institute summarize ESG in the supply chain and discuss why it's an imperative now.
The Call to Action is Now
With ever increasing investor and consumer scrutiny, from the board and CEO down, leaders must manage the environmental and social impacts of their end-to-end supply chain or face stark financial consequences, as U.K. online fashion retailer Boohoo found out the hard way.
In July of 2020, Boohoo lost over $1.5 billion in market value over two days after revelations of poor working conditions at one of their garment manufacturers came to light. Investors and customers balked at reports that factory workers in Leicester, England, were being paid less than £3.50 per hour and not provided proper Covid-19 PPE. Boohoo told reporters that it discovered its declared supplier was no longer a garment manufacturer, and it was not sure who was supplying all of its garments.
The manufacturer Boohoo originally contracted with had not operated the factory for two years. Another company took over the factory, assumed the original supplier's name, and continued to supply garments to Boohoo. Consumers and investors did not give Boohoo a pass. Losing visibility in its end-to-end supply chain cost the company nearly a third of its value. The lesson is clear: To consumers and investors alike, contractors, sub-contractors, and any other participants in a retailer's extended supply chain are as much the retailer's responsibility as if the action came directly from the corporate office.
What is ESG?
ESG is the environmental, social, and governance standards and performance by which investors and consumers judge a firm's social and environmental conscientiousness. ESG is often incorporated into a business's risk mitigation, compliance, and investment strategies and includes a wide array of measurements and best practices. A summary of some of the broad opportunities to improve ESG performance are outlined in the figure below.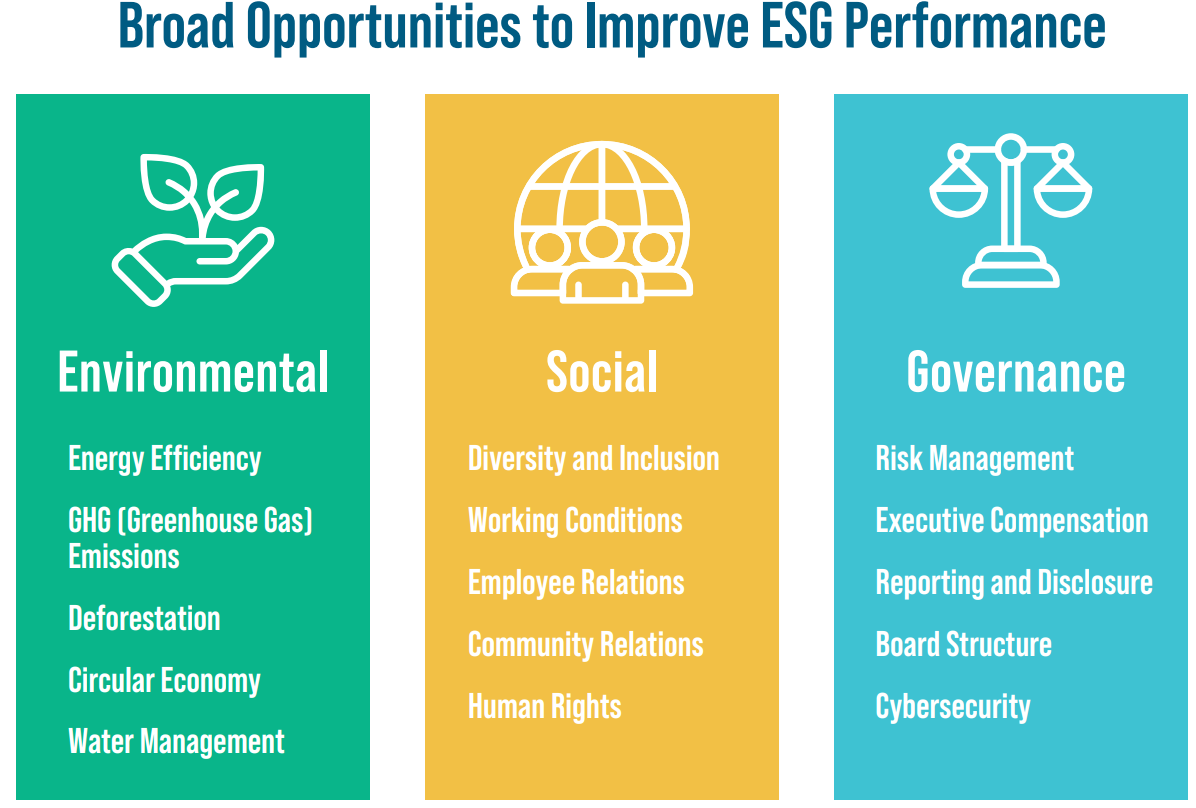 Supply chains are the front lines of ESG, like it or not
The supply chain's outsized environmental impact shouldn't be surprising. For example, the transportation sector generates 29% of greenhouse gas emissions in the U.S. and 14% worldwide. Supply chains likewise have an enormous social responsibility, employing an estimated 450 million people across every corner of our planet. Add in the procurement and manufacturing aspects of the end-to-end supply chain and the impact multiplies exponentially.
Why is ESG in the supply chain so important now?
Today, ESG is a critical issue, impacting a company's growth, bottom line, and ability to attract and retain talent.
The deluge of statistics that confirm sustainability's importance, coupled with a confluence of recent events, has driven ESG over the tipping point. Taken singly, each of these events was a storm; together, they are a tsunami.
ESG should be seen as an investment not a cost
Investment, as the outlay of money for income or profit, is really just sacrificing some of today's bounty in the hope of a better tomorrow. ESG fits this definition well, and it helps if leaders conceptualize it like R&D or employee training. Sustainability isn't just a public demand for more responsible management, but an investment unique to each company, depending on its core values and business model. For example, UPS's ORION route planning software has saved 200 million miles and 10 million gallons of fuel annually -- which saves UPS transport time and money and reduces carbon dioxide emissions by 100,000 metric tons.
Companies who build ESG in as an integral part of the company's value proposition will drive long term positive impact on the society, bottom- and top-line growth, and in some cases drive competitive advantage.
Where to begin?
Our first paper outlines five practical steps to get going.
Measure and assess. Determine where you are in each component of your ESG strategy.

Map out stakeholders. Identify who the stakeholders are, and engage them early in the process.

Prioritize company values. Focus on areas that complement your strategy and drive the biggest impact.

Set goals and measurements. Defined goals and metrics will help guide success.

Build momentum. Gain financial support to propel future initiatives by demonstrating the win-win aspect of ESG.
Optimization of procurement, operations and logistics are just table stakes. Today a coherent ESG strategy and implementation program, with support from top management and clear goals and metrics, has become an imperative to a company's short, medium and long-term success.
ESG Best Practices and ROI
Our next article will address the 'how' of sustainability, highlighting best practices in ESG to uncover the strategies, structures, and tools achieving actual results today. Our last article will focus on the ROI of ESG, underscoring how being a good corporate citizen and driving bottom-line results are not mutually exclusive. You can download the first article and subscribe to the series of insight pieces by signing up at www.mainepointe.com/esg-improvement
Alternatively, if you would like to discuss any of the points raised in this article, email: ESGImprovement@mainepointe.com
---
About Us
Maine Pointe, a member of the SGS Group, is a global supply chain and operations consulting firm trusted by many chief executives and private equity firms to drive compelling economic returns for their companies. We achieve this by delivering accelerated, sustainable improvements in EBITDA, cash and growth across their procurement, logistics, operations and data analytics. Our hands-on implementation experts work with executives and their teams to rapidly break through functional silos and transform the plan-buy-make-move-fulfill digital supply chain to deliver the greatest value to customers and stakeholders at the lowest cost and risk to business. We call this Total Value Optimization (TVO)™.
Maine Pointe's engagements are results-driven and deliver between 4:1-8:1 ROI. We are so confident in our work and our processes that we provide a unique 100% guarantee of engagement fees based on annualized savings. www.mainepointe.com