Your end-to-end supply chain, from sourcing to fulfillment, provides opportunities to:
Reduce energy and water use
Improve waste management
Find alternative sustainable materials
Implement carbon control, utilization, and storage (CCUS) technologies
Raise your sustainability status with employees, customers, regulators, and investors.
With a 360-degree sustainability solution, you simultaneously reduce the costs, risks, and impact of sustainability. The steps of assessing, defining, implementing, verifying, and then re-assessing your efforts ensure that you continue to meet your internal goals, industry standards, and regulatory requirements.
As the #1 supply chain and operations firm in North America, we analyze your current and proposed sustainability efforts and their effect on the entire plan-make-buy-move supply chain. We help you find and secure the untapped value in your sustainability strategies.
What is your sustainability perspective?
Sustainability often begins with the goal of reducing energy, water, and waste and moves on to reducing a company's carbon footprint. Key to all these efforts is collaboration with suppliers, both to meet Scope 3 standards and to acquire sustainability technologies that work. In practice, attaining these goals includes:
Evaluation of the current state of your sustainability efforts
Definition and development of strategy, KPIs, and ESG roadmap
Implementation and roll-out of sustainability strategies across business units
Verification, reporting, and continuity of strategies
Reassessment based on current regulations, industry standards, and company goals.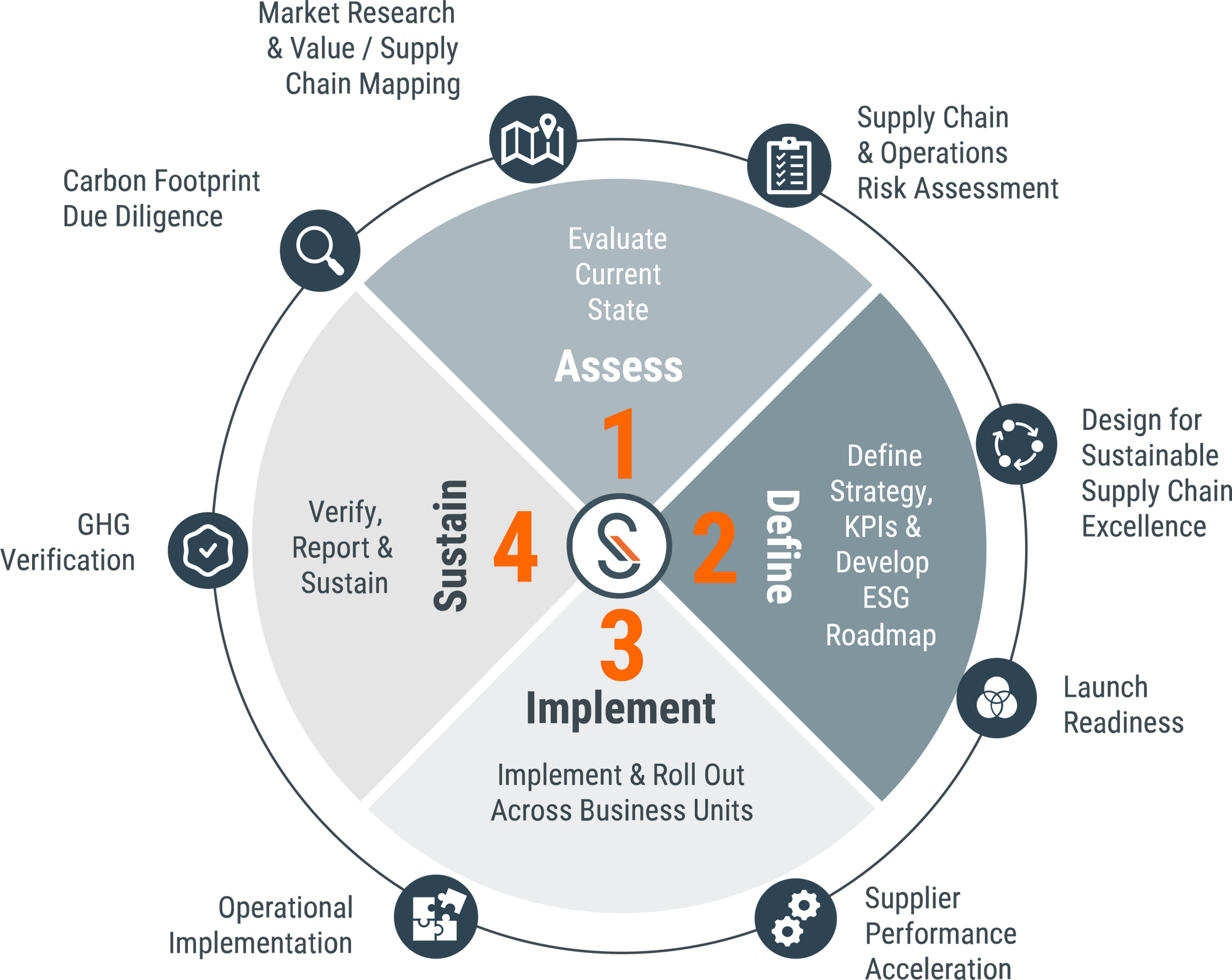 Our expertise and unique approach accelerates achievement of your sustainability goals.

Our design to value toolkit delivers results on a timetable tailored to your business goals.
Step #1: Assess
Perform a sustainability audit and due diligence to identify risks, opportunities, and gaps and establish priorities.





Conduct research into global suppliers, potential partners, and products.





Investigate root causes of sustainability risks and develop a plan for mitigation.



Step #2: Define
Design the operational and supply chain structure that will achieve sustainability excellence.
Work with suppliers on their own supply chains and sourcing of materials.


Identify ways to optimize the supply chain network and manufacturing footprint to reach sustainability, profit, revenue, and service targets.
Step #3: Implement
Optimize for efficiency, agility, visibility, revenue, and profit.


Integrate sustainability into sourcing, including supplier evaluation, selection, and management.


Improve sustainability performance of direct operations with direct cost savings, such as water and energy usage and waste management.
Step #4: Sustain
Conduct on-going assessment, verification, and reporting of sustainability performance across the end-to-end supply chain.
Identify new opportunities based on network and industry best practices and trends.
Sustainability Goals
We make sure that your sustainability efforts are integrated into your business goals; for example, an increase in fuel efficiency should not reduce both carbon emissions and fuel costs. Sustainability affects every link in the plan-make-buy-move supply chain. A change in transportation might reduce emissions; but achieving that goal requires analyzing your use of on-shore, off-shore, and in-shore suppliers, the OTIF expectations of customers, and potential risks versus opportunities in the location of your facilities.
Our analyses enables you to:
Select the right technologies.
Identify and collaborate with the right suppliers.
Evaluate your portfolio for sustainability and make future investments with a knowledgeable perspective.
Understand the effects of sustainability choices on your end-to-end supply chain.
Technology Analysis
Many companies have entered the field of carbon control, utilization, and storage (CCUS), but failure rates are high. You need confidence you're your chosen technology is financially and technologically viable, enables a smooth integration with your current operations, and meets your ecological goals.
We focus on
Verification and Validation
Commercialization and Scale Up
Launch Readiness
Ability to Meet Performance and Financial Targets.
Supplier and Partner Evaluation
Ally-sourcing evaluates suppliers and partners on their congruence with your own company's and country's sustainability goals and requirements.
We focus on
Sourcing for Sustainable Materials
Supplier and Partner Performance
Acceleration of Supplier and Partner Readiness
Collaboration, Negotiation, and Communication
Identification of Supplier and Partner Risks.


Supply Chain Excellence
Because a change in any one part of the plan-make-buy-move supply chain affects every other part, sustainability strategies must address everything from capacity planning through production systems to logistics.
We focus on
Infrastructure Limitations
Risk Prioritization
Supply Chain Capabilities Analysis
Total Value Optimization (TVO)™ Strategies.


The Impact of Our Approach
Technology benefits
Improved efficiency in use of energy and other resources

Consistency and standardization across business units and suppliers

More confident investment in technology

More efficient production, less waste, and greater savings.
Supplier and partner evaluation benefits
Clear accountability
Shared and reduced risks and costs
Better product lifecycle management
Greater commitment to sustainability.
Supply chain excellence benefits
Higher customer satisfaction
Regulatory compliance
Culture of collaboration and continual improvement
Increased efficiency and less waste.
Sustainability Case Studies
Company Description
Project Scope
Results

Supplier of Food Ingredients

Procurement, Strategic sourcing; last mile delivery; asset & fleet optimization




20% fuel savings (retail & bulk)
275% throughput increase at plant 1
135% throughput increase at plant 2
$7.2M annualized benefits


Integrated Energy Company

Logistics optimization; management operating system; joint resolution process

$6.4M reduction in transportation costs (ROI 3.4:1).
Fuel control program giving unprecedented visibility into fuel use and driving usage down by 43% (seasonally adjusted).
Reduced economic and environmental impact through Elimination of surplus and underutilized vehicles


Aviation Field Service


Fleet & load optimization; operational dashboard





20% annualized savings
28% reduction in fuel use
5% increase in fuel efficiency
Carbon emissions reduction equal to 2,173 passenger vehicles taken off the road

Battery Manufacturer

End-to-end supply chain environmental analysis; 3C assessment




7:1 ROI annualized benefits to P&L.
$19.2M annualized savings.
75% reduction in greenhouse gas emissions.


Waste Management Company

Environmental requirements assessment & education; collaboration





Improved transit time by 32%
Optimized asset utilization
Reduced railroad operating costs
Improved reliability
The Simple Guide to ESG in the Supply Chain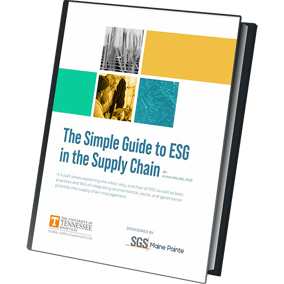 Uplifting Processes, Throughput, and Data to Support Long-Term Goals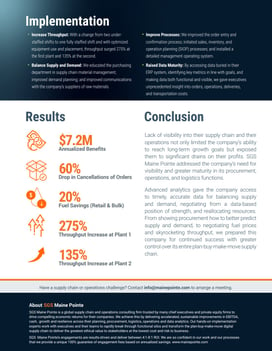 Our Blog: Trends and best practices for the E2E supply chain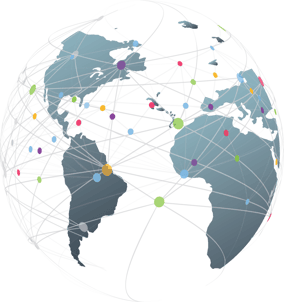 Ready to speak with a consultant?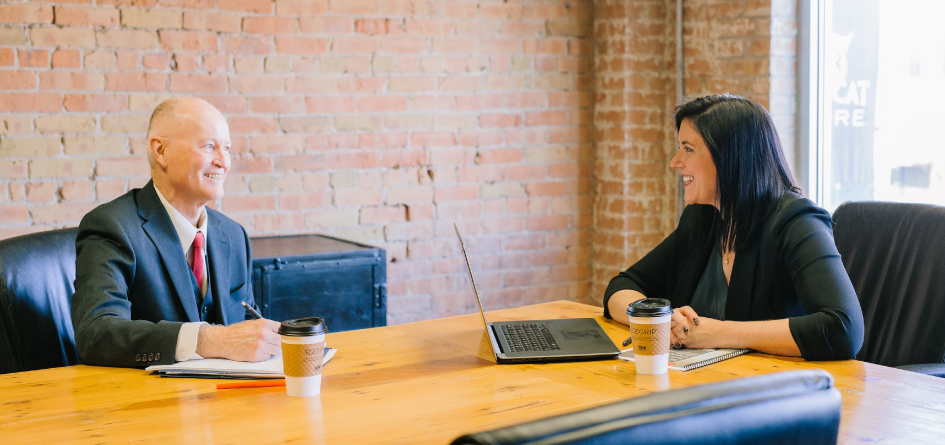 Talk to us
From rapid sprints for short-term gains to transformation for competitive advantage we are here to get you there.