Aviation, Aerospace & Defense Supply Chains Resilience
The aviation, aerospace & defense ("AA&D") industry has been rocked by an unprecedented near shutdown of commercial aviation and faced the impact of unpredictable parts shortages as companies shutdown/lockdown facilities across the entire supply chain.
Every aspect of the value chain is feeling the impact. Regardless of the scope and complexity of the supply chain, it is possible to maintain operational readiness and bolster resiliency by addressing the present, near term and long term. Maine Pointe's recommended approach is: stabilize, recover and rebalance.
Boeing's grounded 737 MAX aircraft highlighted how even a single aircraft grounding can impact financial stability and operational balance across the AA&D supply chain ecosystem. The relaunch and recertification of the 737 MAX fleet will shed new light on the need for deep visibility into the supply chain, given that the aircraft relies on over 600 major suppliers, and countless second- and third-tier partners.
The complexity and inelasticity of the AA&D ecosystem, coupled with the hypersensitivity of the Aviation industry's value chain, has been stripped bare by trade wars, oil price fluctuations, regulations, safety issues, demand volatility and now a global pandemic.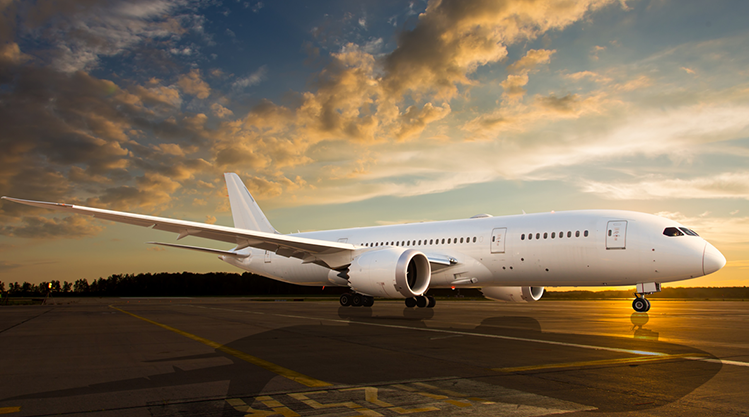 Building in supply chain resiliency
A deep level of interconnectedness in any supply chain can deliver substantial benefits, but it may also manifest as unmanageable risk. This is especially true when the interdependency of suppliers (and operational information/metrics) grows to the point where "visibility" becomes a major challenge.
Leaders now face the greatest challenge of their careers: limit short-term disruption, prepare for a quick recovery, readjust short and long-term strategies, and ensure a greater level of supply chain resiliency to mitigate future risks. Industry leaders are now asking themselves just how deep their supply chains go, and whether they have true visibility into what may be thousands of vulnerable downstream suppliers across the globe. Big questions like, "Are we too dependent on a single region?" must now be addressed.
An approach to tactically address the present/near-term challenges to building resilience into the supply chain is based on several key factors:
The ability to flex, and/or substitute SKUs, parts, providers, even Ts & Cs across the supply base itself, combined with;
The ability to more readily flex, shift and share manufacturing capacity between locations, with predictable cost implications (which would outweigh the risks), and;
The necessary transportation options (land, air or sea) to maintain the flow of goods from node to node in the supply chain -- and ultimately to the end customer.
Looking deeper: The plan-buy-make-move-fulfill supply chain
Successful supply/value chain risk mitigation requires deeper insights, beyond KPIs and industry or economic externalities. Ascertaining which direct or indirect partners in the fabric of your supply/value chain are at greatest risk, and therefore expose your enterprise to potential risk, is of paramount importance in a crisis. This visibility will enable you to have an early warning system and proactively deal with potential disruptions. The "stabilization" phase of Maine Pointe's approach is primarily focused on that objective -- accelerating the acquisition of insights and developing viable, timely plans of action. Plans most likely include rapid-response actions within your enterprise, with suppliers deemed too critical to fail, and/or with customers too important to lose. These actions must be laser targeted surgical strikes, executed with a high degree of supplier collaboration, mitigating collateral damage.
Then and only then can the vital "recovery" stage begin. As the pandemic subsides, which it will, and the global economy accelerates, the central issue will likely become one of prioritization, execution and control. The "recovery" phase of Maine Pointe's approach is primarily focused on that objective -- accelerating the execution of numerous interdependent action plans to reboot, relaunch, recertify, restaff, reopen and remobilize all or part of your enterprise through an integrated approach with the supply chain ecosystem it depends on. This critical recovery work will require a set of skills with a degree of expertise, experience/insight, objectivity and bandwidth most companies simply do not have internally.
Conditions such as these, driven by rapidly changing economic factors, force corporate leadership, policy makers, international trade organizations and even individual citizens to rethink and "rebalance" their priorities. The "new normal" as it is being called, will surely not be a return to the status quo, nor should it be. The "rebalance" phase of Maine Pointe's approach is primarily focused on that objective -- the definition and achievement of the "future operating state" of your enterprise and supply chain ecosystem partners, which will once again begin to drive profitability and growth. Launching these rebalancing efforts is not the end game, rather, as Winston Churchill noted at the Lord Mayor's Luncheon to mark the defeat of Rommel's army, "Now this is not the end. It is not even the beginning of the end, but it is, perhaps, the end of the beginning." So it will be with rebalancing - it is the journey towards a new normal, perhaps yet to be defined, and the steady hand of trusted partners will be fundamental to success.
Stabilize, Recover, Rebalance
There is a way forward. Current challenges have exposed supply chain vulnerabilities that may not be new, or caused by the pandemic, but are amplified across a supply base stressed beyond capacity. Now is the time to focus on operational continuity. Build a durable roadmap with three key stages -- stabilize, recover, and rebalance and pave the way to move beyond the temporary paralysis of supplier shutdowns/lockdowns, and mitigate future risk. Maine Pointe's Total Value Optimization (TVO)™ enhances and accelerates our three stage roadmap. It overcomes short-term challenges and builds a foundation for a more resilient, agile, digitally enabled supply chain for the future.
Companies experiencing disruptions and slowdowns can best use this time (and its imperatives) to re-evaluate their strategic operating models, gain deeper visibility and operationalize enhanced tactics to lessen the effects of disruption and ensure a prosperous future. The level of global disruptions we are now seeing is unprecedented but businesses will face equally significant risk factors in the future. The best approach is to be proactive, understand the risks, increase visibility, improve supply chain optionality and be ready to move ahead aggressively when the disruption is finally over. Black Swans are out there. We need to be prepared to deal with their downside or upside effects.
---
About Maine Pointe
Maine Pointe, a member of the SGS Group, is a global supply chain and operations consulting firm trusted by many chief executives and private equity firms to drive compelling economic returns for their companies. We achieve this by delivering accelerated, sustainable improvements in EBITDA, cash and growth across their procurement, logistics, operations and data analytics. Our hands-on implementation experts work with executives and their teams to rapidly break through functional silos and transform the plan-buy-make-move-fulfill digital supply chain to deliver the greatest value to customers and stakeholders at the lowest cost to business. We call this Total Value Optimization (TVO)™.
Maine Pointe's engagements are results-driven and deliver between 4:1-8:1 ROI. We are so confident in our work and our processes that we provide a unique 100% guarantee of engagement fees based on annualized savings. www.mainepointe.com