Quick Wins to Start your Digital Supply Chain Transformation Journey
If you are a senior executive trying to cut through the noise around digital transformation, mildly cynical, or unsure of the value and where to get started, this blog series is for you. We will help you separate the hype from the facts and navigate your way to digital supply chain transformation in a pragmatic, measurable and step-by-step way.
Gaining visibility and control
If recent events have taught us anything, it's that we can't forecast the future based on what has happened in the past. COVID-19 laid bare numerous cracks in prevalent supply chain and operations models built for a different era. Their weaknesses exposed, business leaders have been forced to urgently re-evaluate how their organizations are led, organized and operated. The challenge is how to prepare for a surge in growth in a post-pandemic world while guarding against future risk events and a predicted significant rise in input cost. The starting point for overcoming it is to have accurate real-time information at your fingertips. In simple terms, executives must know sooner so they can act faster.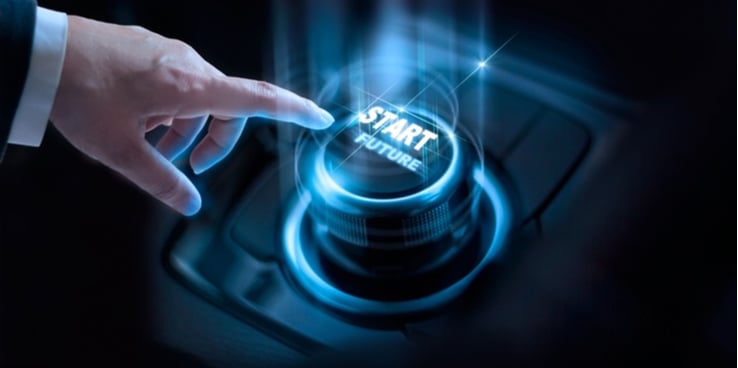 You can't effectively operate a business if you can't see it
Achieving this level of transparency is more complex than it may first appear. Many executives run companies where multiple technology platforms and data silos operate across different functions, business units and locations. This leads to organizations operating largely in the dark with little to no visibility of their suppliers, their internal operations, or their customers. The impact? Poor demand forecasting leading to supply/demand imbalances and an inability to optimize the supply chain and operation from an EBITDA, cash and growth perspective.
Advanced data analytics and digital supply chain simulation are the keys to changing this by gaining full visibility and control across the end-to-end supply chain and operations. Without these insights, your planning and demand forecasting can never be as precise or as coherent as you need it to be. Armed with faster, more reliable data, you can be assertive in your approach to changing supply and demand dynamics, quickly adapting to protect margins and capture emerging growth opportunities with a synchronized, demand driven end-to-end supply chain and operation.
The first step towards digital transformation
For many CEOs, the strategic imperative is "going digital", but in a sea of new technologies, where do you start?
In a recent BDO survey, 52% of manufacturers said they intend to invest in supply chain technology this year to improve and increase efficiencies, end-to-end visibility, and flexibility and responsiveness. As the word cloud below illustrates, this priority is echoed in our own conversations with executives and supply chain leaders who consistently express concerns about end-to-end visibility, control and the ability to accurately produce regressive and predictive data models and simulations to improve performance.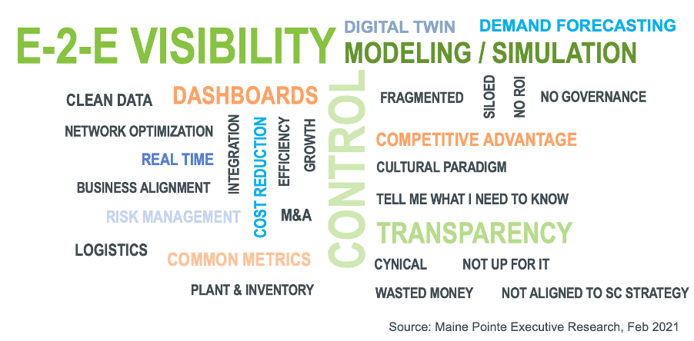 Taking control of your supply chain and operations
There is no denying the road to becoming a mature, fully digital organization can be long and it can require substantial investments (in people as well as in tech). But it doesn't have to be a full throttle, bet the bank initiative. New technologies and service delivery models such as cloud hosting, software-as-a-service and data analytics managed services can significantly reduce the upfront costs and improve the time to value.
Every journey starts with a single step and, in this case, that step is to gain control of your data. To do this, you need to have a single source of truth which allows you to easily and accurately view, manage, forecast, simulate and optimize the end-to-end supply chain and operations from a single location. Ai-powered enterprise decision-making platforms create a digital model of your entire supply chain, also known as a "digital twin'. Perhaps for the first time, data is brought together across functional silos, connected, harmonized and leveraged to enhance understanding, prediction, cause and response, improving the speed and quality of decision making.
The benefits of a single source of truth
Enhanced decision making through timely accurate information
Visibility, accountability and control across multiple business units and data silos
Better demand forecasting and planning to capture growth and respond to higher input costs
The ability to respond and drive improvements in EBITDA, cash and growth performance
Proactive visualization of supply chain and market dynamics to reduce risk
Measurable results
As many businesses have learned to their cost in recent months, even the best laid plans can go awry. It pays to be prepared for a number of 'what if' scenarios. As an example, leveraging TVO ControlTower, Maine Pointe created an end-to-end data model and network flow path for a global manufacturer. In this case study, over 30M records of data from disparate spreadsheets and systems across 20 manufacturing locations were examined, and a complete digital model of the extended enterprise was developed. This was used to run various scenarios for a multi-year manufacturing and distribution roadmap.

A further example demonstrates the link between visibility and EBITDA/cash improvement. In this case, an industrial equipment manufacturer with a lack of centralized, meaningful and proactive data was losing market leverage. Implementing real-time procurement dashboards and demand forecasting tools gave leadership the capability to predict and prepare for market shifts and analyze spend across 18 manufacturing locations on five continents, releasing $51M in cash (with millions of dollars of benefits seen within 15 weeks), and achieving a 12% EBITDA improvement within 10 months.
While nobody could have predicted the turmoil of the last twelve months, the pandemic has been transformative for supply chain and operations and there is no going back. Digitally mature companies consistently outperformed their competitors in 2020 and will continue to do so. In upcoming articles, we will consider how you can master the rapid changes that have taken place, and take you on a five step journey from legacy supply chain to a synchronized digital network for competitive advantage.
We are entering a commodities 'supercycle', with growth set to accelerate alongside a surge in input costs. How confident are you that your supply chain and operations can keep up?
If you would like to discuss this or any of the points raised in this article or arrange a demonstration of TVO ControlTower, email sknowles@mainepointe.com or npowrie@mainepointe.com
About Us
Maine Pointe, a member of the SGS Group, is a global supply chain and operations consulting firm trusted by many chief executives and private equity firms to drive compelling economic returns for their companies. We achieve this by delivering accelerated, sustainable improvements in EBITDA, cash and growth across their procurement, logistics, operations and data analytics. Our hands-on implementation experts work with executives and their teams to rapidly break through functional silos and transform the plan-buy-make-move-fulfill digital supply chain to deliver the greatest value to customers and stakeholders at the lowest cost and risk to business. We call this Total Value Optimization (TVO)™.
Maine Pointe's engagements are results-driven and deliver between 4:1-8:1 ROI. We are so confident in our work and our processes that we provide a unique 100% guarantee of engagement fees based on annualized savings. www.mainepointe.com