Maine Pointe supports The Harry Chapin Food Bank with $51,750 donation to help feed people in need in Southwest Florida
Maine Pointe's donation will help the Harry Chapin Food Bank to support the nearly 160,000 people in Southwest Florida who are food insecure
(Boston, Mass - November 28, 2017) — Maine Pointe, a global operational implementation consulting firm raised $51,750 for The Harry Chapin Food Bank of Southwest Florida at its annual company event held in Naples earlier this month.
Founded in 1983, Harry Chapin is the only Feeding America food bank in the southwest Florida region. The organization is partnered with more than 150 agencies that provide direct services to those in need, including church food pantries, soup kitchens, emergency shelters, disaster relief agencies and more. The food bank provides food for about 28,000 individuals each week.
"We thank Maine Pointe for their generous support," said Richard LeBer, President and CEO of the Harry Chapin Food Bank. "The holidays are nearly here and the need is great. This donation will enable us to help the nearly 160,000 people in Southwest Florida who are food insecure, meaning they may not know where their next meal is coming from."
The money was raised during a fiercely competitive, fun team building event which took place on Naples beach at the start of Maine Pointe's 2-day annual meeting. Representing Harry Chapin, Richard LeBer accepted the check, which was presented by Maine Pointe's Chairman and CEO, Steve Bowen and his wife Deb.
"The Harry Chapin Food Bank does essential work providing a life line for nearly 160,000 people in the southwest Florida region who are struggling to make ends meet," said Steve Bowen, " As part of our ongoing CSR program, we use our annual meeting to raise funds for a nominated charity. I can think of none more deserving of our support than Harry Chapin. All of us at Maine Pointe found taking part in this fundraising activity both enjoyable and incredibly rewarding," he added.
Maine Pointe's commitment to CSR
Our values of accountability, teamwork, character, service excellence and personal growth are at the heart of everything we do at Maine Pointe. We are committed to building a company that is sustainable, not only financially, but also socially and environmentally. We reflect this commitment in the way we work with our employees, contractors and clients and in terms of how we contribute to the wider community and the world around us. Our corporate social responsibility program highlights the work Maine Pointe already does and provides us with a framework for our future development to ensure that we continue to uphold our values and to do the right, honest and ethical thing at all times.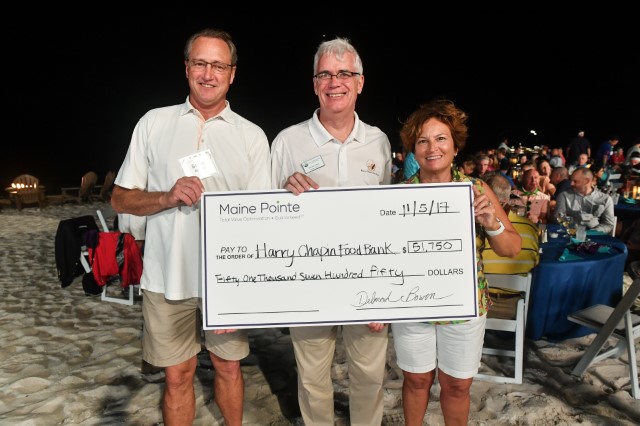 ---
About Maine Pointe
Maine Pointe is a global implementation-focused consulting firm trusted by many chief executives and private equity firms to drive compelling economic returns for their companies. We achieve this by delivering accelerated, sustainable improvements in both EBITDA and cash across their procurement, logistics and operations to enable growth. Our hands-on implementation experts work with executives and their teams to rapidly break through functional silos and transform the buy-make-move-fulfill supply chain to deliver the greatest value to customers and investors at the lowest cost to business. We call this Total Value Optimization (TVO)™. Maine Pointe's engagements are results-driven and deliver between 3.5:1-12:1 ROI. We are so confident in our work and our processes that we provide a unique 100% guarantee of engagement fees based on annualized savings. www.mainepointe.com
About the Harry Chapin Food Bank
An affiliate of Feeding America, the Harry Chapin Food Bank is the leading hunger-relief organization in Southwest Florida. The food bank solicits, collects and stores food for distribution to families and others in need through a network of more than 150 nonprofit agencies in Lee, Collier, Charlotte, Glades and Hendry counties, providing food to about 28,000 people a week. In fiscal year 2016-17, The Harry Chapin Food Bank distributed 22.3 million pounds of food and other grocery items, including 6.6 million pounds of fresh produce. The food, valued at $37.3 million, is the equivalent of 18.6 million meals for people in need. The Harry Chapin Food Bank is recognized as a four-star organization by Charity Navigator, the national nonprofit watchdog organization. Please visit harrychapinfoodbank.org.
To arrange an interview, please contact our Marketing Communications Director Stephanie Kimball at +1 617-842-7992 or skimball@mainepointe.com