5 Supply Chain Optimisation Initiatives European Executives Can Implement Right Now
Mitigating the risks of increased costs and production slowdown
Last year, the European Union registered its strongest growth in a decade. Conditions for continued growth are favorable as consumers benefit from rising real wages and strong job creation. Unemployment in the Union has declined fast and is getting close to pre-crisis levels, reducing the availability of untapped talent. As a consequence, the number of firms reporting production limitations due to labour shortages and capacity constraints has increased substantially over recent quarters.
The Union faces some significant headwinds. US trade restrictions have given rise to concerns about a global trade war and an increase in protectionism which could undermine the viability of complex global value chains. Tariffs are already exacerbating a slowdown in production and driving up costs; manufacturing activity across the Eurozone dropped to the lowest level for 18 months in June 2018.*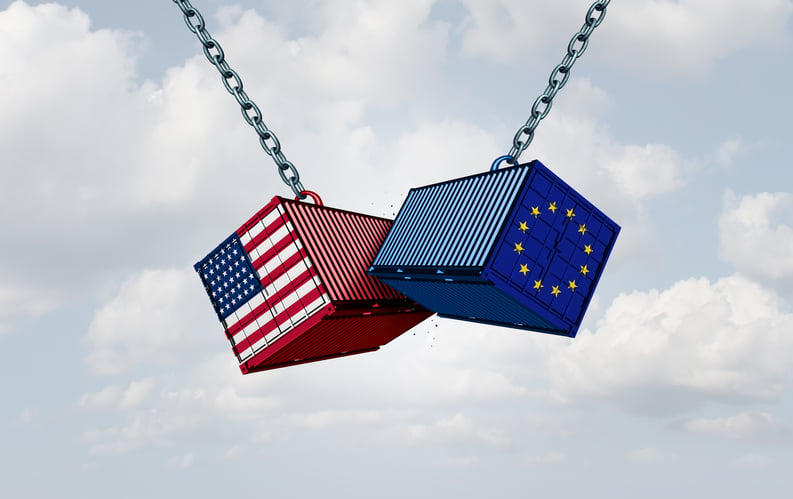 Beyond the complexities of trade tensions and pressure the Trump administration is placing on NATO, there are additional risks related to geopolitical tensions in other parts of the world. Within Europe, uncertainties related to the outcome of the Brexit negotiations remain. To mitigate these risks, organizations across Europe need to optimize processes that remove bottlenecks across the buy-make-move-fulfill supply chain, combat constraints in the labor market and create the conditions for profit enhancement and growth.
Five key initiatives executives can implement right now to drive productivity and cash improvements in their business
The supply chain is capable of adjusting to changing costs, in part because there are multiple factors built into the final price of the product. The variables that ultimately determine costs come in three categories: procurement, or buying the raw materials and semi-finished goods required; operations, which means labor and productivity factors; and logistics -- shipping and storage. This, according to the Global Supply Chain Institute, accounts for approximately 80% of manufacturing companies' total costs. For most types of global supply chains, each of these categories hold opportunities to lower costs and offset the increased tax bills that could come from protectionist moves. There are a number of steps executives can take to release these opportunities:
Increase supply chain velocity -- Every function in the value chain must play its part in ensuring the process is efficient, effective and transparent. For Sales and Operations Planning (S&OP) this means defining the products and packaging that optimise the load/shipment or providing accurate forecasting to supply chain managers (SCM). Procurement and suppliers need to create a solid platform through robust contracts with clear service level agreements and incentives to continuously improve on-time-in-full supply and shorten lead times. Operations play a major role through efficient Operational Equipment Effectiveness that ensures a high level of plan stability and attainment and enables on-time-in-full delivery to shorter lead-times. And finally, a robust Management Operating System (MOS), underpinned by data analytics, enables SCMs to orchestrate the velocity and inventories through an efficient and transparent end-to-end process.
Enhance your strategic procurement maturity -- It is an imperative that executives demand better integration, agility, innovation, service levels and prices from their supply base. Irrespective of company size, procurement margin improvement can be achieved by evaluating and consolidating spend through a handful of suppliers in different countries and enhancing collaboration. This gives companies the option to adjust their mix to lower the tariff burden and increase productivity where possible. We typically help clients enhance their strategic procurement capabilities and reduce procurement costs in the 8-12% range and often more, depending on the maturity of the organization.
Optimise your operational footprint -- As the costs of raw materials, energy and labor continue to rise, it will become increasingly important for executives to review and optimize their operational footprint. In our experience, if this has not been reviewed in recent times, there are significant synergy, savings and optimization opportunities. A recent example is, having reviewed two major European companies, one operating in southern Europe and the other in the UK, we identified and provided procurement and operations proof-of-claim savings to the order of 70M.
Develop an optimised product portfolio

--

Robust product lifecycle management and new product introduction processes are essential to survival in a shifting marketplace. We have found that executives often fall into the trap of broadening the tail to 'fill the factory' and chase that last Euro of turnover. However, it's often the tail that eats into the net contribution due to frequent changeovers, start-up-scrap and shorter run times.
Achieve operations excellence -- Irrespective of which end of the operations maturity pyramid you are currently at, there are a number of factors which executives must ensure they have in place. These will be fundamental to achieving strong productivity growth, enhancing customer service and competing on value in this post Brexit - and increasingly protectionist - world.
*IHS Markit Eurozone Manufacturing PMI flash survey June 2018
About Us
Maine Pointe is a global supply chain and operations consulting firm trusted by many chief executives and private equity firms to drive compelling economic returns for their companies. We achieve this by delivering accelerated, sustainable improvements in EBITDA, cash and growth across their procurement, logistics and operations. Our hands-on implementation experts work with executives and their teams to rapidly break through functional silos and transform the buy-make-move-fulfill supply chain to deliver the greatest value to customers and investors at the lowest cost to business. We call this Total Value Optimization (TVO)™.
Maine Pointe's engagements are results-driven and deliver between 4:1-8:1 ROI. We are so confident in our work and our processes that we provide a unique 100% guarantee of engagement fees based on annualized savings. www.mainepointe.com