The Role of Analytics in the Product Lifecycle
How NPI/PLM analytics further enhance the supply chain
Speed and agility in the supply chain are steadfast imperatives. Consumers want more, and they want it now. They demand greater performance at a lower price. Features, functions and product options must be configured and aligned for supply chain capabilities as part of the product introduction and sustained throughout the lifecycle.
With increased supply chain complexity, enterprises need to leverage analytics across the entire product life cycle; from NPI to product end-of-life. An astonishing amount of data available to enterprises is untapped and held in disparate systems including ERP, project servers, and customized applications. These reservoirs are the source of raw data that can provide a means to optimize NPI and PLM outcomes when we connect them to the supply chain. Data that might not be of obvious use for NPI and PLM may still bring valuable insight into how product design decisions affect cost, quality, delivery and time-to-market. When it comes to understanding how to design, launch, and sustain product designs, untapped data and analytics should be harnessed to provide critical information and influence downstream outcomes and marketplace success.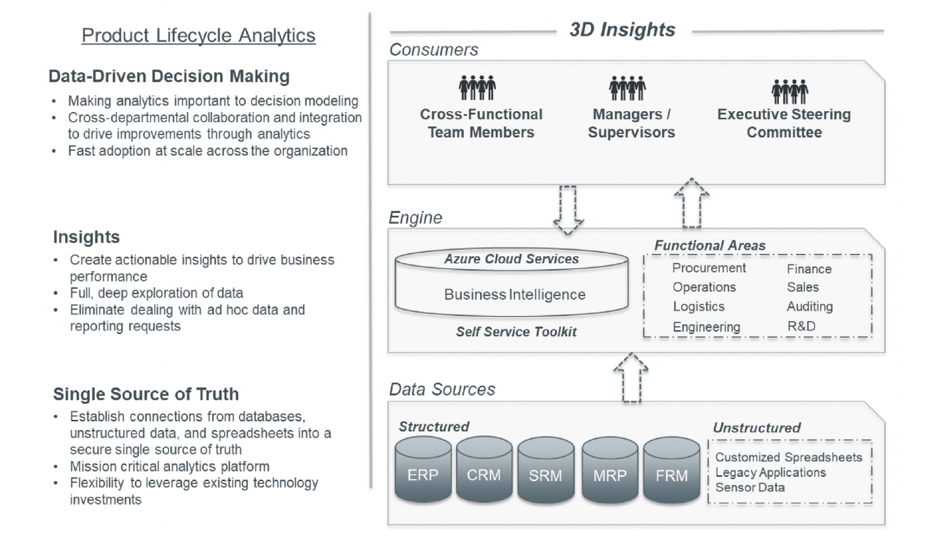 Without visibility to the vast knowledge of product development, organizations are missing important information and, therefore, struggling to make decisions. It takes a single source of reporting and analytics information to deliver end-to-end product lifecycle insights.
Mature organizations are ripe for unlocking NPI/PLM value
Accelerating and streamlining product time-to-market to create competitive advantage is now an imperative. Streamlining NPI and PLM while leveraging advanced data analytics is critical to optimizing the end-to-end digital supply chain. However, in the context of Total Value Optimization (TVO)™, more mature companies with well-established products and customer base are the best candidates for the drive to improvement. These organizations are characterized by:
Business Enterprise
Mature organizations

Under pressure from new entrants with disruptive business models

Time-to-market critical

Established portfolio and customer base

Aggressive, continuous cost reductions

Earning potential through improved business efficiencies
Organization and Structure
Matrix managed

Complex cross-functional operating model
Product Portfolios
Complex product development rollouts
Product portfolio and market segmentation mix
Product Fulfillment
Tier 1 supplier relationships
Large approved vendor list (AVL)
Long tail distribution -- runners, repeaters, strangers
Time-to-revenue is critical
Critical success factors
In today's world of volatility, uncertainty, complexity and ambiguity (VUCA), organizations must be able to move with high velocity. NPI and PLM are critical components to achieving an on-demand buy-make-move-fulfill supply chain that delivers the greatest value to customers and investors at the lowest cost to business. To thrive in this environment, organizations need to include NPI and PLM in their Total Value Optimization (TVO)™ journey. Doing so will give the C-suite an iron-clad platform for accelerating growth and responding to market demand.
NPI and PLM might represent around 20% of the value chain but, aided by data analytics, they can be 80% of the opportunity to affect positive supply chain performance. There are a number of critical success factors, including:
Positioning NPI and PLM as business transformation vs product development or a technology platform
Adopting NPI and PLM business rules to definitively connect them to supply chain and data analysis compliance
Rapidly aligning the entire integrated supply chain behind NPI and PLM
Connecting NPI and PLM to sales, business development and ideation
---
Other articles in the NPI/PLM series:
Click here to read our NPI/PLM perspectives paper
About Us
Maine Pointe, a member of the SGS Group, is a global supply chain and operations consulting firm trusted by many chief executives and private equity firms to drive compelling economic returns for their companies. We achieve this by delivering accelerated, sustainable improvements in EBITDA, cash and growth across their procurement, logistics, operations and data analytics. Our hands-on implementation experts work with executives and their teams to rapidly break through functional silos and transform the buy-make-move-fulfill digital supply chain to deliver the greatest value to customers and stakeholders at the lowest cost to business. We call this Total Value Optimization (TVO)™.
Maine Pointe's engagements are results-driven and deliver between 4:1-8:1 ROI. We are so confident in our work and our processes that we provide a unique 100% guarantee of engagement fees based on annualized savings. www.mainepointe.com