Digital Supply Chain and Operations Transformation Journey
In the last of their four-part series looking at the resilient, agile, digitally enabled supply chain of the future, Nathanael Powrie, EVP Data Analytics and Simon Knowles, Chief Marketing Officer, look at the first steps on the transformation journey and why some digital transformations are destined to fail.

Your questions answered
In our earlier articles on this subject, we presented the business case for the digitally enabled supply chain and operations and outlined some common implementation errors. This time, we're taking a closer look at the resources, key stages and business culture required for a successful transformation journey.
Why do some digital transformation journeys fail?
Let's dive straight in and say that not all digital strategies produce the results businesses are hoping for. From our discussions with executives who have embarked on a digital supply chain transformation, and our research into why the projects succeed or fail, we have identified nine transformation challenges that need to be addressed before the initiative begins:
Executives are unclear about the end-to-end supply chain investment case and implementation journey for their business
There is often insufficient CEO leadership/sponsorship and budget
Operations, procurement, logistics, sales, marketing & IT predominantly reside in silos with little collaboration across the enterprise
Leadership is reluctant to change / reinvent the business model to accommodate change and disruptive technologies
There is no cohesive, cross-organizational supply chain / digital vision and strategy
Companies have a supply chain / technology talent / skills gap across the organization
Legacy IT systems and culture deeply entrenched, and there is resistance to change. The prevailing culture is risk averse, 'why fix it if it isn't broken?'
Slow deployment of supply chain collaboration and new technologies means organizations are unable to show early wins to gain employee and stakeholder buy-in
The digital strategy is viewed as a 'technology fix'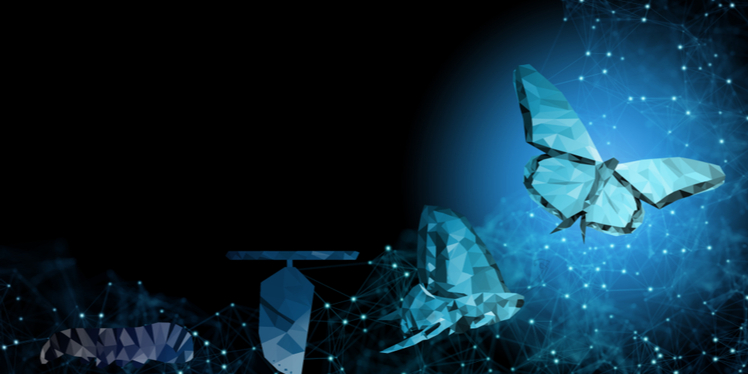 Where to start your digital supply chain conversation
While every aspect of the digital supply chain, including Industry 4.0 and smart operations, might not be essential to some businesses right away, the move is essential for long-term resilience. The first and most immediate step from a digital perspective, is to conduct an analysis across the supply chain and operations to identify use cases. The goal is to assess the maturity of the plan-buy-make-move-fulfill supply chain, taking a closer look at the company culture and leadership to determine what, if any, changes need to be made to quickly increase data visibility. Once that analysis is complete, a step-by-step implementation strategy, business case, and roadmap can be articulated based on where the company is today, and where it needs to be in the mid to long-term. Leveraging existing technical investments can often be a great place to begin, but make sure you have a strong ROI business case before getting started.

Since most companies do not have a formal digital transformation strategy, conversations usually start in departmental silos. This is because companies like to see some immediate return on their investments. Therefore, selling it to the organization and allowing the organization to transition forward involves identifying the benefits that companies can achieve with digital transformation and providing evidence. The value, through the application of digital transformation, is not only about improved productivity, increased customer satisfaction, improved financial and operational impact and cost savings, but also it is about looking at innovative ways of running a business and creating growth opportunities.
An enterprise is successful in becoming a digitally enabled business when it achieves a combination of digitalizing its current business models and actively pursuing new ones. Where is your digital maturity now? Our five-level digital maturity attributes model will help you decide.
Navigating the sea of technology choices
Today's executives and supply chain officers must stay abreast of the latest technologies ensuring that the organization appropriately incorporates digital skills and analytical talent. Companies must continuously determine the most relevant technology partners to meet their strategic and operational engagement requirements. As a result, the need has become very clear for platforms to make everything and everyone work together -- success in digital is based on creating an integrated assembly line of technologies, people, and processes (figure 1).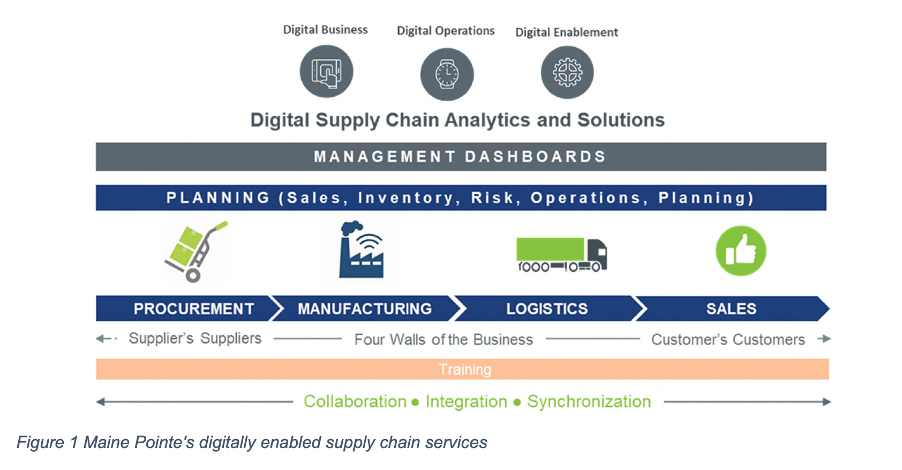 With new business models and ways of working emerging rapidly and digitalization accelerating at pace, executives, now more than ever, are seeing the need to speed up digital initiatives across their supply chain as a means of improving visibility, speed, agility and competitive advantage. Is this a reflex reaction by business leaders struggling to navigate through the global pandemic, or is it a sea change? Many leading executives believe it's the latter and have already taken action.
Alternatively, read The Resilient, Agile, Digitally Enabled Supply Chain and Operations of The Future. About Us
Maine Pointe, a member of the SGS Group is a global supply chain and operations consulting firm trusted by many chief executives and private equity firms to drive compelling economic returns for their companies. We achieve this by delivering accelerated, sustainable improvements in EBITDA, cash and growth across their procurement, logistics, operations and data analytics. Our hands-on implementation experts work with executives and their teams to rapidly break through functional silos and transform the plan-buy-make-move-fulfill digital supply chain to deliver the greatest value to customers and stakeholders at the lowest cost and risk to business. We call this Total Value Optimization (TVO)™. Maine Pointe's engagements are results-driven and deliver between 4:1-8:1 ROI. We are so confident in our work and our processes that we provide a unique 100% guarantee of engagement fees based on annualized savings. www.mainepointe.com