Achieve unparalleled efficiency with our Operations Excellence consulting services
Achieving operational excellence (OpEx) is a key driver for gaining a competitive advantage. OpEx enhances quality, throughput, reliability, and yield without incurring additional costs. It ensures that customers receive what they want, when they want it, at a price they find reasonable which increases profit.

OpEx covers leadership, organizational improvement, and management operating systems. It thoroughly evaluates the "how, why, where, and when" of work. According to the Institute for Operational Excellence, OpEx is achieved when every employee can visualize the value flow to the customer and proactively address any potential breakdowns.

As the foremost supply chain and operations consulting firm in North America, we specialize in analyzing your current operational impact on the entire plan-make-buy-move supply chain. Our expertise helps you uncover untapped value within your existing operations and enables you to harness it effectively.
What is your OPEX perspective?
When When your company demonstrates operations excellence, your people, processes, systems, and space are coordinated to meet your customer and company goals in the most efficient, cost effective way. What this means in practice includes:
Automation, data analytics, and feedback to drive continuous improvement

Full asset availability and utilization

A workflow and layout that makes the most of your capacity

Predictive forecasting with operations in the supply/demand loop.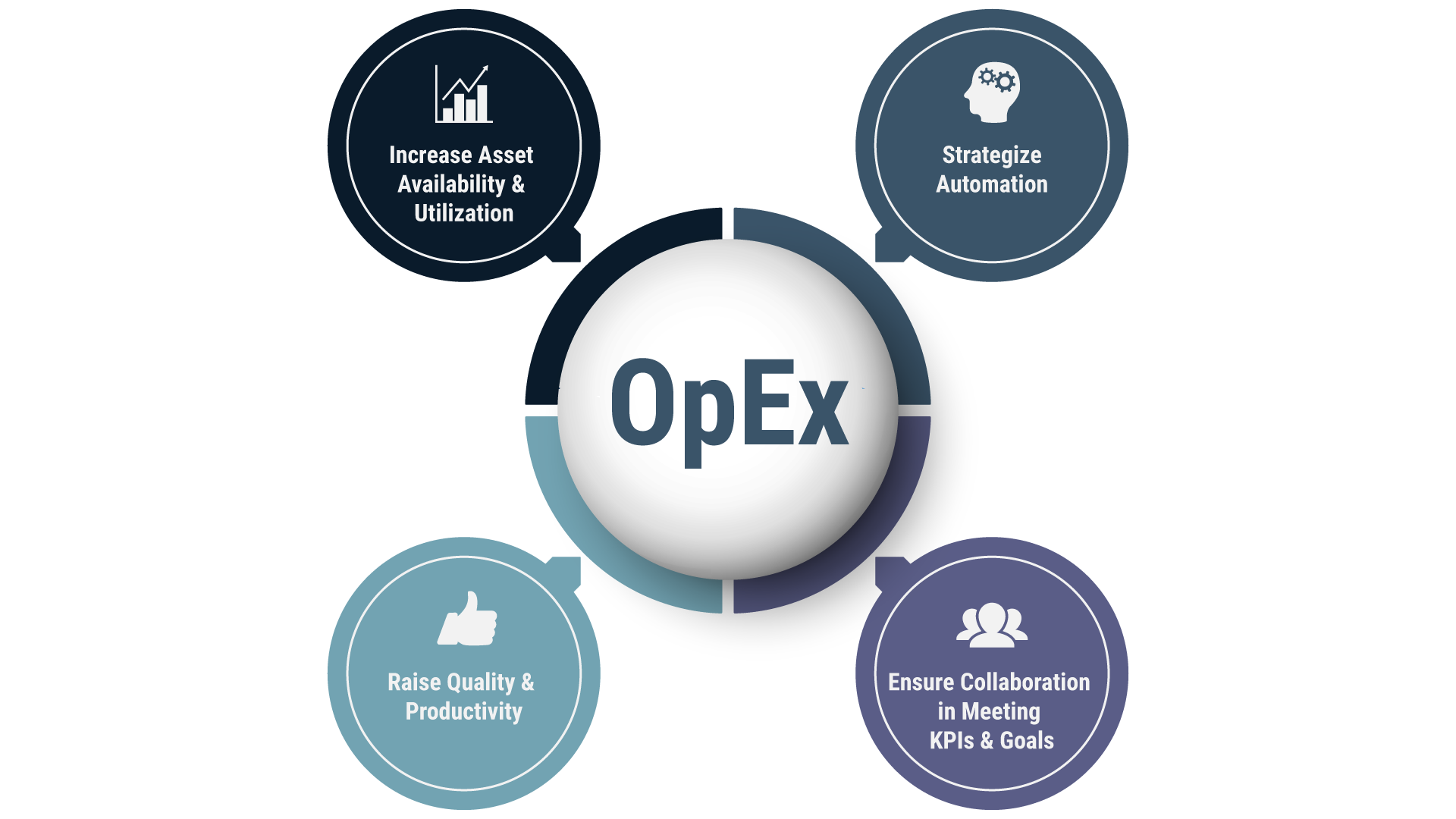 Our expertise and unique approach accelerates operational transformation.
Our operations excellence strategies deliver results in as fast as 4 to 12 weeks.

Step #1: Rapid analysis
Analyze operating costs, including downtime, lost time, quality defects, and total cost of maintenance (TCM).


Define the current state of operations within the organization, including planning and scheduling, maintenance, warehouse and shipping/receiving functions.



Identify roadblocks and missed opportunities.



Step #2: Leadership and organizational improvement
Remove resistance to change through training and mentoring.


Break down barriers between planning, procurement, operations, and logistics.


Step #3: Implement
Develop a management operation system and a sales, inventory, and operations planning system for long-lasting change and continuous improvement.


Establish KPIs and master schedules and establish owner-responsible-consult-inform (ORCI) accountability.


Improve quality and yield management.

Continuous Improvement
We make sure your production planning is linked to your sourcing and logistics; operations has the raw materials it needs and delivers finished products on time in full (OTIF).
Our analysis enables you to:
Uncover root drivers of performance across the plan-make-buy-move supply chain.
Create the metrics, training, and mentoring for a stable and productive operations workforce.
Meet the demand for your products and services.
Increase your competitiveness and market position.

Raise Quality and Productivity
For your teams to deliver on quality and productivity, they need defined requirements, methods for verifying compliance with specifications and variances, and a regular reporting format.
We focus on
Productivity Benchmarks and KPIs
SKU Rationalization
Verification and Validation
Quality and Yield Management
Pipeline Management
Total Value Optimization (TVO)™ Strategies.
Increase Asset Availability and Utilization
A maintenance schedule, coupled with tracking of materials and equipment, ensures that parts are available when needed.
We focus on
Integrating Maintenance and Operations
Establishing Performance Targets
Maximizing Working Capital.
Strategize Automation
Once you develop standardized and reliable processes, automation brings you greater efficiency; before that point, automation merely codifies your operational flaws. With clear insight into your capacity and capabilities, you can choose the strategies, systems, and processes that make the most sense for your operations.
We focus on
Capacity and Capability Planning
Production Systems
Automation Strategies
Lean/Six Sigma.
Ensure Collaboration
Clarity of roles, responsibilities, and accountability are essential for operational improvements. Training, mentoring, and clear communications ensure that sales, finance, planning, procurement, operations, and logistics understand and focus on the same goals and KPIs.
We focus on
Drive personal accountability with an owner, responsible, consult, inform (ORCI) initiative.
Quantify, qualify, and track revenue, growth, and market share as a result of team activities
Build data analytics feedback loops.
The Impact of Our Approach
Quality benefits
Higher customer satisfaction
Reduced waste
Better product lifecycle management.
Automation benefits
Improved efficiency
Process consistency and standardization
Increased productivity and reliability.
Asset utilization benefits
Increase overall equipment effectiveness (OEE)
Improved layout and workflow
More working capital.
Collaboration benefits
Clear Accountability
Less Finger-Pointing and More Problem Solving
Culture of Continuous Improvement.
Operations Excellence Case Studies
Company Description
Project Scope
Results

Die Casting & Machining Company

5S; OpEx; Cost Reduction




$3M ROI
$1.7M annualized savings
65% reduction in dimensional scrap
50%-120% upswing in productivity


Global Manufacturing Company


Root Cause Analysis; Footprint Redesign

$8.8M in annualized benefits to P&L
16% improvement in cost per unit
240% productivity improvement
821% improvement in dock shipping days for manufacturer


Aerospace & Defense Simulator Manufacturing Company


OpEx; Standard-ization





$40M in savings
650 tasks & milestones charted
5:1 ROI

High Technology Products


SIOP; PMOS; OpEx




27% throughput improvement
Increased capacity
Double-digit savings


Produce Processor

LOI; Standard Operating Procedures & Work Instructions





Reduced downtime from 40% to 15%
Reduced miss-picks from 300/day to 10/day
18% procurement savings


A new lens for optimizing multimillion-dollar decisions
Operations Excellence Case Studies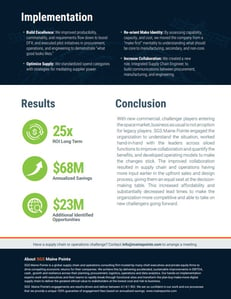 Our Blog: Trends and best practices for the E2E supply chain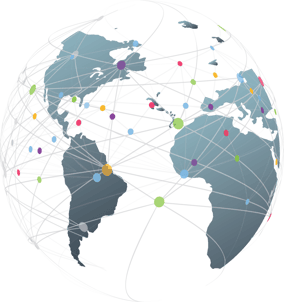 Ready to speak with a consultant?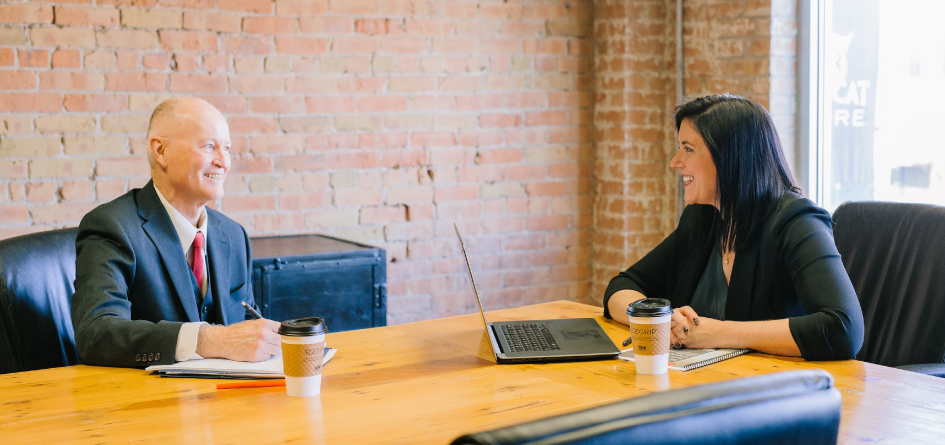 Talk to us
From rapid sprints for short-term gains to transformation for competitive advantage we are here to get you there.