Seven Steps to Resolve Endemic Issues in the AA&D Supply Chain
In this brief article based on their recent co-authored AA&D executive discussion document, Chris Brumitt, VP AA&D at Maine Pointe and Steven Melnyk, Prof. Supply Chain Management at MSU, address the unprecedented challenges currently faced by the aviation, aerospace & defense supply chain and offer seven practical steps to overcome them.

A series of overlapping crises has highlighted weaknesses in the aviation, aerospace and defense supply chain that have been present for decades. Suppliers, OEMs and the DoD must act now to resolve them.
Today's aviation, aerospace & defense supply chain is at one of the highest levels of risk observed in recent memory. A series of overlapping crises such as declining revenues, dramatic market shifts, increased complexity, job losses, reduced supply base and geopolitical tensions has been compounded by COVID-19. Suppliers, OEMs, airlines and the DoD are under unprecedented pressure to recover from 2020 losses (operationally & financially) while future-proofing themselves. Decades of applying short-term fixes, have left us with a cost-based supply chain model that has proved to be complex, inelastic and limiting. This dysfunction is evident at all levels of the supply chain, including tier 1 and sub-tiers. As a result, suppliers are forced to continually adapt and respond to changes. No longer locked into a specific supply chain, many are voting with their feet and leaving for less complicated, more profitable industries.
We don't see this as a supplier problem as such, rather it's a set of OEM-supplier relationship management, collaboration (i.e., trust), integration, visibility and alignment challenges. First and foremost, these are business/contracts issues, with people/culture issues running a close second, and digital/technology issues a distant third.
A mixed outlook
Commercial demand has plummeted, with losses of $100B estimated for 2020 (IATA). At the same time, military demand has expanded. This bipolarity has created the need for a systematic realignment across all stakeholders, not just for current survival but for future revival.
The tables have turned
Going forward, budget challenges, geopolitical tensions and sheer complexity will necessitate change programs to address the myriad of challenges in the AA&D supply chain ecosystem. This will most likely need to be self-funding to drive operational momentum from an economic perspective, which will require exceptional collaboration across the value chain.

In the post-COVID world, the aviation, aerospace and defense industry is going to be very different as stakeholders struggle to adapt to unpredictable demand signals. The days when good customers fired bad suppliers are behind us. With good suppliers in short supply, the onus will be on OEMs to woo them away from other, potentially more attractive and profitable, customers. In this 'suppliers' market', it is critical to attract recruit and retain quality partners by becoming the customer of choice. If successful, the rewards will be stability, flexibility, innovation, quality and operating profits.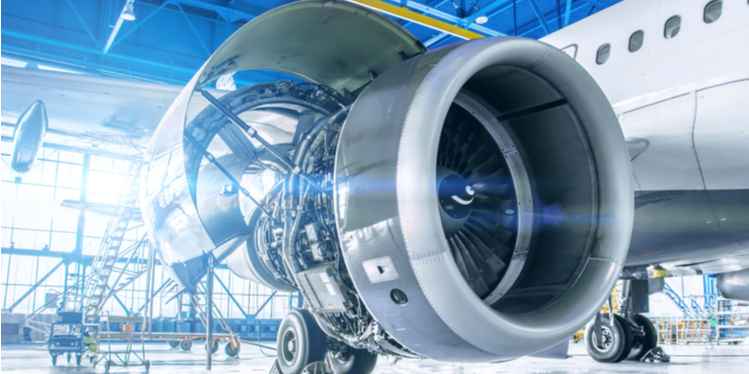 Seven steps to current survival and future revival
There is a practical way to solve these endemic issues in the supply chain:
Take a critical look at yourself and your supply chain. Where are your strengths and weaknesses?

Rethink what your supply chain needs to accomplish, and at what level of performance, then start building the foundations.
Shift your focus from managing the transaction and the first tier to managing the entire supply chain.
Adopt the 'right' mindset; one that focuses on win, win, win scenarios for the customer, the OEM and the supplier.
Focus on a business unit or product line and pull together a cross-functional team that works closely in collaboration with your suppliers to align goals and expectations.
Identify the gaps, develop the business case and way forward. Rapidly improve visibility and control through analytics to help drive actionable insights and build an ROI-driven business case and implementation plan.
Roll out, refine and expand. Having successfully rolled this new approach out across a business unit or product line, refine the approach and expand into other business units as you drive your step-by-step transformation program.
Inaction is the enemy. This is the time to "repair & rebalance" the supply chain, supporting the commercial OEMs and military primes through building strong, direct relationships at all levels.
---
AA&D Executive Discussion Document: Is Today's Supply Base Terminally Ill? Have You Got a Back-up Plan?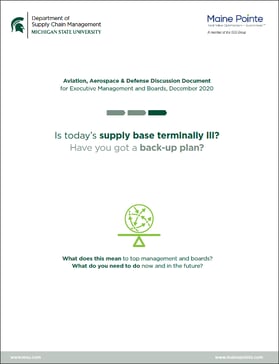 This brief article is based on a recent AA&D executive discussion document co-authored by Maine Pointe and Michigan State University. Click here to access the full paper.
If you would like to discuss any points raised or explore further actions that relate to them, please contact the authors: melnyk@broad.msu.edu, cbrumitt@mainepointe.com or sknowles@mainepointe.com

About Us
Maine Pointe, a member of the SGS Group is a global supply chain and operations consulting firm trusted by many chief executives and private equity firms to drive compelling economic returns for their companies. We achieve this by delivering accelerated, sustainable improvements in EBITDA, cash and growth across their procurement, logistics, operations and data analytics. Our hands-on implementation experts work with executives and their teams to rapidly break through functional silos and transform the plan-buy-make-move-fulfill digital supply chain to deliver the greatest value to customers and stakeholders at the lowest cost and risk to business. We call this Total Value Optimization (TVO)™. Maine Pointe's engagements are results-driven and deliver between 4:1-8:1 ROI. We are so confident in our work and our processes that we provide a unique 100% guarantee of engagement fees based on annualized savings. www.mainepointe.com